It's cherry season and what better way to enjoy their wonderful flavour than in a refreshing cocktail!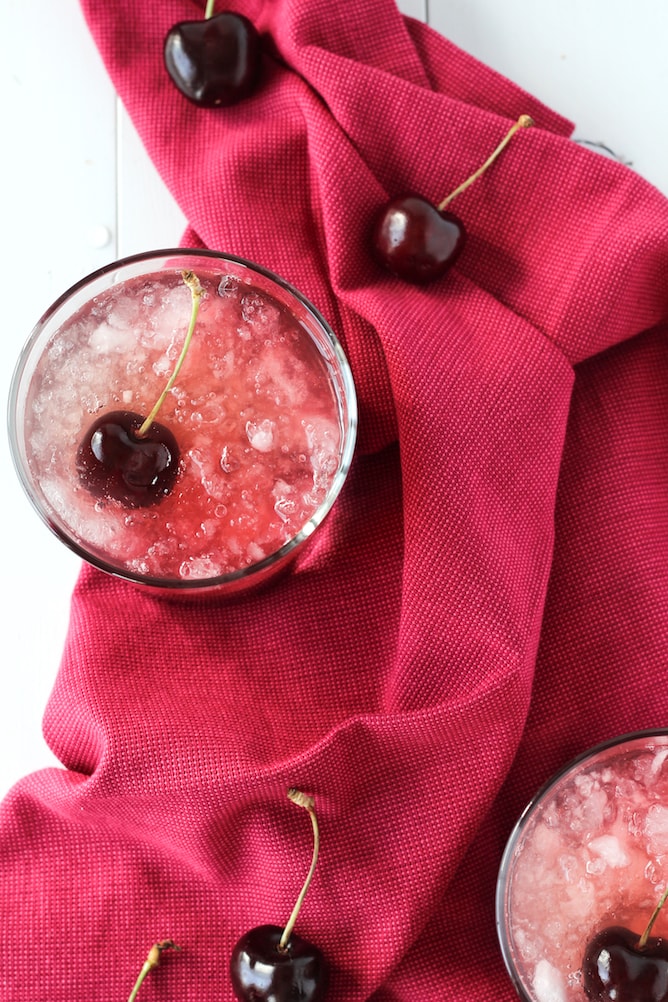 During the summer months we take part in YYC Grower's Harvest Boxes where we pick-up a box of fresh, local vegetables and fruits each week.  Lately, the cherries we've been receiving are just bursting with flavour!
I love to create cocktails in the summertime with fresh fruits and the combination of bourbon with cherries is a real winner. Plus, the splash of citrus from the lemonade brings together the cocktail just perfectly with the gentle tones of maple, oak and nutmeg of the bourbon.
This is a bit of a special post since I recently joined a group of fellow Food Bloggers of Canada members to bring you the Summer Edition of Connecting over Cocktails! Each season a group of us will create a seasonal cocktail and not only will I share my recipe with you, I'll bring you links to all of the wonderful cocktail posts – just scroll to the bottom to see what other inspired cocktails have been created!
Total time: 5 minutes
Servings: makes 2 cocktails
Equipment: 2 cocktail glasses, wooden spoon or muddler, cocktail shaker or mason jar
Ingredients:
12 fresh cherries, pitted
pinch of sugar
8 ice cubes, crushed
2/3 cup lemonade
2 oz bourbon
extra cherries for garnish
Instructions:
Using a small knife, pit 12 cherries by slicing around the pit and twisting to remove.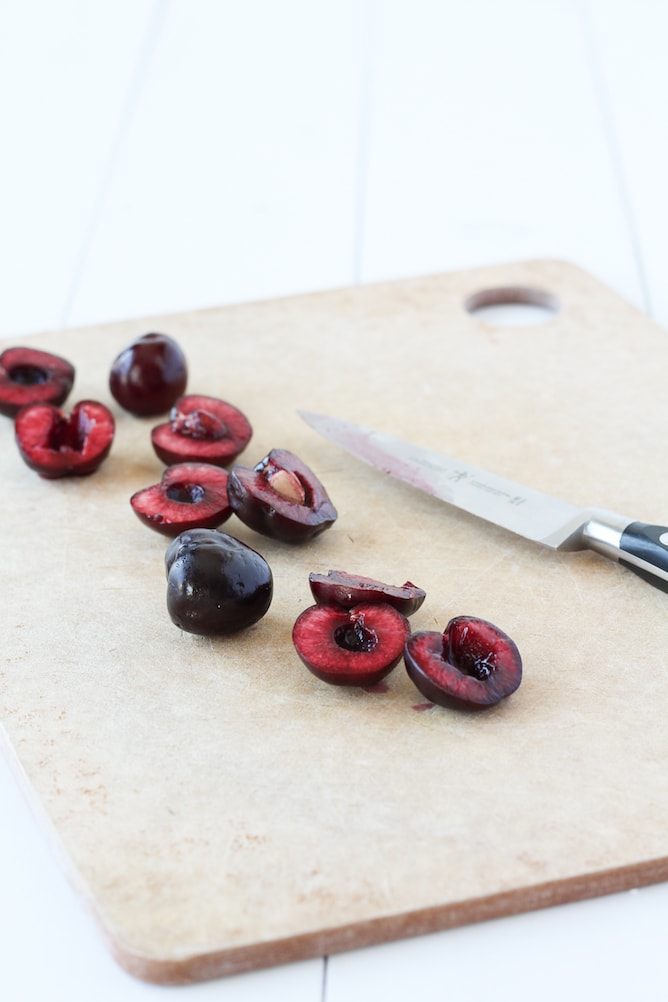 Add 6 cherries to each glass plus a pinch of sugar.
Use a muddler or a wooden spoon and smash the cherries in the cocktail glass until they start to release some of their juices.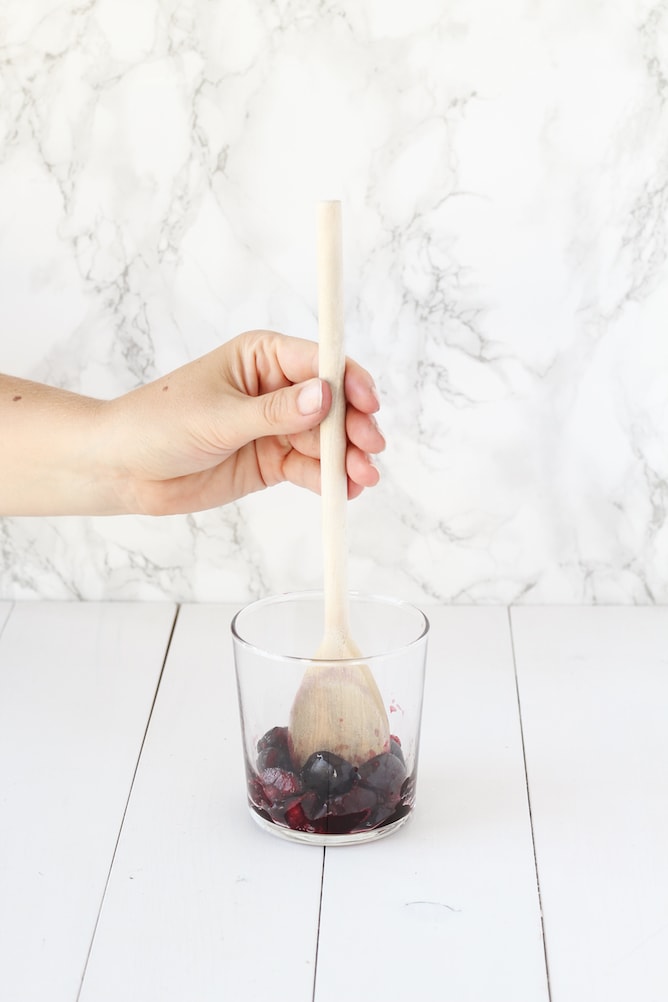 Add crushed ice into each glass (you can crush the ice cubes in a blender or crush in a thick ziploc bag using a kitchen mallet to smash it).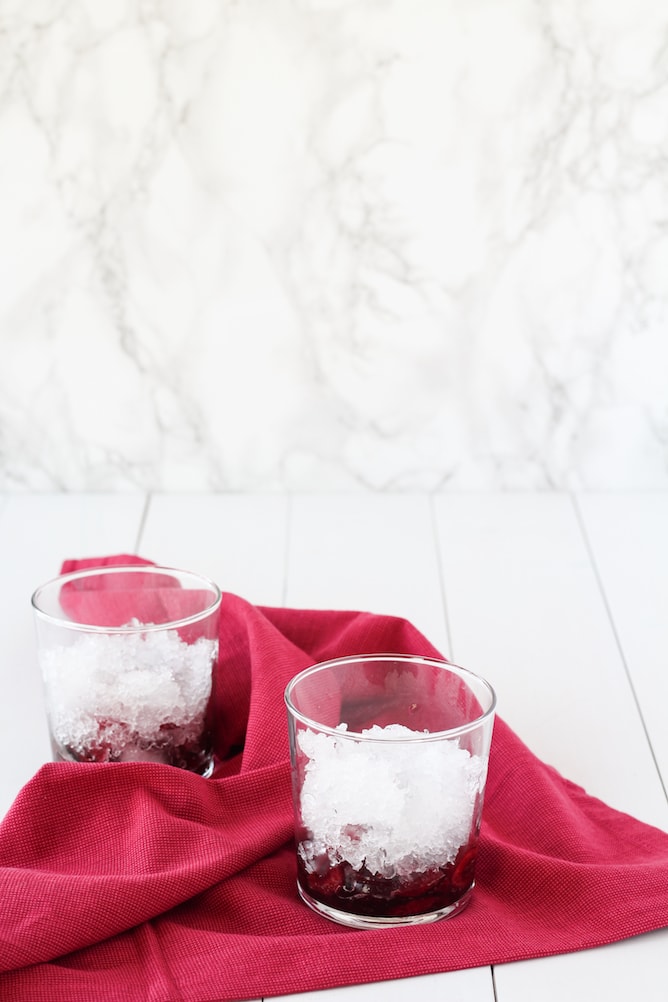 In a cocktail shaker or mason jar, add the lemonade and bourbon and shake a couple times until combined.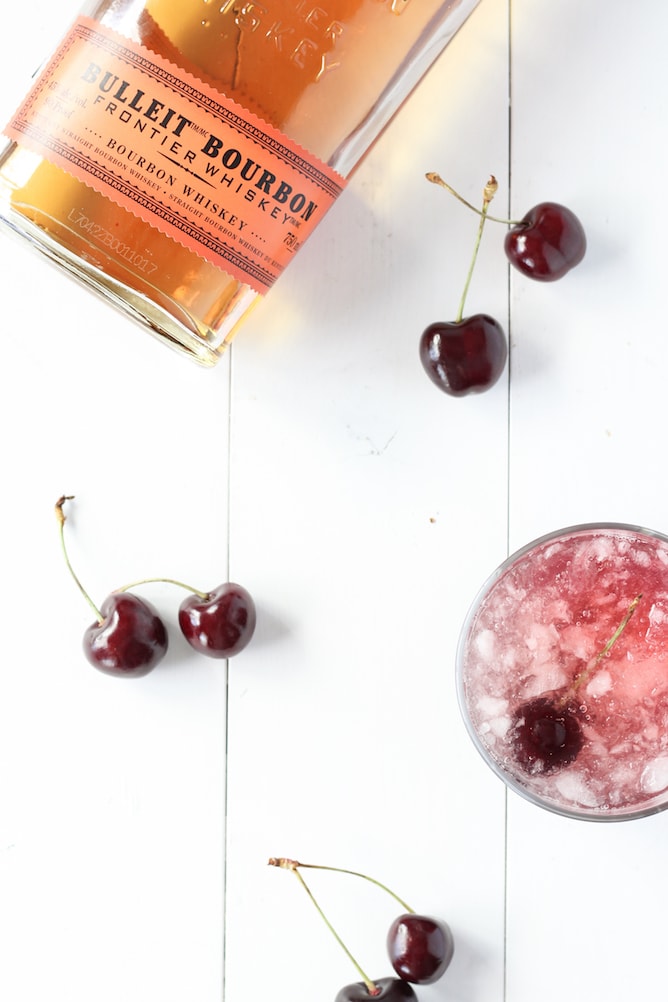 Then, pour the lemonade-bourbon mixture into each glass and top with a cherry for garnish.
Now its time to enjoy! This cocktail is perfect for an after-work drink or on the patio during the weekend – cheers!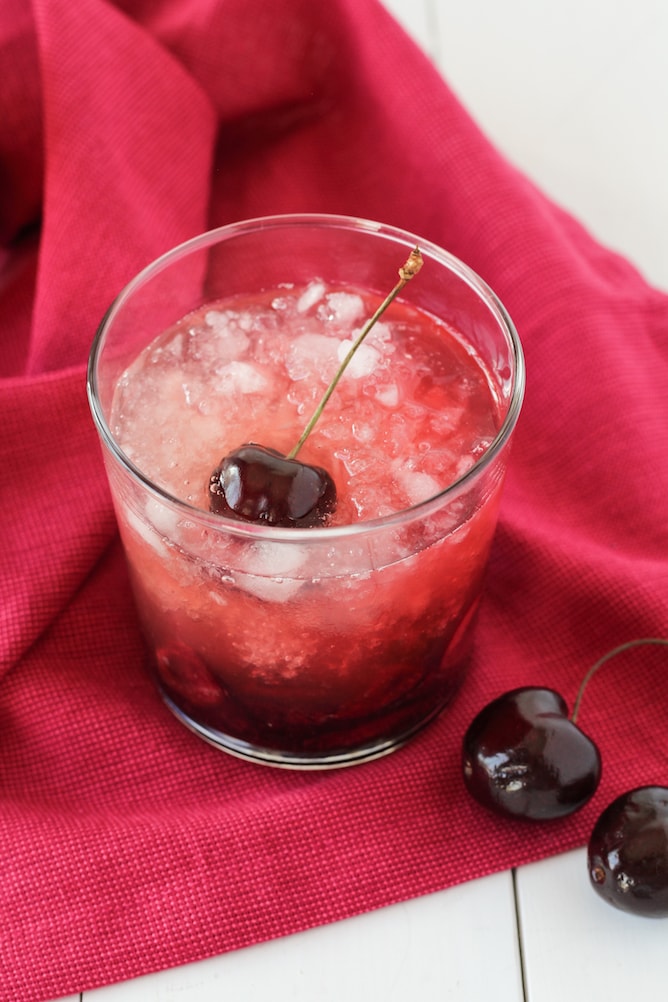 Here's your dose of Summer Cocktail inspiration from my fellow bloggers, Connecting Over Cocktails…
Justine at JustineCelina.com's Watermelon Frosé Margarita's
Sean at Diversivore's The Clock Calm (Currant Gin & Tonic)
Samantha from My Kitchen Love's Spiked Peach Iced Tea
Dana from Killing Thyme's Blueberry Lemon Vodka Fizz
Bernice from Dish 'n' in the Kitchen's The Friday Flame
Jen from Mud On Her Boots' Honeyed Blackcurrant Cordial Smash
What is your favourite summer fruit to make cocktails with? Let me know in the comments below!
Until the next cooking adventure,
Jess