With the heat of the summer I like to keep recipes really simple and use seasonal ingredients, so here is an easy Roasted Summer Vegetable Salad that is perfect for summer days and nights.
Taking my cue from seasonal produce, I couldn't resist roasting corn fresh off the cob for this salad as it adds such a wonderful sweet flavour that complements the rest of the vegetables.
So dive on into this refreshing summer salad, packed full of flavour and easy to make!
Total time: 45 minutes
Servings: 2-4
Equipment: parchment paper, large baking sheet
Ingredients:
2 cobs of corn, kernels cut off of the cob
1 small orange pepper, cut into 1 inch pieces
1 cup of baby tomatoes (variety of colours if you can find), halved
1/2 red onion, cut into 1 inch pieces
1 small zucchini, cut into halves
3 cloves garlic, minced
2 tbsp olive oil
1/2 tsp salt
1/4 tsp pepper
1/4 tsp oregano
1 x 540ml can of chickpeas, drained and rinsed
Optional: 1/4 cup feta cheese, crumbled
Dressing:
1 tbsp extra virgin olive oil
1 1/2 tbsp red wine vinegar
1/2 tbsp lemon juice
1/4 tsp oregano
1/4 tsp salt
pinch of pepper
Instructions:
Pre-heat your oven to 425F.  Line a large baking sheet with parchment paper and set aside.
Prep your vegetables and add into a mixing bowl.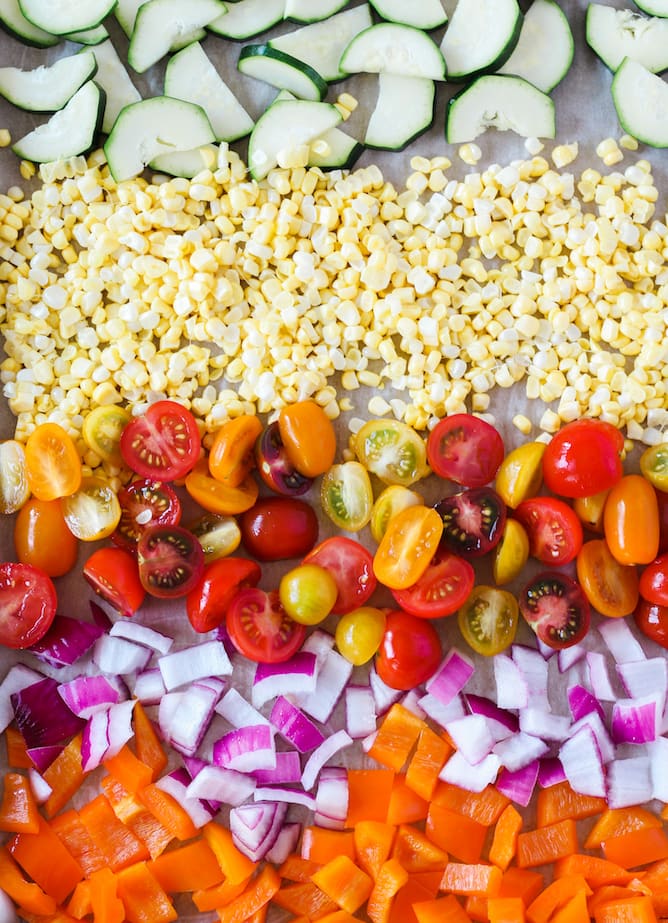 Then, add in the garlic, olive oil, salt, pepper and oregano and toss with the vegetables until everything is coated.
Pour your vegetables onto your baking sheet, spread out and then put in the oven to roast for 22-25 minutes, until slightly caramelized (some golden colour).
While the vegetable are cooking, make your dressing by combining all of the ingredients and whisk together or shake in a jar until combined.
Once your vegetables are done cooking, set them aside to cool for about 10 minutes.
Then drain and rinse your chickpeas and add to a salad bowl.
When your vegetables have cooled down, toss them with the chickpeas and all of the dressing. Then top the salad with the crumbled feta cheese (if you so choose).
The oregano gives this salad this addictive buttery flavour and the vegetables add a fresh component.
This Roasted Summer Vegetable Salad would be perfect as a side at a barbeque, enjoyed as a part of a picnic or even make it for lunch the next day!
Until the next cooking adventure,
Jess