Strawberry and rhubarb are a classic combination and one that I absolutely adore so that is the inspiration behind these Strawberry Rhubarb Hand Pies.
Whenever rhubarb starts appearing in the markets I am that person who buys it every week until the season is over.
These hand pies deliver a punch of flavour from the sweetness of the strawberries and the tartness of the rhubarb.  Everything is packaged perfectly in the puff pastry dough that is used as the crust.  What is better that a small little pie that is all yours and you can hold in your hand an enjoy? To me it doesn't get much better!
I chose the puff pastry as the dough because it makes this recipe ever so simple and gives you plenty of time then to ENJOY the dessert with your family and friends.
When I created this recipe here's what I had in mind – you're gathered with your family and friends catching up after a lovely summer barbecue and a batch of hand pies sits on the table for all to enjoy at their leisure.  These Strawberry Rhubarb Hand Pies are Simple and elegant and the perfect ending to meal.
So make a batch (or two, or three) and invite some family or friends over to enjoy together!
Total time: 1 hour
Servings: 6
Equipment:  baking sheet, rolling pin, parchment paper
Ingredients:
1 square of puff pastry dough, defrosted *if you find puff pastry in sheets you can use one sheet and may just need to roll out the dough slightly to make 6 rectangles**
Flour for rolling out the dough
3/4 cup strawberries, chopped
3/4 cup rhubarb, chopped
1/4 tsp cinnamon
1/4 cup sugar
1 tbsp corn starch
1 tbsp milk
Turbinado sugar or white sugar for dusting
Instructions:
Pre-heat your oven to 400F.  Line your baking sheet with a piece of parchment paper.
Use a bit of flour on your rolling pin and rolling surface to ensure the puff pastry dough doesn't stick. Roll out your puff pastry dough to about a 12inch x 14inch rectangle. Cut your dough into 6 rectangles.
Chop your strawberries and rhubarb to similar sized pieces.
Combine the strawberries, rhubarb, cinnamon, sugar and corn starch in a bowl and mix until combined. Let the mixture sit for about 5-10 minutes until the berries have released some juice.
Divide the strawberry-rhubarb mixture evenly between the 6 rectangles of puff pastry dough, placing the mixture on one side of the dough (you will want to have one side of the dough free to fold over).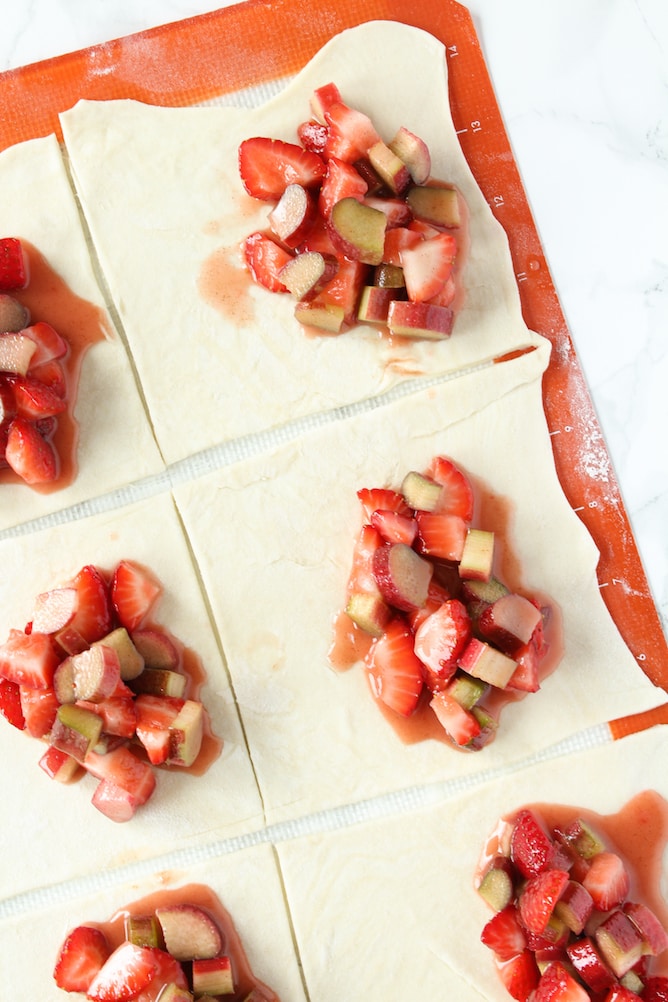 Then, fold over the dough to create the pocket, folding up the edges around all of the sides and then pinch with a fork all around to seal.
Move the pies to your parchment-lined baking sheet. Then, brush the top of each hand pie with milk and then sprinkle with turbinado or white sugar. Using a sharp knife cut two small slits into the top of the pies (which helps to let steam out while baking).
And, don't fret if some of the fruit liquid leaks out of the hand pies before or during baking, that is completely normal.
Bake for 20-22 minutes or until golden.  Then take the hand pies out of the oven and let cool.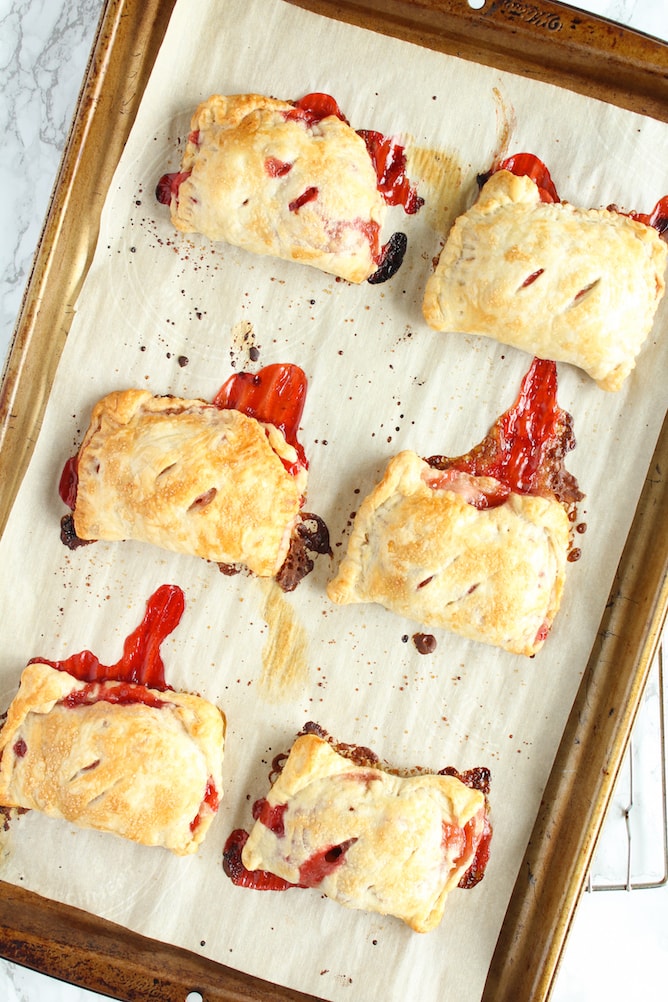 Now it's time to enjoy! To me these Strawberry Rhubarb Hand Pies taste just like summer and might just become your dessert of the season!
Until the next cooking adventure,
Jess