Every year I bake my husband Scott and myself one birthday cake because our birthday's fall very close together. So this year I am baking us a classic cake from my childhood, my Mom's Apple Cinnamon Cake with Cream Cheese Icing!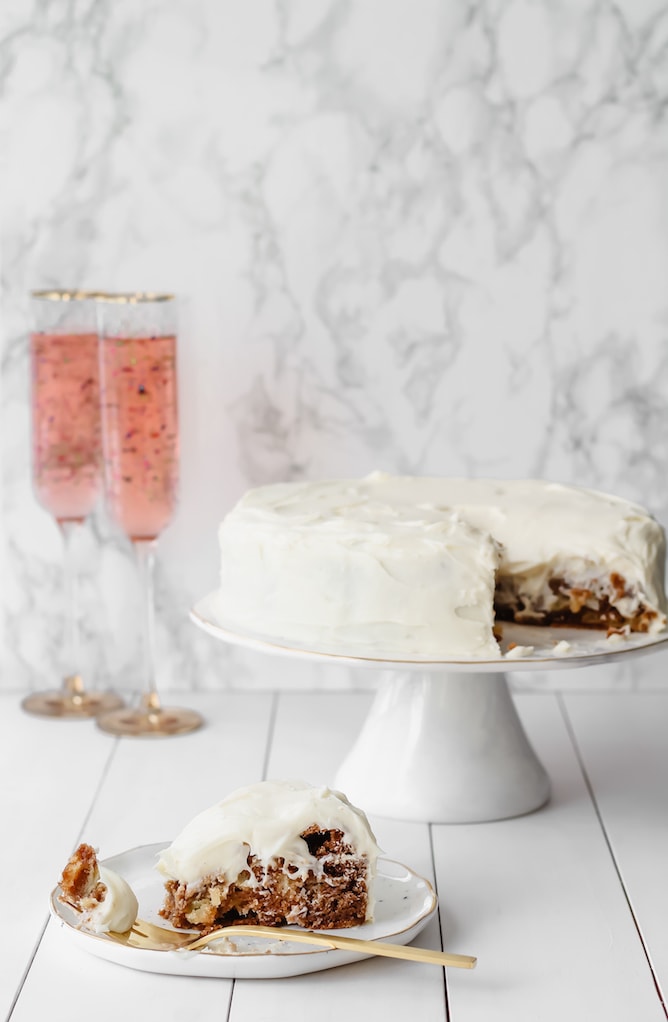 I've been enjoying this Apple Cinnamon Cake for my birthday since I was a teenager. I don't quite remember why my Mom originally made us this cake but I vividly remember enjoying many slices each birthday.
This cake is reminiscent of carrot cake flavours with the cinnamon and nutmeg plus the cream cheese frosting, however, the dough is more of a caramel-flavour which goes so well with the cream cheese frosting. You will want to dig right into this cake I promise and it might just become a new birthday favourite for you too!

My Mom would even bake me this cake when I was in University, bringing it to me when my parents would come to visit on my birthday. Let's just say this Apple Cinnamon Cake did not last long in a house full of University students.
So, here is my favourite birthday cake, Apple Cinnamon Cake with Cream Cheese Frosting.
Total Time: 2 – 2.5 hours
Equipment: springform pan or 9 inch cake pan, whisk, large & small mixing bowls
Servings: 10-12
Ingredients:
4 cups peeled & diced Granny Smith apples (diced in 1/2 inch pieces, about 3-4 large apples)
2 eggs
2 cups sugar
1 tsp vanilla
1/2 cup vegetable oil (I like to use avocado oil)
1/4 tsp nutmeg
2 cups all-purpose flour
1/2 tsp salt
1 tsp baking soda
2 tsp cinnamon
softened butter for your cake pan
Cream Cheese Icing:
250g package cream cheese, softened
6 tbsp butter, softened
1 tsp vanilla
pinch salt
3 cups icing sugar
Cook's Note: If you don't have a springform pan, that's ok! Do note that a springform pan has taller sides, so make sure your pan also has tall enough sides, about 2 1/2 inches.  There are alternatives including lining a 9-inch round cake pan with parchment paper or foil, then buttering the parchment or foil and leaving a good length of the paper or foil hanging over your pan so you can lift the cake out once it's cooled.  PLUS this article is also a great resource.
Instructions:
Pre-heat your oven to 350F. Butter your springform pan, both the bottom and sides of the pan. Take our your cream cheese and butter as well to soften for your icing.
Peel the apples and dice into about 1/2 inch pieces and set aside. In a small bowl, mix together the flour, salt, baking soda and cinnamon and set aside.
Cook's Note: Do not use a hand or stand mixer to make this cake dough. Due to the thick nature of this cake dough, it's best to use a whisk for the eggs and then a large spoon to mix.
In a large bowl, beat 2 eggs with a whisk until light and fluffy, about 1-2 minutes.
To your eggs, add sugar, vanilla, vegetable oil and nutmeg. Using a mixing spoon, mix all ingredients until combined.
Add your flour mixture to the egg mixture, stirring until combined. This mixture will be very thick, almost like a cookie-dough mixture.  Fold in your diced apples to the dough mixture and then scoop everything into your springform pan, smoothing out the top of your dough in the pan.
Bake your cake in the oven for 65-75 minutes. Because everyone's oven is different, start checking your cake at 65 minutes by using a toothpick to prick the middle of the cake. The toothpick should come out fairly clean when done.  Once your cake is done, remove from the oven and let cool in the cake pan.
To make the icing it comes together best with a hand or stand mixer. Whip the cream cheese and butter together on medium-high speed until smooth, about 2-3 minutes.  Add the vanilla and pinch of salt and mix for about a minute on low speed. Then add in 1 1/2 cups of the icing sugar and mix for about a 1 minute on medium speed. Add in the rest of your icing sugar and mix for about another minute or so.
Once your cake is fully cooled down you can ice the cake! Remove your cake from your cake pan and turn out onto a cake stand or plate.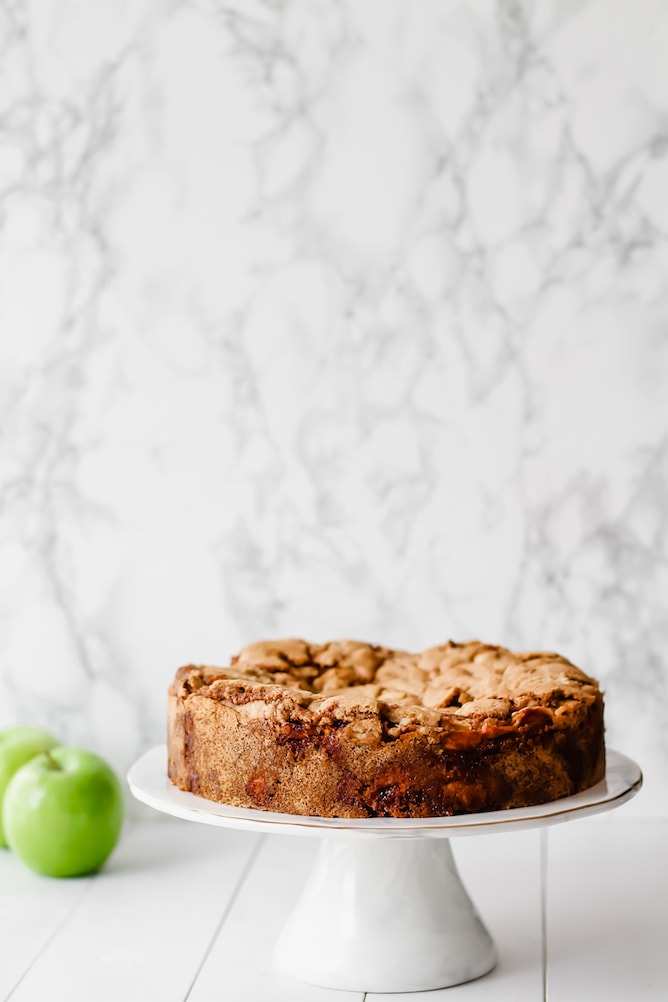 I like to start icing by placing a large dollop in the middle of the cake and working my way outwards with a thin layer of icing on the entire cake.

Then, continually add the rest of the icing to the cake until it's evenly iced and really use your own style to ice this cake!

I won't lie to you, this Apple Cinnamon Cake is a commitment to make but the ingredients come together so easily and once the cake is done and iced, it's SO worth it!

I hope you enjoy this cake as much as I do – I absolutely LOVE the apple and cinnamon combination with the creaminess of the icing, it's seriously addictive. Also this cake is quite amazing for breakfast accompanied by a cup of coffee!

Until the next baking adventure,
Jess