I have a thing for Big Salads.
There is something about chopping up a bunch of vegetables, gorgeous colours and crispness, layered on a bed of greens and grains, then topped with a simple dressing.
I actually crave this regularly and you can definitely make it anytime of year.
I was even able to get my husband on board! I told him one Sunday as we were planning our meals and making a grocery list 'I think on Wednesday I'm going to make a BIG salad.' At first, he just laughed; then, he wanted to know more. I told him he could add a side of chicken or salmon, whatever protein he felt like and that seemed to get him on board.
SO off I went to the grocery store and as I prepped this on the Wednesday night, he slowly came on board 'the big salad' train.
Here is The Big Chopped Salad in all of its glory
(PS. My husband now requests the salad on the regular)
Prep time: 40 minutes
Equipment: Large salad bowl or serving plate
Ingredients: (Recipe Serves 4 large servings or 2 for dinner, 2 for lunch)
Salad:
1 cup cooked rice & quinoa blend (or your choice of grains)
**Note: 1 cup uncooked will make approximately 2 cups cooked
2 cups of kale, chopped
¼ of a purple cabbage, sliced thin
1 cup of corn (can use frozen or fresh)
1 avocado, diced
1 red pepper, chopped
1 1/2 cups sugar snap peas, cut into halves or thirds (your preference)
3 ounces (1/3 cup) feta cheese, crumbled
Balsamic Dressing:
2 tbsp balsamic vinegar
2 tbsp olive oil
Pinch of salt and pepper
Optional: 1 tsp honey
**Helpful tip: I use a one-to-one ratio for the balsamic vinegar and olive oil. However, you can easily adjust to your taste by adding a bit more of either ingredient. AND if you like a bit of a sweeter dressing, add a teaspoon of honey to the dressing.
Instructions:
Start cooking the rice & quinoa blend (or your choice of grains).
While cooking, you can work on prepping the remaining ingredients.
For the kale wash, dab dry with a paper towel or throw in a salad-spinner to dry.
Section a piece off of the cabbage, slice thinly and put aside.
If you're using frozen corn, cook it to your liking. If you're using fresh corn, slice it off of the cobs and toss into some boiling, salted water to cook to your desired taste.
Dice the avocado and wash and chop the red pepper. Then, wash the sugar snap-peas and chop into halves or thirds (your choice).
Measure the feta, crumble and set aside.
By this point your grains should be done cooking – I like to remove them to a plate or bowl by themselves to cool about 10 minutes before layering on the salad.
While the grains are cooling, make the balsamic dressing by adding all of the ingredients into a container with secure lid, shake liberally and adjust to your taste.
**Helpful tip: Mason jars are my favourite for salad dressings – perfect to shake and then store in the fridge.
NOW time to layer!
First layer the kale to cover the entire bottom of your serving dish.
Next, spread the cabbage on top of the kale. Then, spread out the rice & quinoa blend.
Red peppers and sugar snap-peas are next up, followed by corn and avocado.
Lastly, sprinkle the cheese on top and voila! The Big Salad!
I like to keep the salad dressing on the side and let everyone dress their own salad to their liking. You'll more than likely have dressing leftover too. AND don't forget to give the dressing a good shake before you serve it.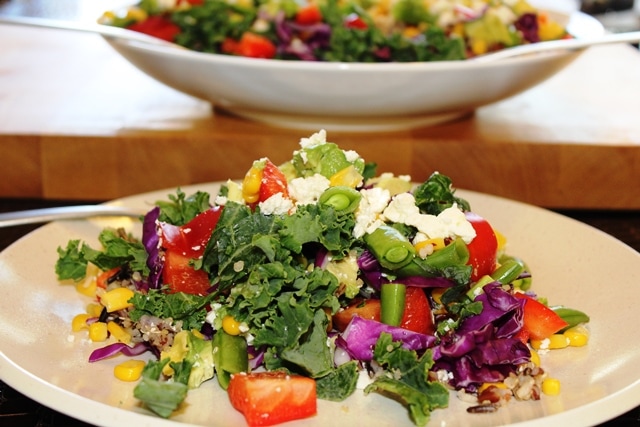 Cook's Note: You can truly substitute seasonal produce into this salad or switch out/in for ingredients that you enjoy, making it your own Big Salad.
Fun Note: For those of you who watch Seinfeld, do you remember the episode about 'the big salad' – (When George asks Jerry, "What's in the big salad?", Jerry replies, "Big lettuce, big carrots, tomatoes like volleyballs.") STILL makes me laugh to this day!
Until the next cooking adventure,
Jess