There's nothing better than a fresh-baked quiche on Christmas morning.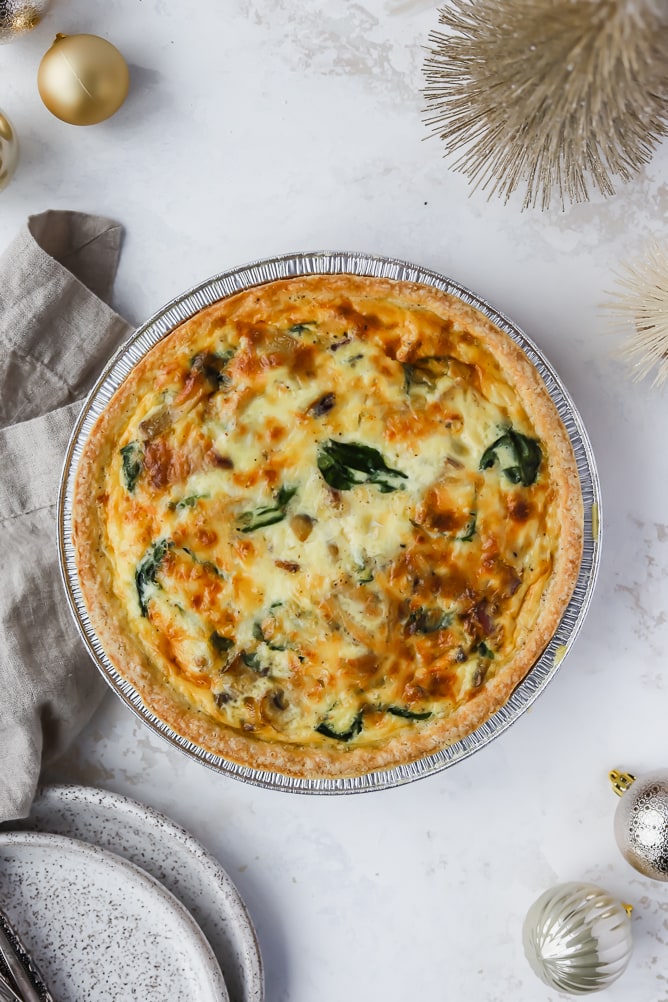 Whether it's just two of you or six, quiche is a classic dish meant for sharing.
So, I've rounded up 8 delicious quiche recipes to inspire your Christmas brunch menu!
Many other brunch dishes get all the attention but I think quiche is the perfect brunch food. If you like breakfast casserole you're sure to love quiche!
Reasons why quiche is the perfect brunch food
You can make it ahead of time: I am a huge proponent of prepping ingredients ahead of time. So for a quiche recipe you can cook a store-bought crust the day before. Then, prep the fillings and refrigerate then until the morning. AND if you want to get really fancy, try your hand at making your own pie crust.
It's filling: With a combination of eggs, cream or milk and other mix-ins baked in the pie crust, each slice is filling and can be simply served with salad greens or hashbrowns for a full meal.
Flavour combinations: There are so many combinations of ingredients to suit everyone's tastes! Broccoli-cheddar cheese; bacon-mushroom-spinach; or an all veggie version.
Are you on team quiche yet??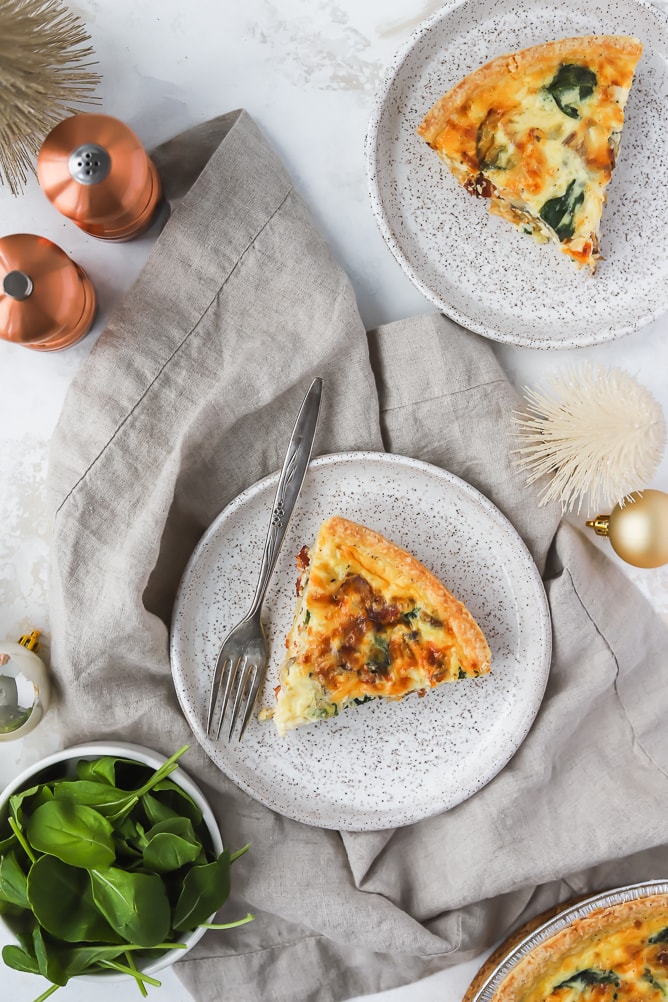 Get started with your new brunch obsession with these 8 quiche recipes to inspire you for Christmas morning!
8 Christmas Morning Quiche Recipes
The buttermilk shakes up the classic quiche and pairs delightfully with the ham, cheddar and chives from Kelly Neil. Plus this recipe has a homemade crust that's just divine!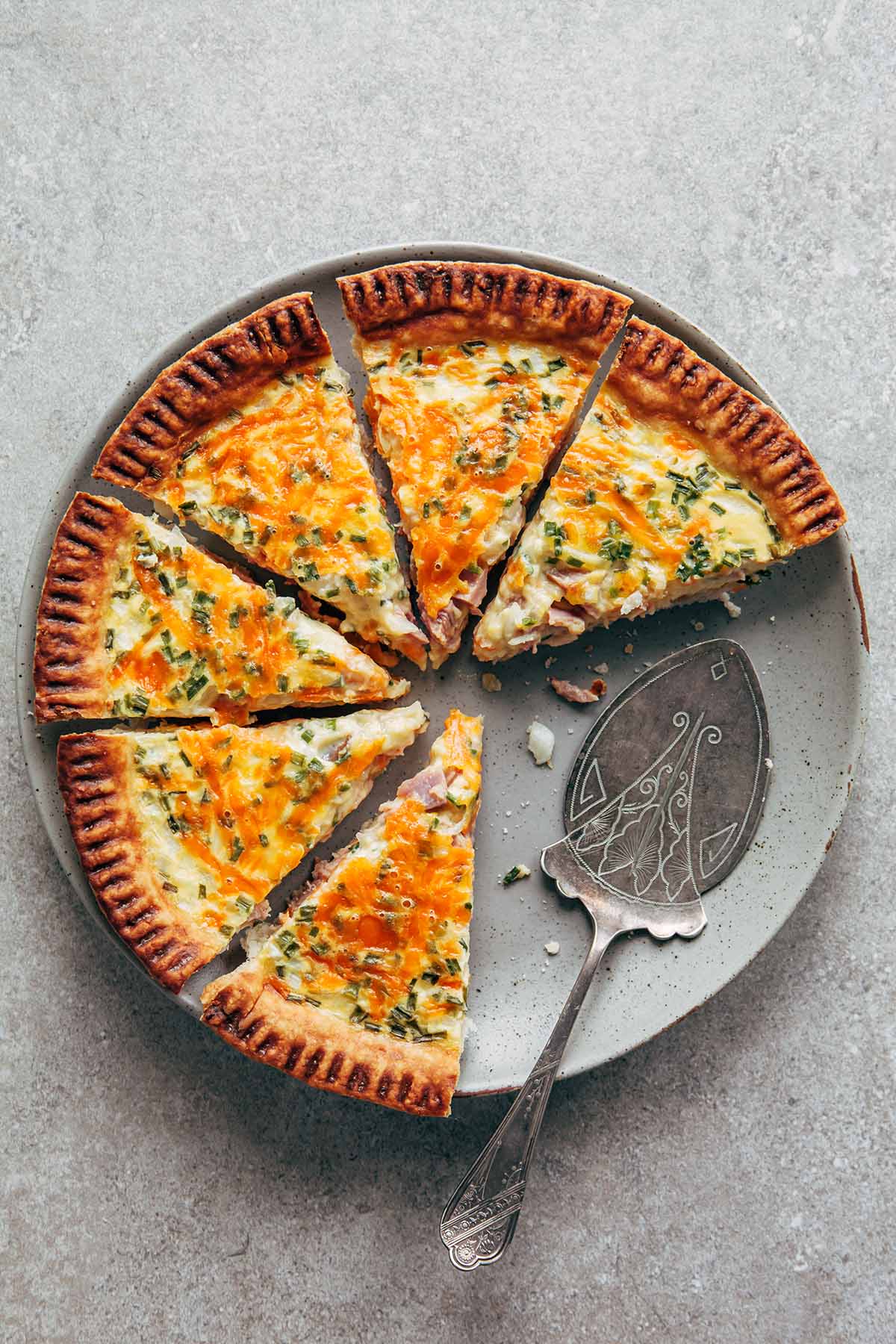 Packed full of savoury flavours and a almond flour crush, this Butternut Squash Quiche from Crumb Top Baking is sure to delight! Even more perfect if you're looking for a dairy free or gluten free option.
Vegetarian Spinach Quiche
For a vegetarian version, try BonAppetEat's Spinach Quiche. A simple, flavourful version which also shows you how to make your own pie crust too.
A classic version of quiche from You Can Live Rich On Less, broccoli and swiss cheese deliver tons of flavour.
A lighter take on quiche from Earth, Food & Fire, this Egg White Quiche is perfect alongside other brunch dishes. Plus asparagus and prosciutto is a delicious combination!
If you're looking for a vegan quiche recipe, this is the one! From Immigrants Table this Roasted Red Pepper & Tomato switches things up with a lovely sweet potato crust.
Foolproof Living's Goat Cheese Quiche can be made in smaller individual tart pans OR one larger pan. You can prep everything in advance, store in the fridge and assemble right before baking!
I would be remiss if I didn't include my Mom's original quiche recipe! This was definitely on the menu for Christmas morning when we were growing up AND is going to be enjoyed this year too!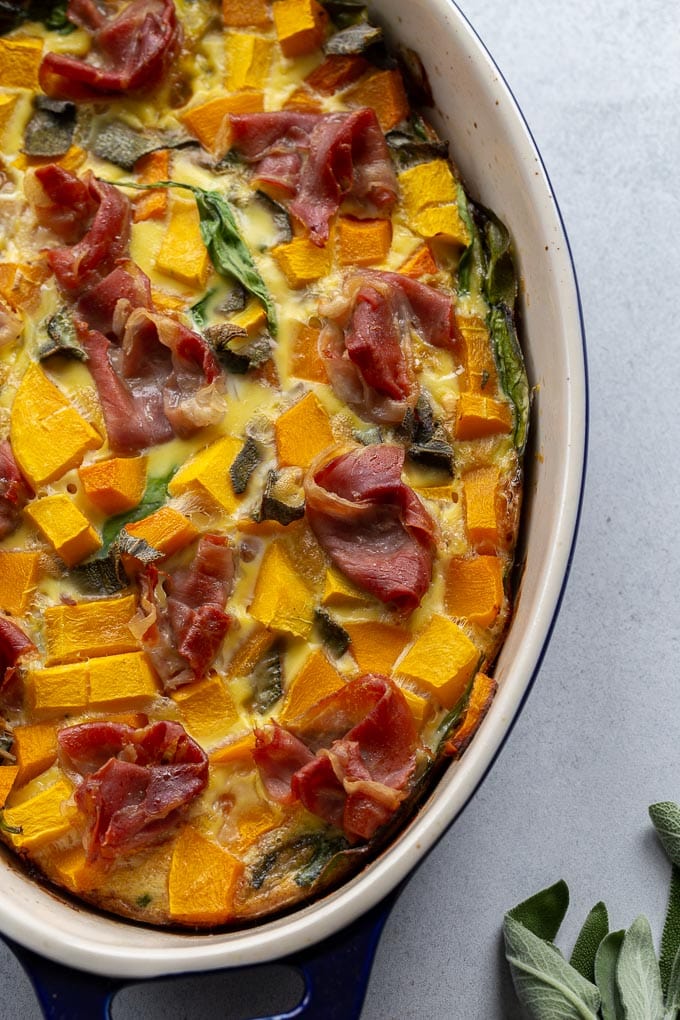 So are you ready to make a quiche recipe this holiday season?
I hope these 8 recipes have inspired you for a delicious Christmas morning brunch no matter what that looks like this year.
Until the next cooking adventure,
Jess