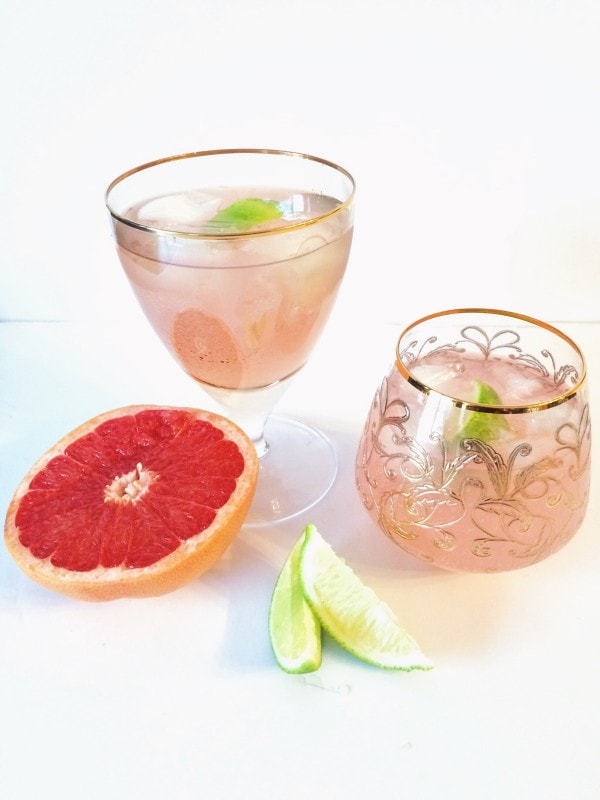 How about a pretty, light & refreshing cocktail for the holiday season?
This is inspired by my friend Corinne who makes a mean cocktail; we concocted this one Friday night at my house and it's been a hit every since.
You can easily make this for a crowd and is the perfect start to a holiday soiree (or any party for that matter!)
Prep time: 5 minutes
Equipment:  measuring cup, shot glass
Servings: 2
Ingredients:
2 ounces of your favourite Gin (a shot glass is about 1 ounce)
1 cup of grapefruit soda (or juice)
1/2 cup sparkling water (plain or lime flavoured)
lime (cut in wedges)
ice for serving
Instructions:
Measure out the Gin, grapefruit soda and sparkling water into a pitcher and then stir.
Put ice into each of your glasses and pour the drink evenly into each glass.  Squeeze a wedge of lime into each glass and them drop the lime wedge in. Enjoy!
It's truly that easy and every so beautiful.
If you want to make a non-alcoholic version simply don't add the gin and add a bit extra sparkling water.
Until the next cooking adventure,
Jess