It's the time of year where there are seasonal vegetables and fruits aplenty, many of which have made their way into my comforting Roasted Harvest Vegetable Bowl.
I'm sort of obsessed with 'recipe bowls,' there's just something about a multitude of flavours coming together in harmony in one nourishing dish.
You'll find this dish to be hearty and flavourful, filled with grains, root vegetables, brussels sprouts and apples. Plus, the pomegranate dressing ties everything together.
This is the perfect bowl for cooler days, filled with heartwarming and nutritious ingredients.
Total Time: 45 minutes
Equipment: baking sheet, medium pot
Servings: 4
Ingredients:
2 cups uncooked farro
20 brussels sprouts, cut into quarters
2 large carrots, chopped
2 large parsnips, chopped
1/2 tsp kosher salt
1/2 tsp pepper
3 cloves garlic, minced
2 tbsp olive oil
1 tbsp balsamic vinegar
1 gala apple, sliced
1 beet, shredded
4 cups arugula
Dressing:
1/3 cup pomegranate juice
1/3 cup olive oil
2 tbsp apple cider vinegar
1 tsp honey
pinch salt and pepper
Instructions:
Pre-heat your oven to 425F and line a baking sheet with parchment paper. In a bowl mix together brussels sprouts (quartered), chopped carrots and parsnips, 1/2 tsp kosher salt, 1/2 tsp pepper, 3 cloves garlic (minced), 2 tbsp olive oil and 1 tbsp balsamic vinegar.
Once mixed, spread the vegetables out on your baking sheet.
Bake for 22-25 minutes, until vegetables are golden and brussels sprouts are starting to get crispy.
While your vegetables are cooking, add your uncooked farro to a pot and fill with water to about 1 inch above the farro. Bring to a boil and cook for about 20-25 minutes or until desired texture is reached (farro will be softened but still a bit chewy when it's done).
**Cook's Note: You can use any type of grain you'd like! Quinoa or brown rice would also taste wonderful with this bowl.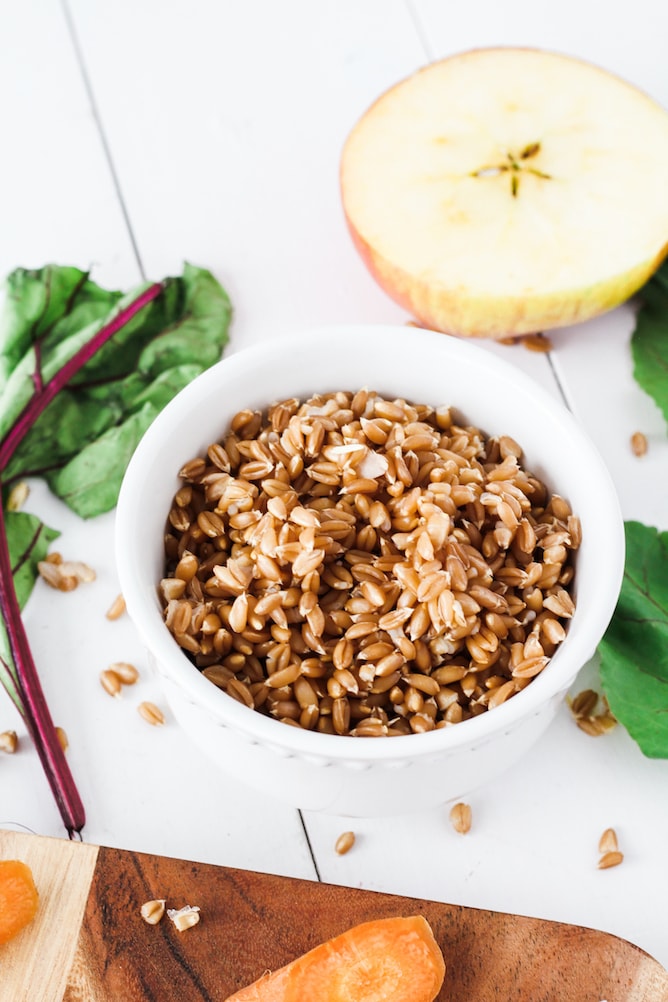 Mix all of your dressing ingredients together in a mason jar, giving them a good shake to combine.
Once everything is ready, divide ingredients into 4 bowls giving approximately the same amount to each bowl. Then top everything with the pomegranate dressing.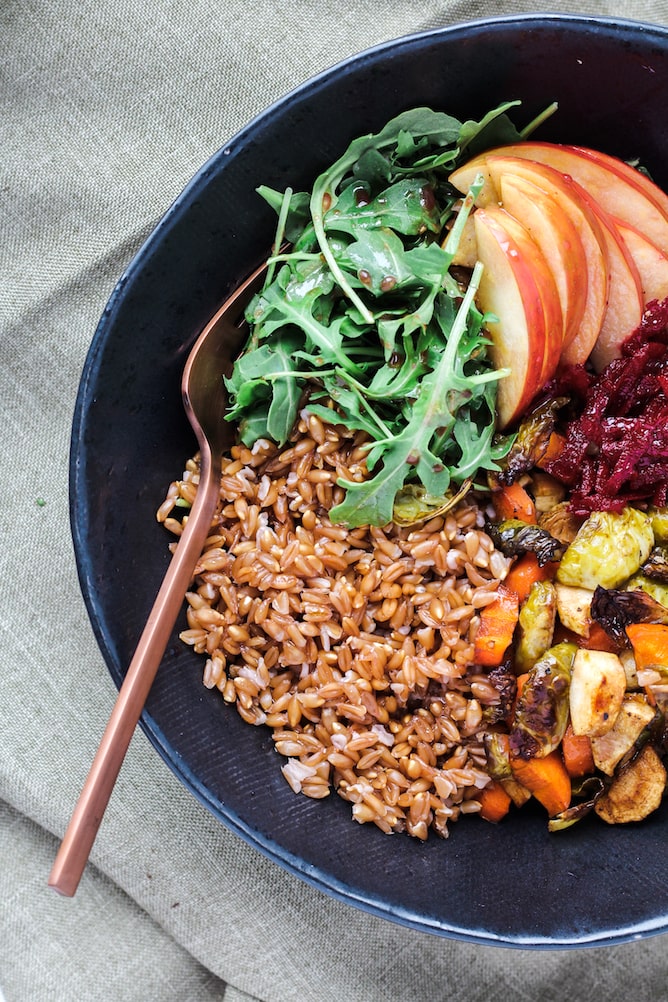 And there you have it, an abundantly delicious and nourishing bowl you can eat all Autumn and Winter long!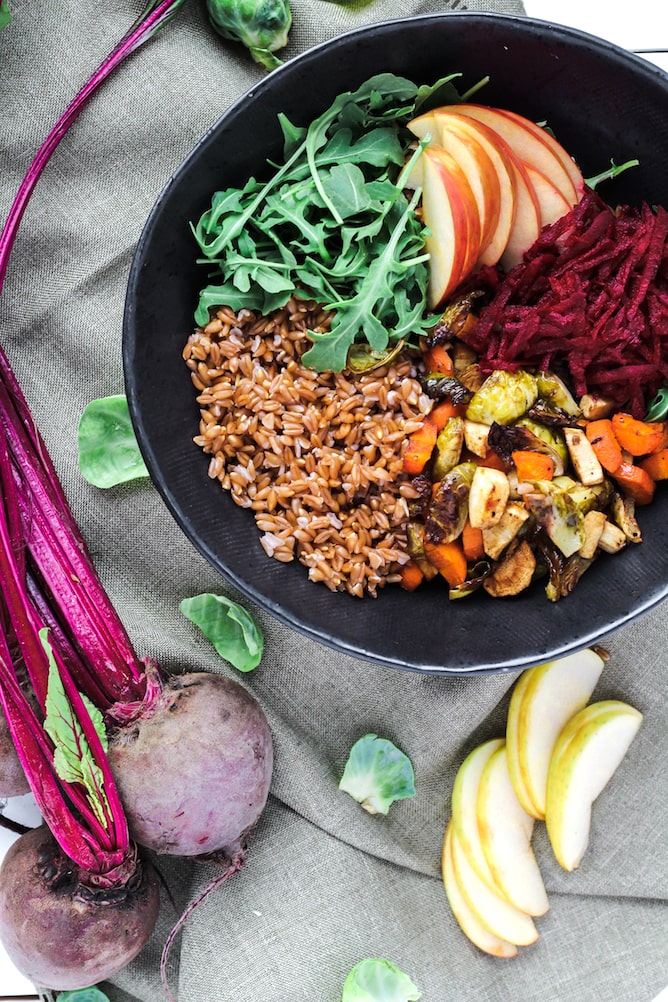 You could also add in your favourite type of protein to this salad such as chicken, chickpeas or even your go-to veggie burger.
Until the next cooking adventure,
Jess