I love to cook 'one-pan' dinners and this Pesto Baked Chicken is by far one of my favourites!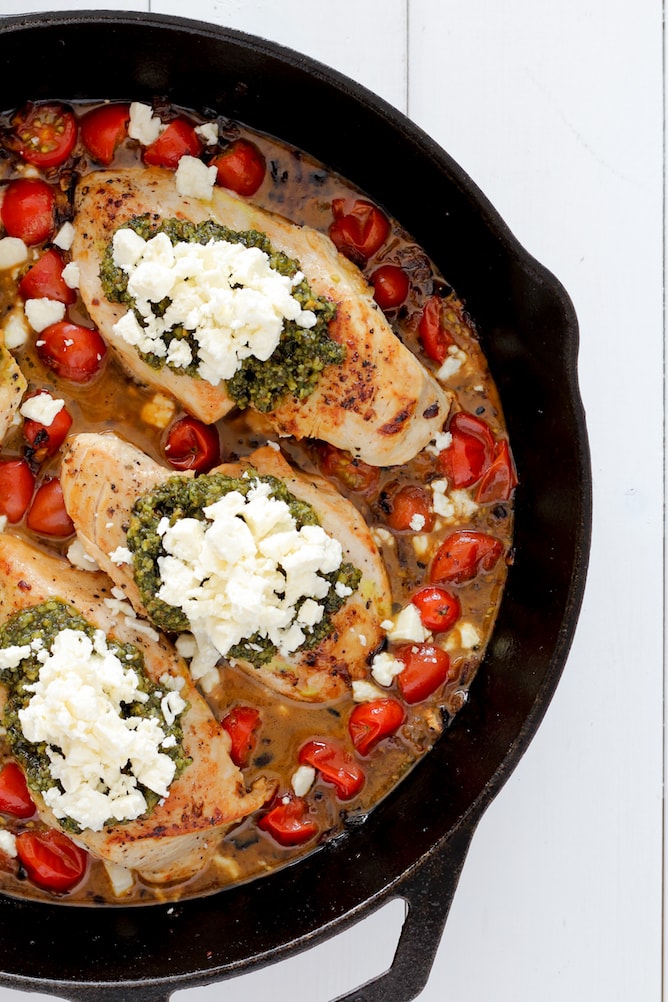 One word – pesto. One of my favourite sauces by far that is super versatile and this is just one of the ways that I use it on a regular basis. This recipe is a go-to for me during the week and once I shared it with my brother, it's now one of his favourites too which he cooks up for his friends.
I hope this delicious and quick dinner recipe makes its way onto your dinner table in the future!
Total time: 40 minutes
Servings: 4
Equipment: oven-safe skillet OR frying pan & baking dish
Ingredients:
1/2 small yellow onion, chopped
3 cloves garlic, minced
4 chicken breasts
Salt and pepper each side of the chicken breast
2 tbsp olive oil
2/3 cup chicken stock (low or no sodium)
1 tbsp butter
1 cup baby tomatoes, cut in half
4 tbsp pesto
1/2 cup feta, crumbled
Instructions:
Chop 1/2 of a small yellow onion and mince 3 cloves of garlic; combine into a small bowl and set aside. Wash 1 cup of baby tomatoes, then cut them in half and set aside.
Preheat oven to 350 degrees F.
Heat oven-safe skillet (I like cast iron) or your frying pan to medium and add the olive oil.
Add onion and garlic, cook until soft & browned, about 5 minutes.
Next season the chicken with salt and pepper. Then, push the onion and garlic to the sides of the skillet and add the chicken, cooking each side of the chicken breast for 5 minutes.
After the second side is cooked, add the chicken stock, butter and tomatoes and simmer in the pan for 5 minutes.
**If you are NOT using an oven-safe skillet, transfer the chicken and all of the sauce to your oven-safe baking dish before continuing to the next step**
Then, spread 1 tbsp of pesto on top of each chicken breast and then top off each with the crumbled feta (dividing the feta between the 4 chicken breasts).
Cover the skillet or baking dish with foil and bake in the oven for 15 minutes.
Take the pan out and let cool a couple of minutes before serving.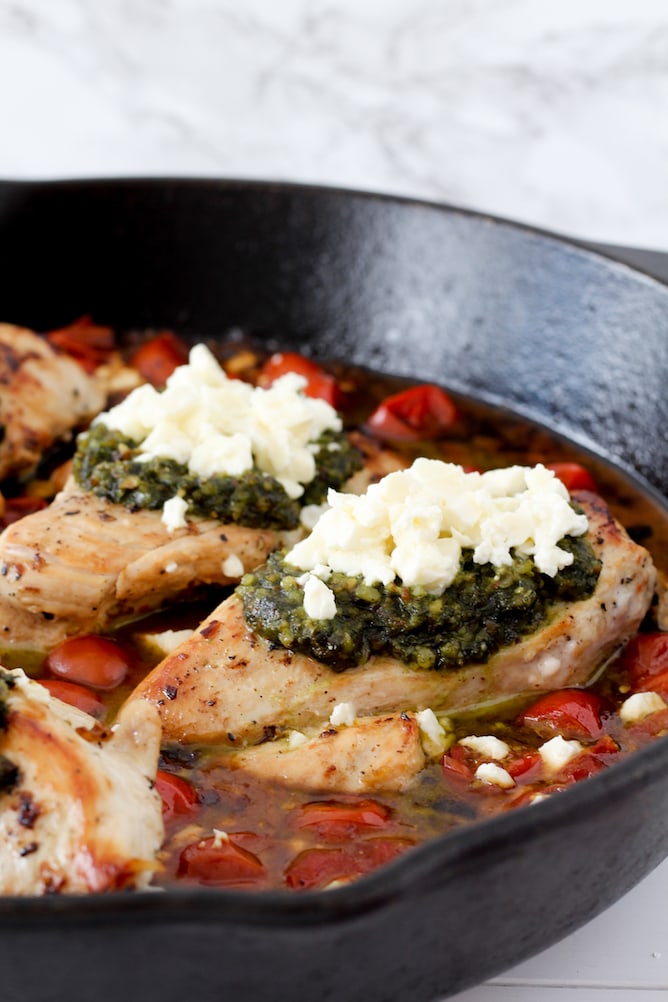 I love serving this Pesto Baked Chicken with a side of quinoa or rice and green veggies like sautéed kale or broccoli.
PLUS this dish makes excellent leftovers!
Until the next cooking adventure,
Jess