Sangria is one of my favourite ways to celebrate sunny summer days!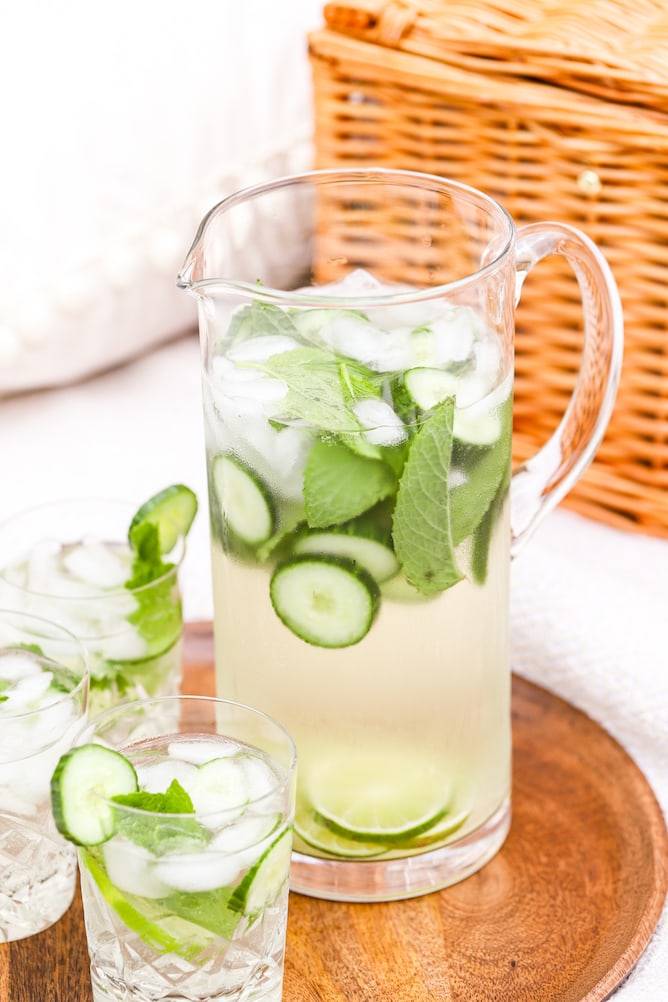 A mix of wine, chopped summer fruit and spirits, there are so many refreshing combinations to make.
So, I've rounded up 8 must make summer sangria recipes for you to try friends!
Sangria is a go-to summer cocktail for me because it's extremely easy to make. Generally you can use ingredients you already have on hand to mix up a batch. Or, just plan a little bit ahead of time for some mouthwatering flavour combinations.

What is sangria typically made of?
Wine: If you're using white wine, Pinot Grigio or Sauvignon Blanc are often used as they are more dry and crisp which goes nicely with the remaining ingredients. If you're using red wine, Pinot Noir or Grenacha are commonly used
Chopped Fruit: Fresh, chopped fruit is the way to go as it brings the most flavour to the sangria mixture. However, in a pinch you could use some frozen fruit too which will also act to keep the sangria colder too.
Spirits: Spirits like gin, brandy and rum are sometimes used when complementary to the sangria ingredients.
Simple Syrup or Juice: Depending on the recipe, adding a fruit-forward simple syrup or fruit juice can add a bit of sweetness to the mixture to bring all the flavours together.
Sparkling Water or Kombucha: Sometimes sparkling water or kombucha is used to lighten up the sangria or make the batch go a bit further.

Sangria is an easy big-batch cocktail you can make in a pitcher; that's why it's perfect for the summertime. So let's make some sangria friends!
8 Must Make Summer Sangria Recipes
Berry Cherry Kombucha Sangria from Crumb Top Baking: Berry Cherry Kombucha Sangria is an easy and refreshing summer cocktail with red wine, kombucha, lemon juice and plenty of summer cherries and berries!
Strawberry Lemonade Sangria from Baked – The Blog: Strawberry ginger syrup and fresh squeezed lemon juice are the base of this summer sangria. Get a bottle of rosé wine, some summer berries and you're set!
The Best Peach Sangria from Flavour & Savour: Fresh peaches, white wine, a hint of Triple Sec and a bottle of Prosecco make this the best (and the easiest) refreshing white wine Sangria. Add a handful or two of fresh blueberries for extra flavour and fun!
Strawberry Rhubarb Rosé Sangria from My Sweet Mess: Sweet strawberries, tangy rhubarb and refreshing rosé are the perfect summer combination. Simple to make and it only gets better as the flavours meld together! It's a great make ahead cocktail for any occasion.
White Wine Sangria Recipe with Rum from Slow the Cook Down: This white wine sangria recipe is perfect for summer. Easy and quick to make and spiked with rum.
Strawberry Kiwi Sangria with White Wine from The Mommy Mix: This delicious, fruity beverage is perfect for Summer. Made with fresh fruit, white wine, flavoured vodka and a splash of Tropical Fruit Punch Juice. Then, add a bit of Sprite to add some fizziness.
White Wine Sangria from The Wine Lovers Kitchen: A delightful white wine sangria combined with fresh stone fruits of the season.
Cucumber & Mint Sangria: Recently updated on the blog, a fresh twist on sangria using a crisp Sauvignon Blanc, cucumber, mint and lime!

There are so many delicious fruit combinations, it's hard to choose! But, I hope you find a new recipe you can enjoy this summer.
Cheers to summer sangria season friends!
Until the next cooking adventure,
Jess