I came across these beautiful heirloom tomatoes at the market and was immediately inspired to create an easy summer meal of Heirloom Tomatoes, Mozzarella and Sourdough Bread.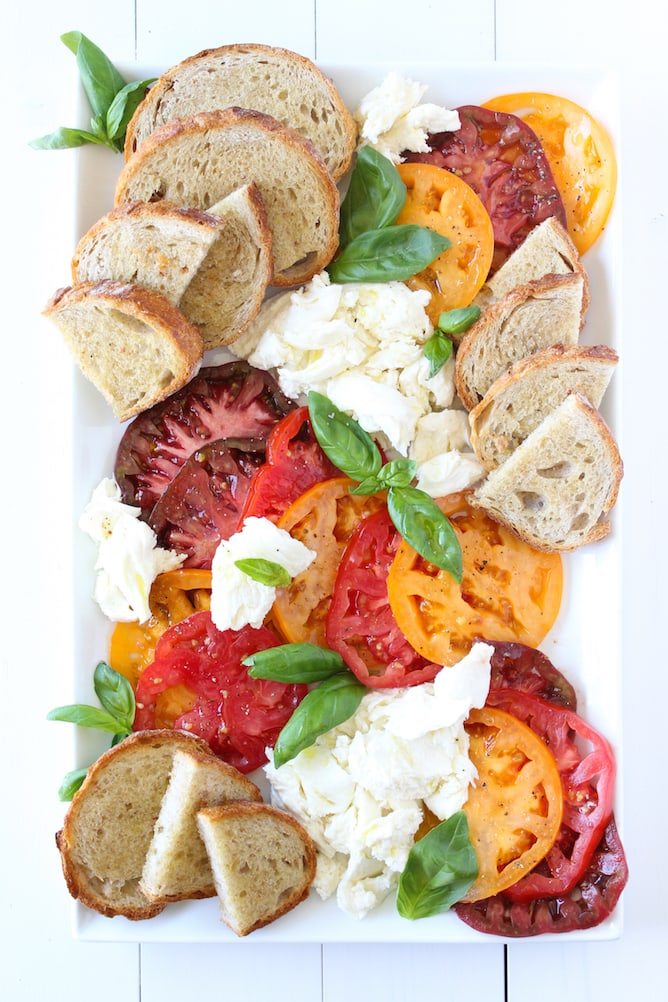 I'm always looking for easy recipes for the summer season that require only a little oven-time and some simple slicing or chopping. So, this board of beautiful flavours really hits all of those notes!
So what is different about Heirloom Tomatoes? Heirloom tomatoes are grown from seeds that are at least 50 years old, generally they are considered an heirloom if they are a 'variety that has been passed down through several generations of a family because of it's valued characteristics.'  Each colour has it's own slightly different taste and their colours in general are just beautiful, from the yellows, orange, red to purple. 
You should see them starting to pop up in markets and stores soon, so it's the perfect time to try them out with this Heirloom Tomatoes, Mozzarella & Sourdough Bread Board.  To me, this is the most wonderful combination of flavours from the fresh heirloom tomatoes, the creamy mozzarella cheese and the crispy bread. This recipe is perfect summer weeknight meals, a weekend lunch or for summer entertaining!
Total time: 15 minutes
Servings: 4-6
Equipment: large serving tray, baking sheet
Ingredients:
3-4 large heirloom tomatoes, variety of colours
250-300g soft mozzarella cheese (in milk)
small bunch of basil leaves
8 slices of sourdough bread
3 tbsp extra virgin olive oil
salt and pepper to taste
Instructions:
Set your oven to a low broil.
Slice your sourdough bread and then lightly brush oil on both sides of each slice. Place bread slices on your baking sheet and broil on low for 8-10 minutes, flipping the bread slices halfway through.

Once your bread is done, remove from oven.
Then to create your board, slice the heirloom tomatoes and pull the mozzarella into smaller pieces.
Arrange the heirloom tomato slices on your serving tray along with the mozzarella and then drizzle with olive oil and sprinkle on salt and pepper.

Then add the basil leaves to the board along with the bread, arranging as you see fit.

Now its ready to serve!
Until the next cooking adventure,
Jess