A holiday favourite, my mom made these Nanaimo Bars every year at Christmas growing up. I can remember sneaking down to the freezer in the basement to sneak a couple of extra each December.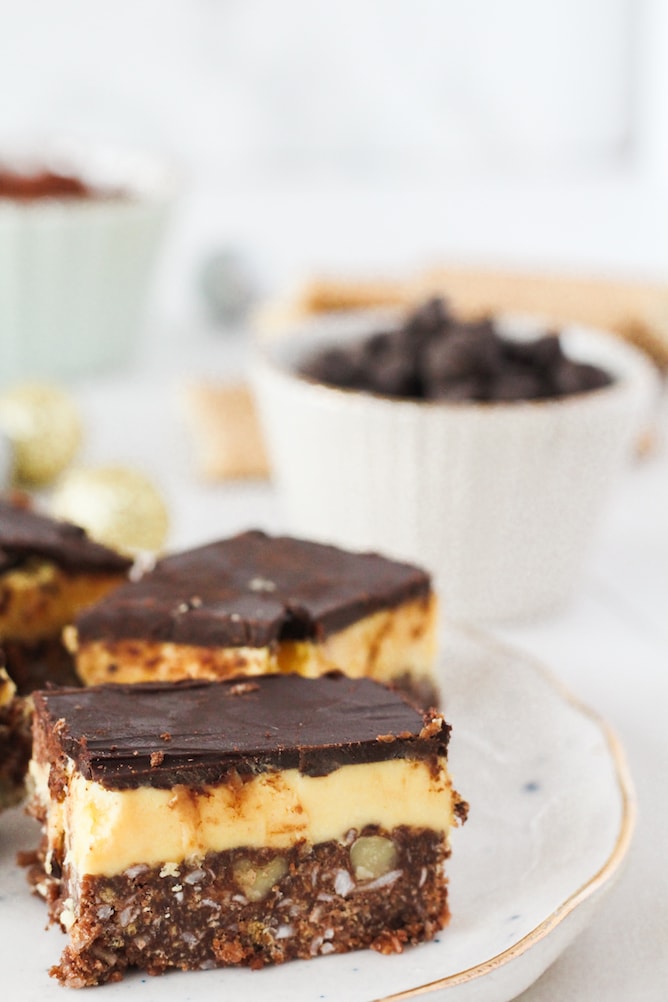 This Nanaimo Bar recipe is by far a fan favourite and is requested by family and friends each holiday season!
I love the creamy custard centre sandwiched between two chocolate layers – plus the base has coconut so how can you go wrong?!
I've been promising my friend Steph that I would post this recipe for a while now; so Steph, this one is for you!
This dessert is an all-around crowd-pleaser; you could even gift these delightful dessert squares as gifts!
Prep Time: 30-40 minutes
Equipment: 8×8 square pan
Servings: approximately 25 (depends how large/small you slice them)
Ingredients:
Base:
1/2 cup butter, softened/room temperature
1/4 cup sugar
3 tbsp cocoa powder
1 egg, beaten
1 tsp vanilla
2 cup graham crumbs
1 cup shredded coconut
1/2 cup walnuts
Middle:
1/2 cup butter, softened/room temperature
2 cups icing sugar
3 1/2 tbsp custard powder
2 tbsp milk (room temperature)
Top:
6 ounces of semisweet baker's chocolate or 1 cup semi-sweet chocolate chips
2 tsp butter
Instructions:
Base:
In a saucepan, melt butter, sugar & cocoa powder, stirring until combined. Set aside. Next in a bowl, combine graham crumbs, coconut and walnut – stir with a fork to combine. Pour melted butter/sugar/cocoa mixture onto dry mixture and mix until fully combined. Lastly, beat an egg with the vanilla, then add to the rest of the base. Mix until combined fully and spread/press into the bottom of your pan. Set aside.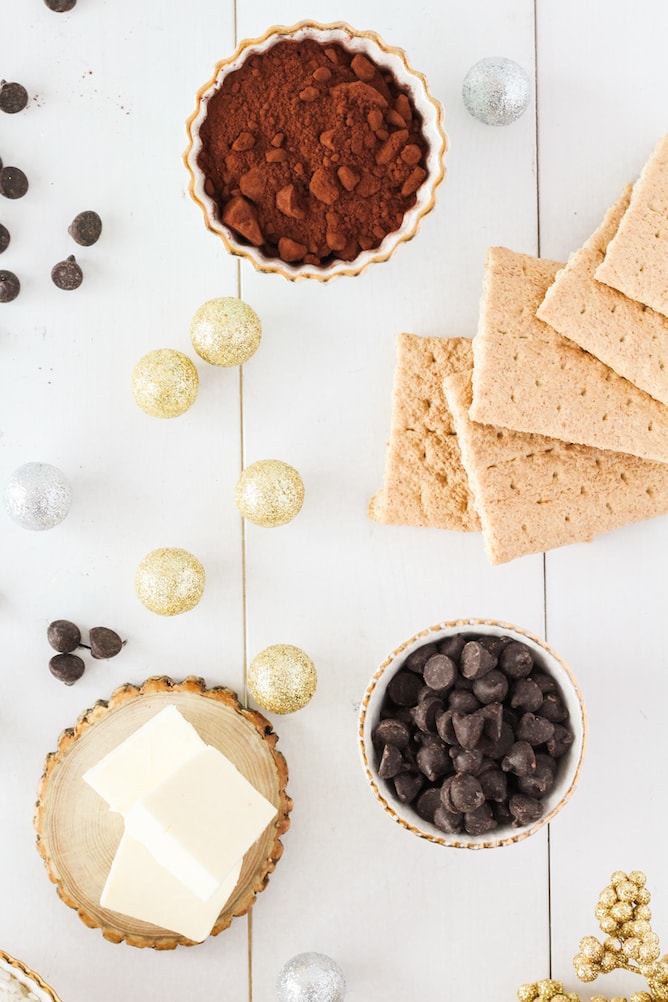 Middle:
Cream the butter with an electric mixer at medium-high about 1 minute (if you do not have a mixer, whisk vigorously until creamy, a couple of minutes). Add icing sugar, half-cup at a time, mixing until combined after each addition. Next, add the custard powder until combined. Then, add the milk to reach a smooth consistency. Spread the custard evenly on the base and place in the freezer while you make the topping.
Cook's Note: If you like a stronger custard flavour, feel free to add more custard powder to the mixture & taste to your liking.
Top:
Melt the chocolate with butter in a saucepan. Once melted set aside & immediately take your base/middle out of the freezer. Pour the melted chocolate over the custard & spread evenly immediately. Place in freezer for 30 minutes to let fully set. Then, take it out for about 10 minutes before cutting into squares.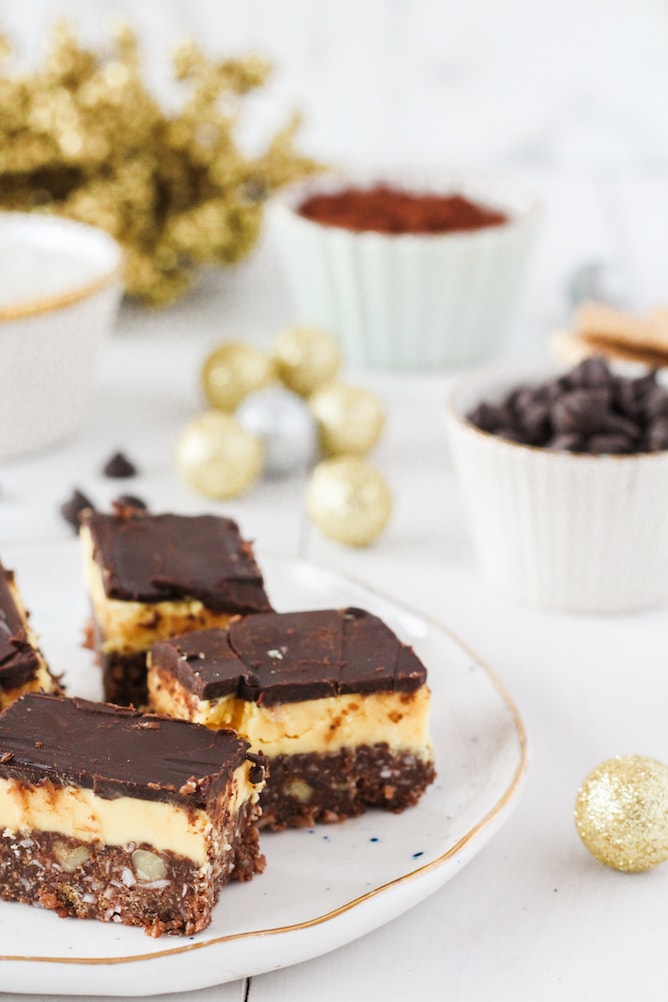 Cook's Note: Store these in the freezer up to two weeks ahead. Need them for a quick dessert during the holidays? Take them out about an hour before serving.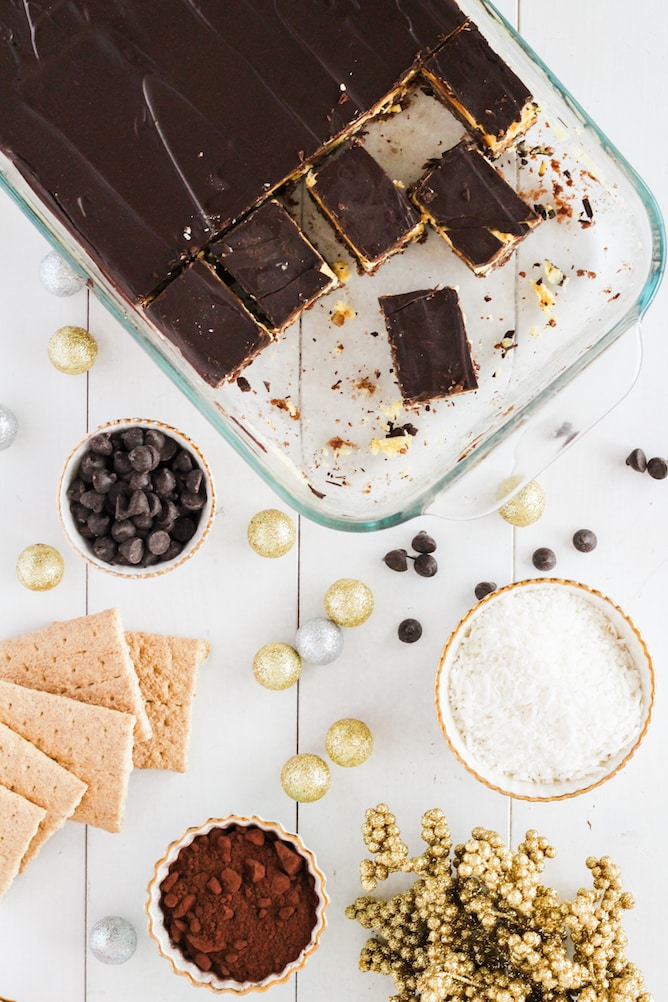 Until the next cooking adventure,
Jess