Whenever we turn the calendar to another New Year I get the urge to cook comforting dishes that are packed with nourishing and seasonal ingredients.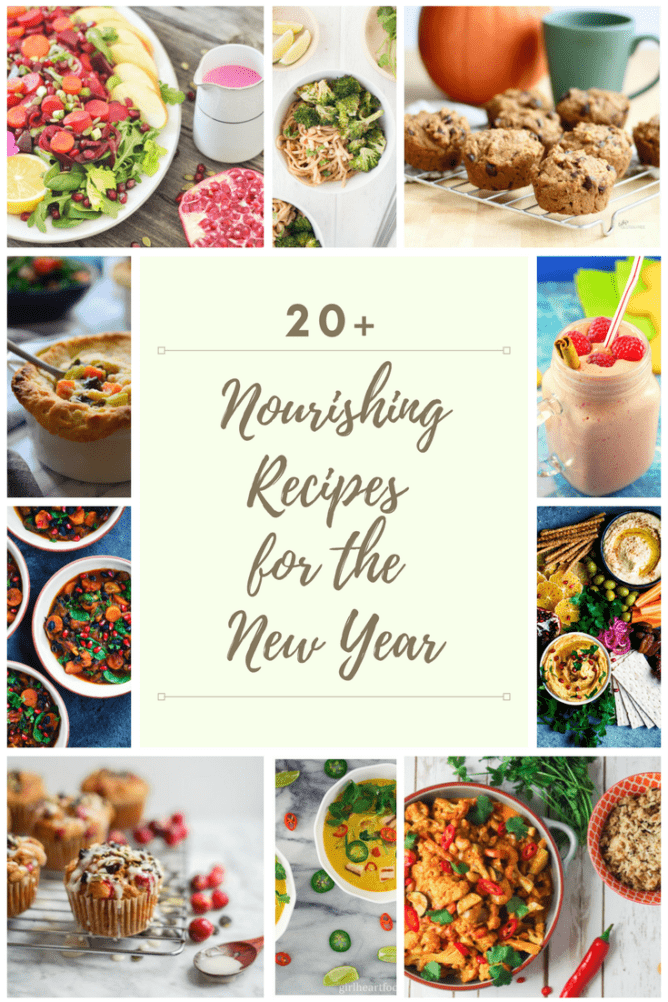 So, I've enlisted a couple of my blogging friends to put together a round-up of our favourite dishes that are sure to add flavour to your weekly meal plans.
From soups and stews, to salads and wraps plus some nutrient-dense snacks, there are dishes to suit everyone's tastebuds!
And, you can also find a variety of dishes for certain dietary needs such as gluten-free and vegetarian. I can't wait to tuck-in with some of these dishes in the upcoming weeks and I hope you will enjoy them too!
Nourishing Recipes for the New Year:
Breakfast
Sweet Potato and Bean Burrito with Plantains from What She Ate
Pumpkin Pie Overnight Oats from Kitchen, Uncorked
Raspberry Gingerbread Smoothie from Food Meanderings
Pear Cardamon Granola with Pecans from Making Healthy Choices
Snacks
Maple Pumpkin Cranberry Muffins from Eyecandypopper
Sweet Potato Lentil Hummus plus A Vegan Mezze from Occasionally Eggs
Gluten Free Pumpkin Spice Muffins from Cathy's Gluten Free
Salads & Bowls
New Year Detox Salad with Pink Tahini Dressing from Justine Celina
Thai Buddha Bowl with Tofu & Peanut Sauce from What She Ate
Garlicky Peanut Soba Noodles with Roasted Broccoli from My Kitchen Love
Cauliflower Rice from The Athlete's Palate
Shawarma Spiced Meatballs by From Pasta to Paleo
Cauliflower Alfredo with Peas from My Kitchen Love
Soups & Stews
Ribbolita Soup with Homemade Herbed Croutons (Vegan) from Eyecandypopper
Zucchini Noodle Curry Coconut Soup with Grilled Tofu from Girl Heart Food
Moroccan Lentil Stew from Kitchen, Uncorked
Smoky Chorizo, Kale and Squash Soup by From Pasta to Paleo
French Onion Soup from The Primal Desire
One Pot Meals
Veggie Korma from Girl Heart Food
Vegan Pumpkin Curry from Cilantro & Citronella
White Bean and Kale Vegan Pot Pie from The Stingy Vegan
Winter Black Bean and Pumpkin Chili from Occasionally Eggs
One Pot Stuffed Pepper Dinner from Jo and Sue
Curried Chicken Croquettes from Clockwatching Tart
There are so many wonderful delicious recipes to try, I think I've got my meal-plan ready for the next couple of weeks!

Until the next cooking adventure,
Jess