I absolutely love to entertain on New Year's Eve and I've put together the perfect Sparkling New Year's Eve Party Menu!
Whether you're hosting a your family and friends or you're having a small, cozy New Year's Eve at home, this menu is perfect for both.
I've created this entire menu with YOU in mind; keeping recipes easy to you can enjoy time with family & friends while celebrating 2018 – I promise there is something for everyone to enjoy as you ring in 2018!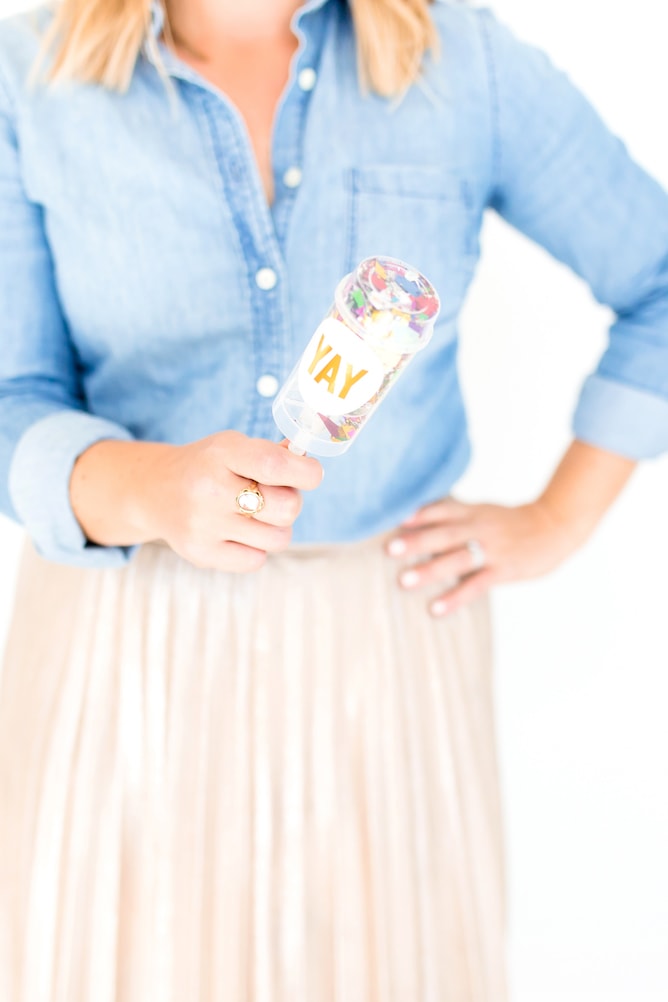 When I think of New Year's Eve the words 'pop & clink' always come to mind. I think back to my favourite New Year's Eve parties and they were always just a ton of FUN! So with those words in mind, this colourful décor and menu were created.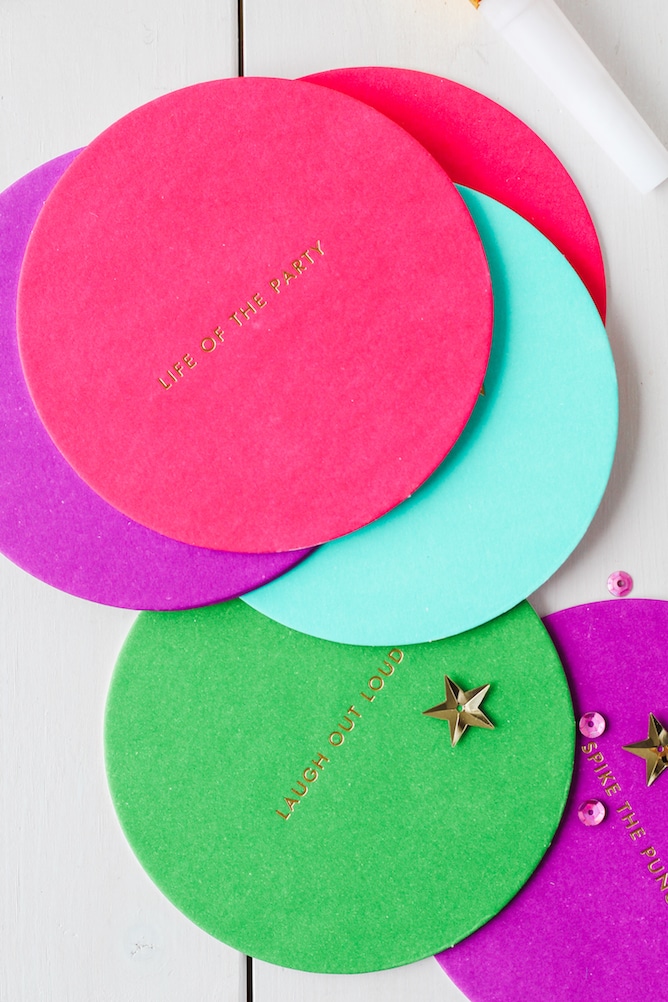 Your party will start off with a refreshing mocktail, the Ginger Honey Sparkler!
The combination of honey & ginger with sparkling water creates the most delightful sip! Plus, I cannot get enough of the 'frosted' rosemary sprigs – they are so festive!
Ginger Honey Sparkler
Total Time: 15 minutes
Equipment: small pot, strainer
Servings: 6-8
Ingredients:
1/2 cup fresh ginger, peeled & cut into pieces
1/4 cup honey
1/4 cup sugar
1 cup water
3 mint leaves
1-2 bottles sparkling water, chilled
Garnish:
6-8 rosemary stems (cut to fit nicely as a glass garnish)
1/4 cup sugar
Instructions:
Put all ingredients in a small pot and bring to a boil. Once simmering, turn to medium-low to keep at a simmer and simmer for 5 minutes.
Once done simmering, take the pot off of the oven and strain out the ginger and mint leaves. Set the mixture in the fridge to cool for a few minutes.
When you mixture is cooling, make your garnish. Rinse your rosemary in water, shake to get excess water off and then roll through the sugar to coat – do this for each piece of rosemary.
Once the mixture is cool assemble your mocktails.  Add 3 tbsp of your ginger-honey mixture to a glass with 1/3 cup sparkling water. Then garnish with a rosemary sprig and add ice if needed.
Cook's Note: As I was trying to come up with a cocktail my friend Gillian mentioned to me 'why not try a mocktail,' thus giving guests the choice of the mocktail OR transforming this drink into a cocktail. SO, if you want to make this drink alcoholic, gin, vodka or prosecco would be a nice addition.
To accompany your Ginger Honey Sparkler are Apricot & Pecan Brie Bites.
This recipe is a riff on what my girlfriend's Steph & Pam call my 'award-winning recipe,' a recipe I created to win a Style at Home Magazine contest many, many years ago. To this day, the combination of apricot jam and brie never fails to impress!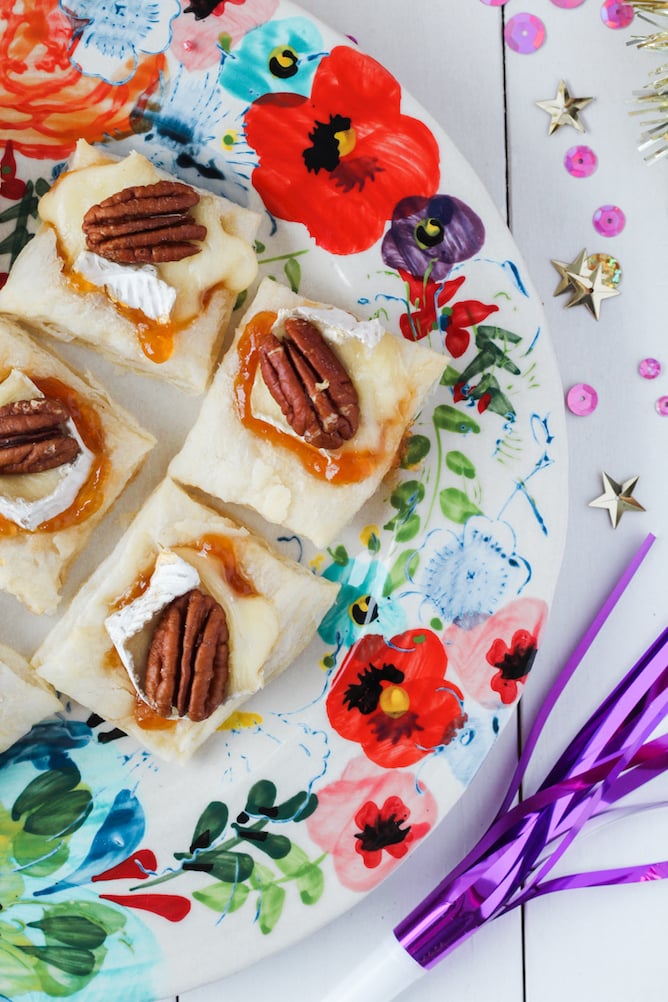 Apricot and Pecan Brie Bites
Total Time: 30 minutes
Equipment: baking sheet
Servings: 20 bites (2-3 bites per person for 6-8 person party)
Ingredients:
1 square puff pastry, defrosted & rolled out OR 1 sheet puff pastry
175g brie, cut into 20 squares
1/3 cup apricot jam
20 pecans
Instructions:
Preheat oven to 400F.  Line a baking sheet with parchment paper.
If using a square of puff pastry dough, roll out to approximately 12inch x 12inch square. Then, cut your puff pastry dough into 20 squares and place onto your baking sheet, spaced apart.
Cut the brie into 20 squares, making sure the squares are just slightly smaller than your puff pastry squares.
Bake your puff pastry squares for 10 minutes. Then, remove them from the oven and top each puff pastry square with about 1/2 tsp apricot jam, a square of brie and one pecan. Put the squares back in the oven and bake for 6-8 minutes, until brie is starting to melt.
And you can't have a party without something sweet, so my Party Chocolate Bark does just the trick!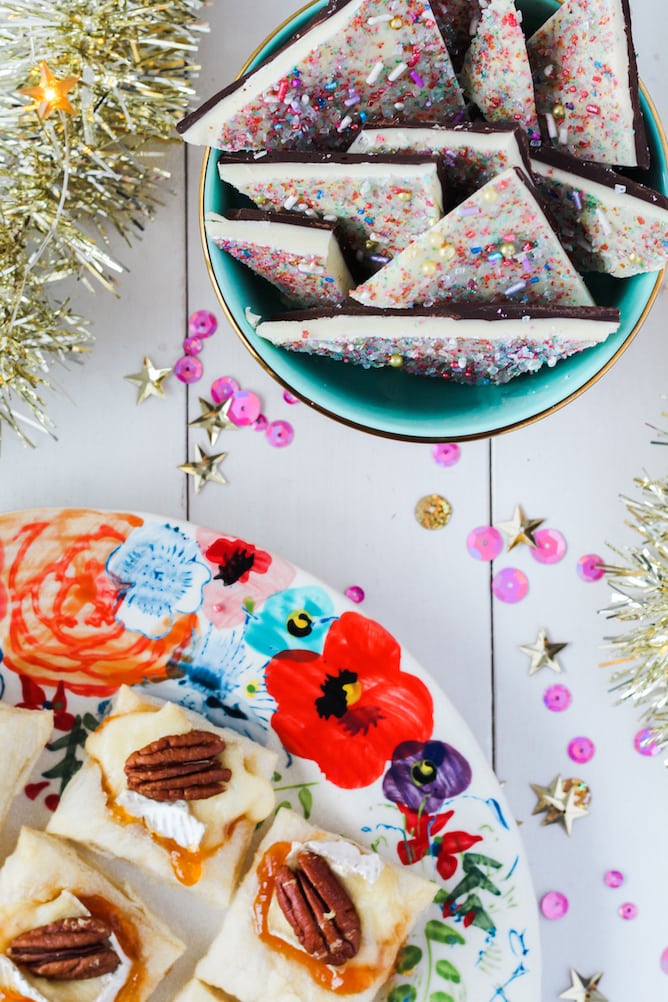 Using both white & dark chocolate, plus a ton of sparkly sprinkles, my Party Chocolate Bark is the perfect sweet bite to accompany your New Year's Eve evening.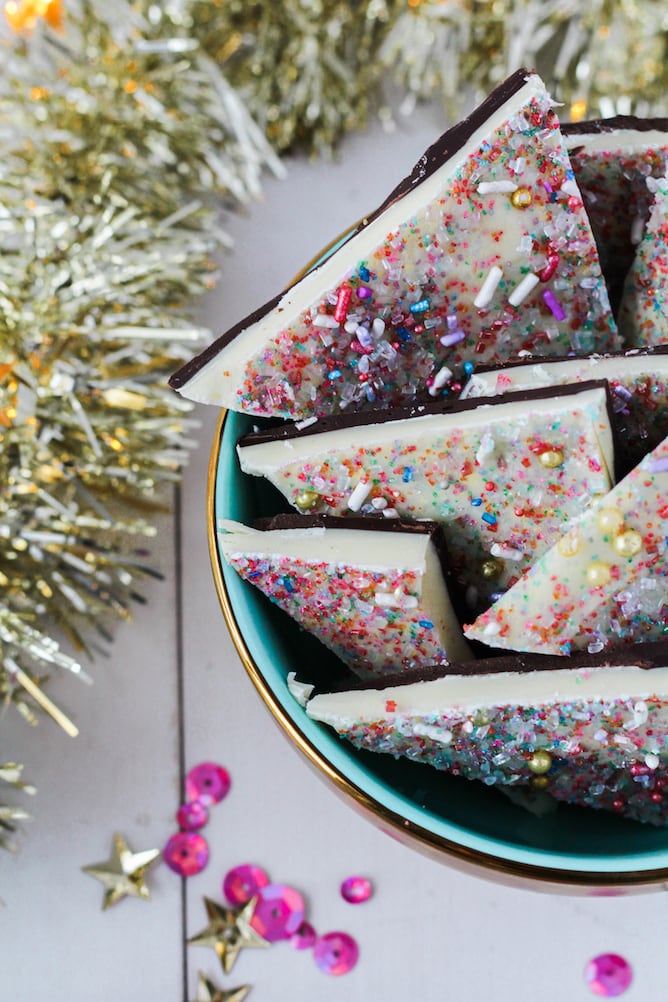 Party Chocolate Bark
Total Time: 50 minutes
Equipment: baking sheet
Servings: 6-8
Ingredients:
12oz/350g dark chocolate (approximately 2 cups dark chocolate chips)
12oz/350g white chocolate (approximately 2 cups white chocolate chips)
3 tbsp colourful sprinkles
Instructions:
Line a baking sheet with parchment paper.
First, melt your dark chocolate using a small pot on low heat, stirring constantly as the mixture melts. You can also melt the chocolate in the microwave in 30 second increments.
Pour the dark chocolate onto the parchment paper and spread out to about a quarter-inch thickness. Put the dark chocolate layer in the freezer for 20 minutes.
Once your dark chocolate has been in the freezer for 15 minutes, melt the white chocolate. Let the white chocolate sit for about 2 minutes and then remove the baking sheet from the freezer. Pour the white chocolate on top, smooth out and then sprinkle on the sprinkles. Freeze for 20 minutes.
Once your Party Chocolate Bark is set, break into chunks and keep refrigerated.
I hope you enjoy all of these recipes this New Year's Eve; I'm sending you a virtual CHEERS from here in Calgary!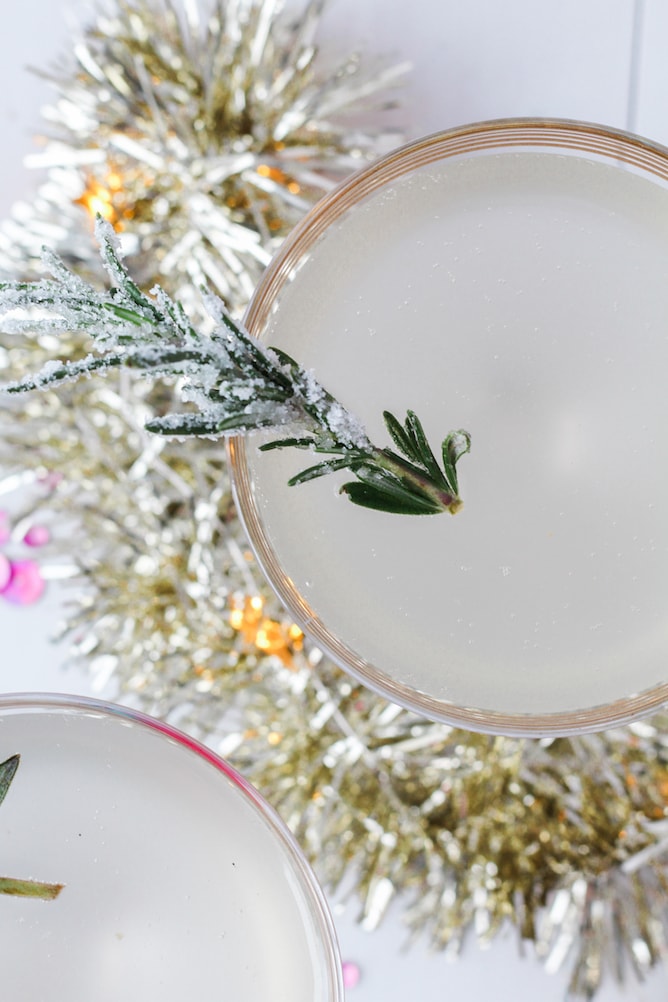 Thank you for visiting the Cooking in my Genes blog, I can't wait to share with you so many new creations in the New Year!
More New Year's Eve Recipe Inspiration from the blog
15 Food & Cocktail Recipes to Make for New Year's Eve
Cocktails & Mocktails for New Year's Eve
Until the next cooking adventure,
Jess