The Wintery weather has me cooking up comforting classics in the kitchen including these Pinto Bean & Thyme Pot Pies!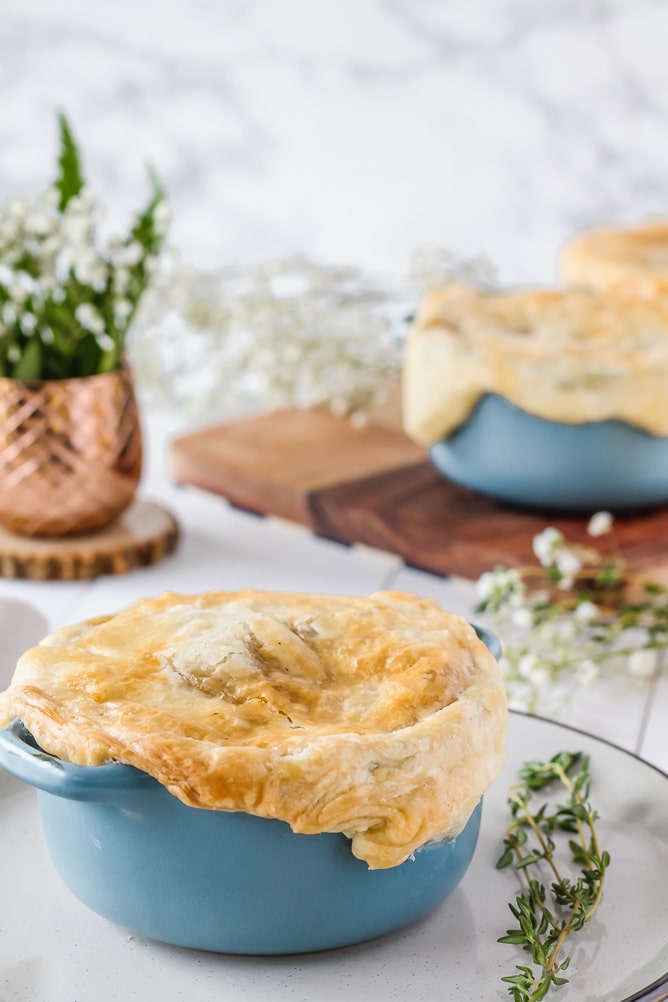 Have you ever thought of cooking as a form of meditation? Thoughtfully preparing a meal can be a wonderful way to nourish your body and your mind.
That is why I love creating dishes like these Pinto Bean & Thyme Pot Pies chalked full of nutritious and delicious ingredients.

These pot pies bring about the theme of 'low and slow;' taking the time to source local ingredients to cook with and savouring the time preparing a meal in the kitchen.

I remember enjoying comforting chicken pot pies when we were kids; an abundance of hearty ingredients topped with delicious pastry that brings the pot pies together. We enjoyed these pies in the wintertime and they were the perfect cozy meal.

Inspired by those cozy and warm thoughts, these individual Pinto Bean & Thyme Pot Pies deliver similar flavours and nourishing ingredients. Using the humble pinto bean as a source of protein and pairing it with carrots, parsnips, leeks, mushrooms and thyme, these pot pies are full of flavour.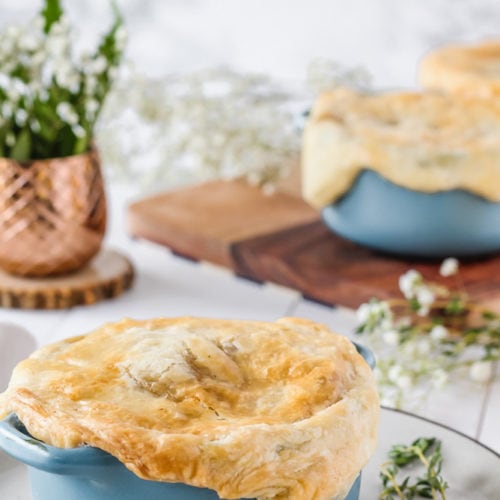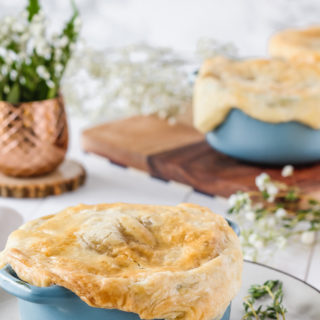 Pinto Bean & Thyme Pot Pies
Warm and comforting, these Pinto Bean & Thyme Pot Pies are full of flavour and nourishing vegetables. A perfect dish for a Winter evening.
Print Recipe
Rate this Recipe
Pin Recipe
Ingredients
1

cup

dried pinto beans, soaked overnight or according to package instructions

substitute 3 cups canned pinto beans

3

tbsp

butter

3/4

cup

chopped carrots (1/2 inch pieces)

3/4

cup

chopped parsnips (1/2 inch pieces)

1 1/4

cup

diced leeks

1

cup

chopped celery

1

tsp

kosher or sea salt

1/2

tsp

fresh ground pepper

1

cup

sliced brown or cremini mushrooms

1/4

cup

all-purpose flour

1/3

cup

white wine (sauvignon blanc works well)

substitute chicken or vegetable stock for white wine if you prefer

4

cups

chicken broth

substitute vegetable stock if you prefer

1

tbsp

fresh thyme leaves

butter for the ramekins

250

g

thawed puff pastry dough
Instructions
**Important: dried pinto beans must be soaked overnight**
Soak pinto beans overnight according to the package instructions. Drain and set aside.

If you're using canned beans, drain and rinse before using.




In a large pot, melt the butter over medium-high heat.

Once melted, turn your pot to medium heat, add in your chopped vegetables: carrots, parsnips, leeks and celery and salt and pepper. Sauté for 5-7 minutes, until the leeks are soft.


Then, add in mushrooms and sauté another 5 minutes.


Add in your flour to the pot, stirring to make sure all the vegetables are coated (about 30 seconds). Then deglaze the pan with the white wine, stirring up any bits that have stuck to the bottom.


Slowly add in the chicken broth, stirring until the mixture thickens slightly. Then add in the fresh thyme and pinto beans, giving the mixture another stir.


Bring your pot to a simmer and then cook on low to keep simmering for 1 hour, stirring occasionally.


While you pot pie mixture is cooking, prep your ramekin dishes by buttering the inside of each dish and setting all six ramekins on a baking sheet.


Roll out your puff pastry dough and cut into six squares, large enough that the dough covers your ramekin with about 1 inch excess dough around.


Once your pot pie mixture is done cooking, take the pot off the heat and pre-heat your oven to 400F.


Spoon the pot pie mixture into the ramekins, evenly distributing between the 6 ramekins.


Place a square of puff pastry dough on top of each ramekin, pinching the dough around the side of the ramekin dish and using a knife to make a couple little slices in the top of the dough for venting.


Bake for 25-30 minutes until the crust is golden and filling is bubbling.

Notes
Equipment: 6 ramekins (approximately 4" in width and holds 175-200mL), large soup pot or Dutch oven, baking sheet

The Winter months are a perfect time to slow down and savour the meditation of cooking in your kitchen. These Pinto Bean & Thyme Pot Pies may take a little extra time but the result is worth it for a delicious and nutritious meal.

Looking for more nourishing dishes? Check out my Chicken Noodle Soup or Nourishing Dishes Recipe Round-Up!
Until the next cooking adventure,
Jess
Disclaimer: This recipe originally appeared in The Supper Club Magazine – Winter 2018 Issue.