How about we have some FUN in the kitchen!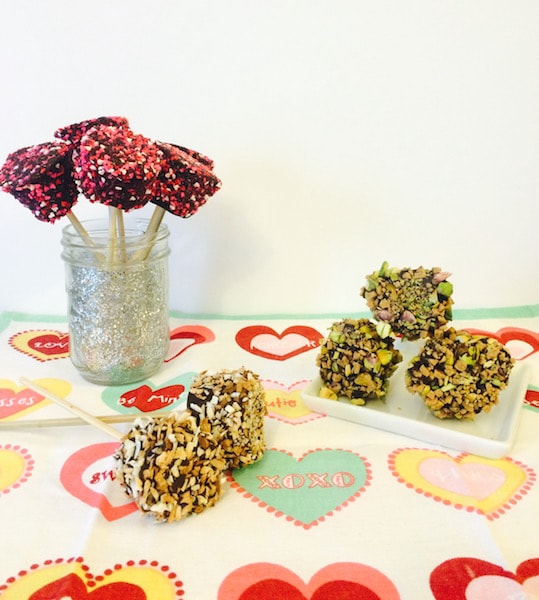 Need a quick and easy gift for your Valentine this year? These Chocolate Marshmallow Pops are the perfect DIY gift idea. They're sweet, chocolatey and homemade. Plus, you can totally choose any of your favourite topping ingredients besides the ones in our recipe to truly make these your own.
Prep Time: 10 minutes
Equipment Needs: popsicle sticks or skewers, pan & parchment paper
Ingredients:
1/3 cup shelled pistachios, chopped
1/4 cup skor toffee bits
1/3 cup sweetened shredded coconut, toasted (low broil for about 2 mins)
1/4 cup heart sprinkles
1/4 cup pink sprinkles
1 cup semi sweet chocolate chips
1 cup dark chocolate chips
2 tsp coconut oil
21 extra-large marshmallows
Instructions: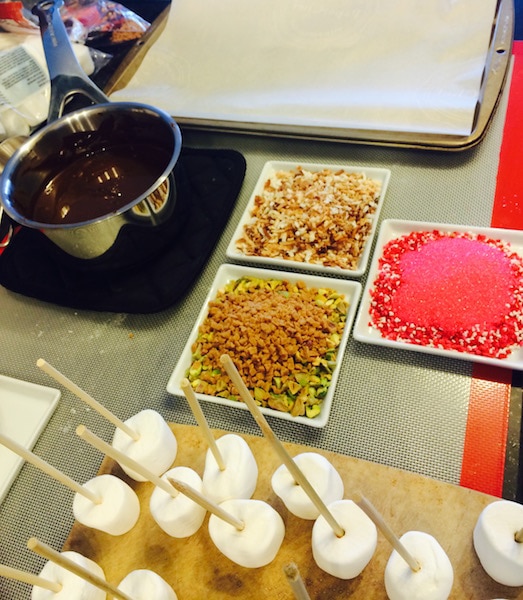 Toppings
Chop the 1/3 cup of shelled pistachios and mix with 1/4 cup of Skor Toffee Bits. Next, toast the shredded coconut on a pan for 2 minutes on a low-broil setting in the oven. Lastly, mix the heart and pink sprinkles together.
Chocolate
Put the coconut oil at the bottom of the pot, then add the chocolate chips. Heat on low heat, stirring constantly as the mixture melts. Continue to stir until fully melted and then take off the heat.
Assembly
Line a baking sheet with a piece of parchment paper. Place each marshmallow on a popsicle stick or skewer. Then, dip the marshmallow into the chocolate, letting the excess chocolate drip off. Next, roll the marshmallow pop in the toppings – this recipe allows for 7 marshmallow pops per topping mixture. Place each pop marshmallow-side down on a parchment-lined baking sheet.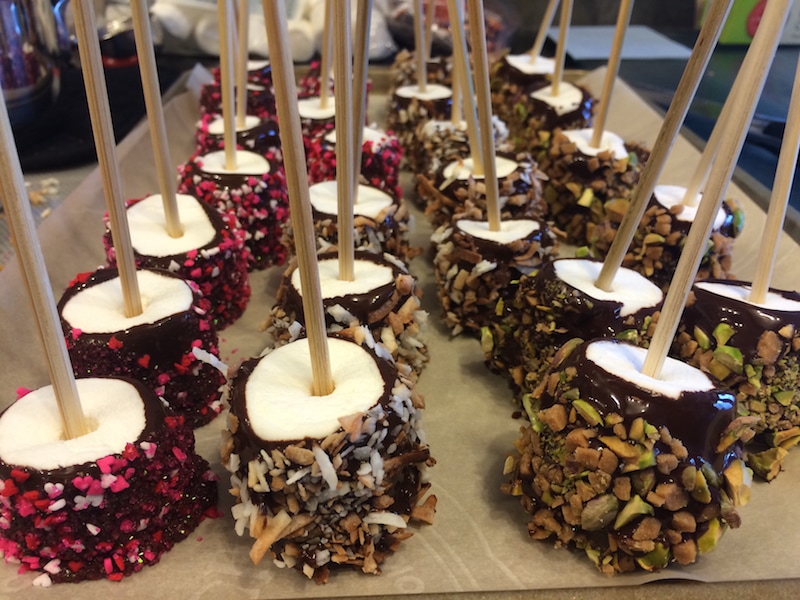 Refrigerate for 1.5 hours and then they are ready to serve and gift!
Until the next cooking adventure,
Jess