This is what happens when I have a craving and I decide to turn it into a breakfast recipe.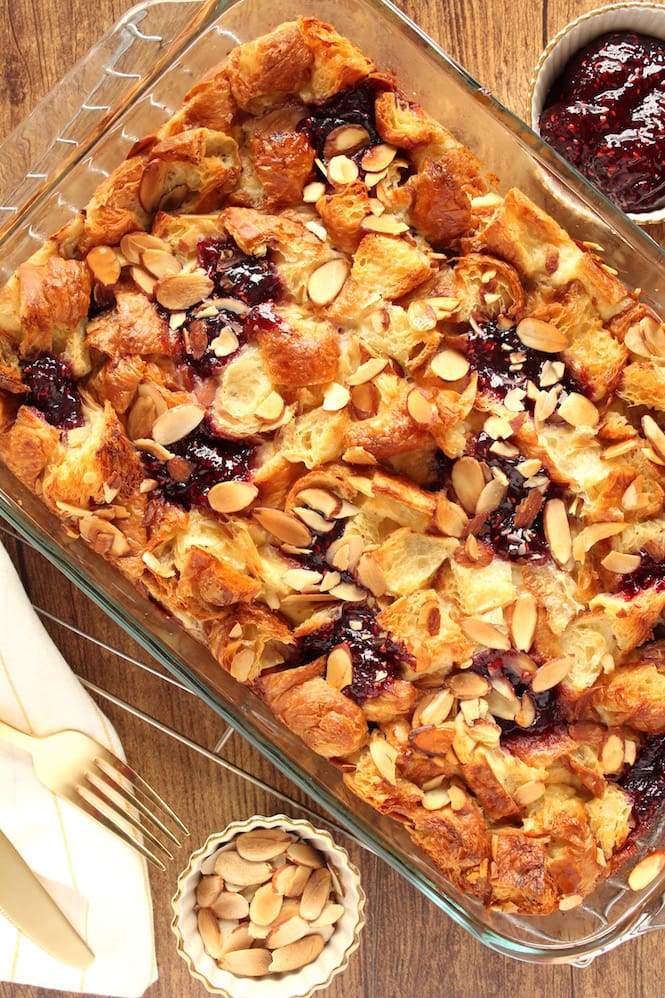 The first time I had an almond croissant I was sitting in a café in Paris. I had dreamed about the exact scenario I was in…sitting in a Parisian café, ordering an espresso and croissant, and enjoying the atmosphere around me. I went for an almond croissant which to my delight had a raspberry filling. The croissant was buttery; the almonds added a crunch and the raspberry filling was a sweet delight at every bite.
So, with visions of almond croissants dancing around my head I created the ultimate in breakfast foods which is a combination of croissant and french toast – another one of my favourite breakfast foods.
This breakfast dish is perfect for a crowd. Whether you're hosting a brunch or have guests staying over, I suggest you make this recipe.
Total Time: 1 hour, 20 minutes
Kitchen Equipment: 9×13 baking dish
Servings: 10-12
Ingredients:
8 day-old croissants, cut into cubes
1/4 cup sliced almonds, toasted
6 eggs
2 cups whole milk
1/2 cup maple syrup
1/2 tsp cinnamon
1/2 tsp vanilla extract
1/4 tsp salt
1 cup raspberry jam
1/4 cup sliced almonds (for the topping)
butter for the dish and for serving
maple syrup for serving
icing sugar for serving
Instructions:
Turn your oven to low broil, place 1/4 cup sliced almonds on the baking sheet and toast 5-6 minutes until golden. Set aside.
Grease your baking dish with butter and turn your oven to 350F.
In a bowl whisk the eggs, milk, maple syrup, cinnamon, vanilla extract and salt.
In your baking dish, spread about half of the croissant cubes on the bottom and then dollop half of your raspberry jam on the croissant cubes followed by sprinkling the toasted almonds.
Next, spread out the rest of the croissant cubes to make your final layer. Again, dollop the rest of the raspberry jam over the croissant cubes and then sprinkle the other 1/4 cup of almond slices.
Pour the milk mixture evenly over the croissant cubes to cover everything evenly.
Bake the french toast uncovered for 30 minutes. Then, remove from the oven and cover with foil to bake for the remaining 20-25 minutes. It should be firm when it's fully baked.
Let the croissant french toast stand for 10 minutes before serving and then sprinkle with icing sugar before slicing.
Cook's Note: The top will be puffy when its fully baked and then as it rests will deflate slightly but thats ok!
When you're ready to serve top with butter and a drizzle of maple syrup.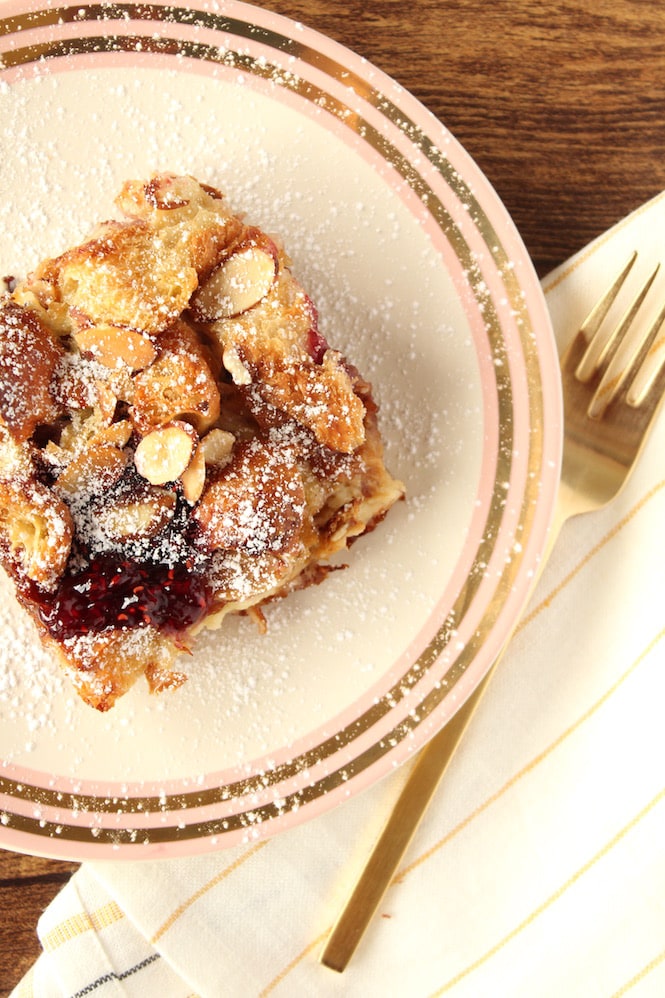 Until the next cooking adventure,
Jess