An easy and delicious Mushroom Tart is perfect for Springtime lunches, brunches or even a quick and easy dinner.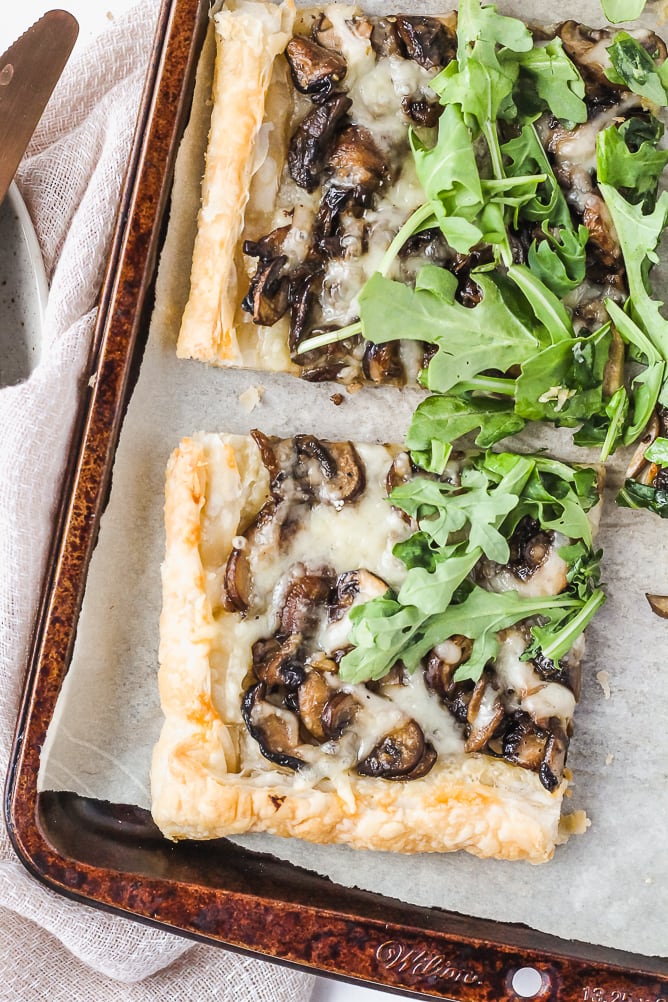 Topping a buttery puff pastry sheet with gruyere cheese and mushrooms brings together this dish ever so effortlessly.
This Mushroom Tart is a simple dish that is sure to bring the flavour for any meal, any time!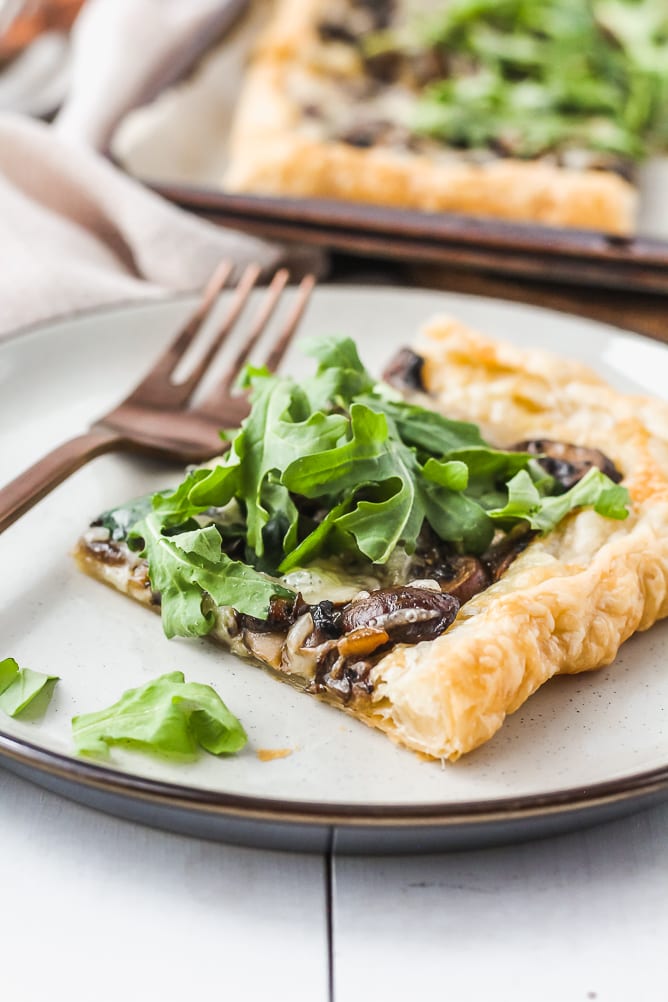 It's so hard to say when to enjoy this Mushroom Tart because it is so versatile. The flavours are some of my favourite for the Spring season, especially mushrooms.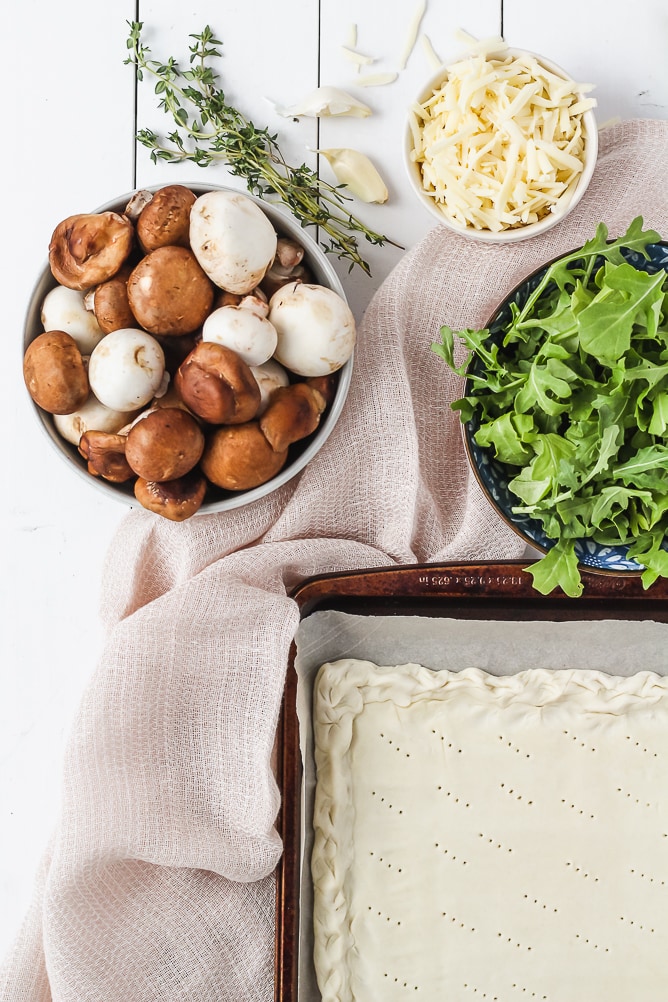 First the mushrooms are sautéed in butter, garlic and thyme. Then roll out the puff pastry dough and bake it with one layer of gruyere cheese.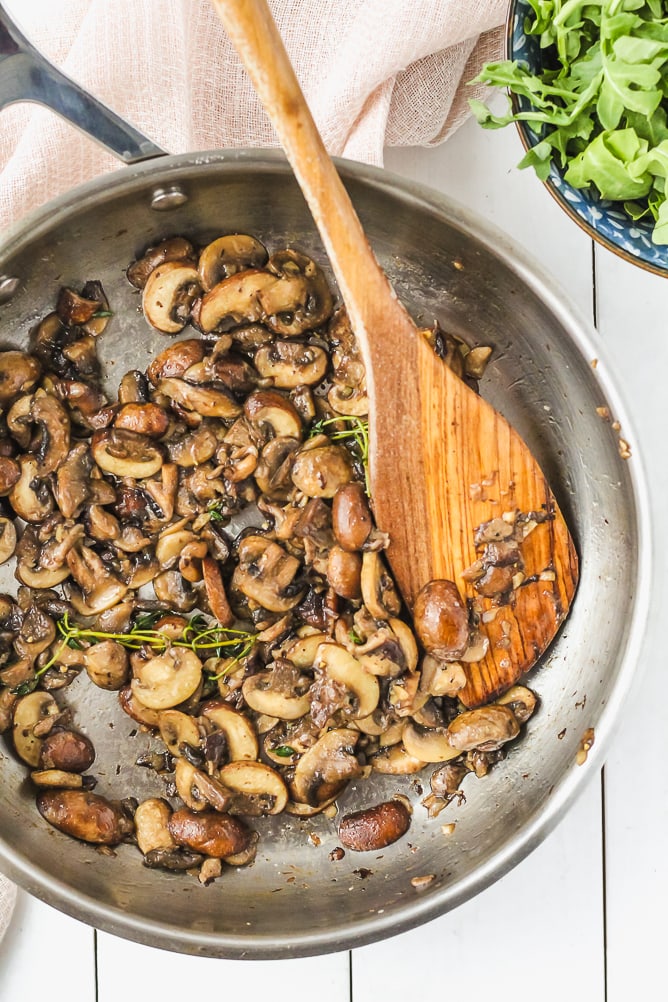 Gruyere is one of my favourite cheeses to use for savoury dishes like this Mushroom Tart or in quiche recipes too. It's a creamy, nutty cheese that's a little bit salty and I find it complements other flavours really well, especially the mushrooms in this tart.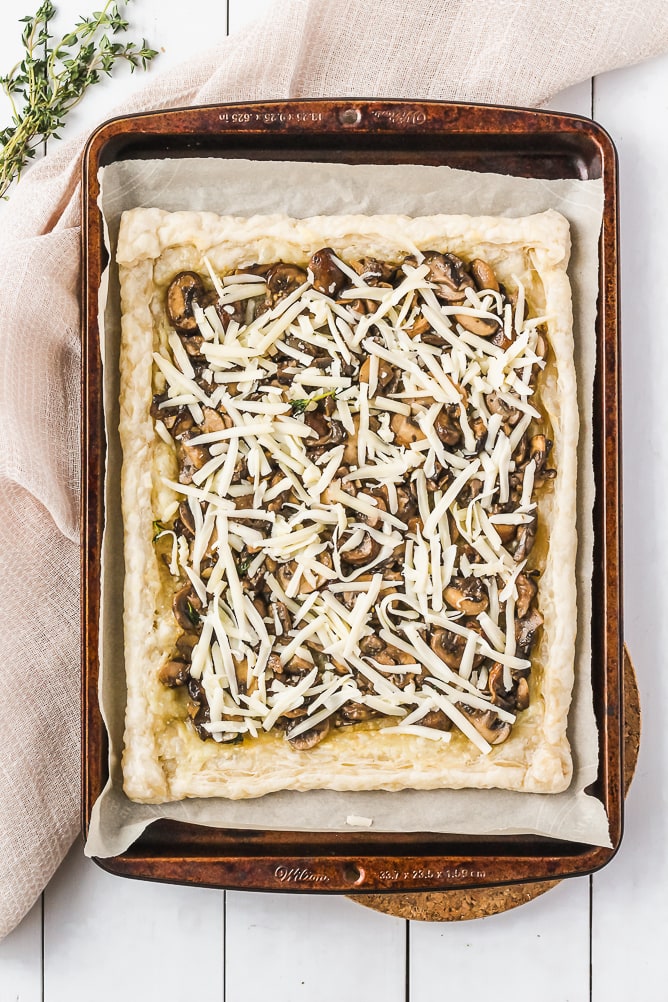 The tart is topped with the cooked mushrooms, a bit more gruyere cheese and then baked to golden perfection!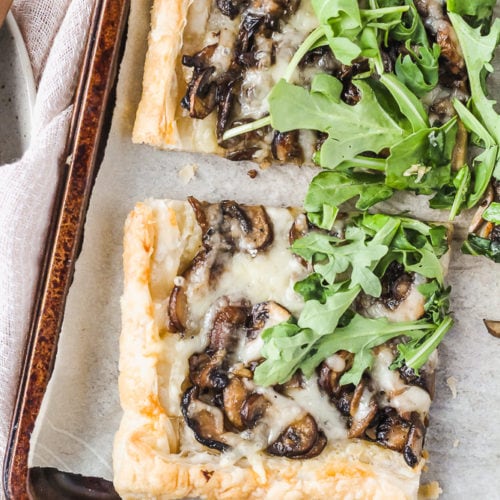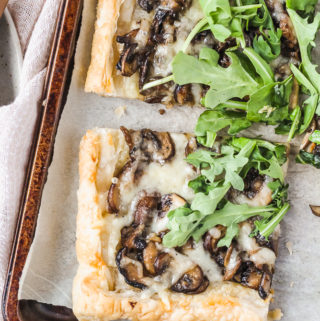 Mushroom Tart
Buttery puff pastry is layered with gruyere cheese & mushrooms for a delicious and easy Mushroom Tart that's perfect for brunch, dinner or an appetizer!
Print Recipe
Rate this Recipe
Pin Recipe
Ingredients
For the Mushrooms:
10

oz

assorted mushrooms (white, brown, cremini and/or shiitake mushrooms), sliced

about 2 1/2 - 3 cups sliced mushrooms

2

tbsp

unsalted butter

3

fresh thyme sprigs

1/2

tsp

coarse salt

1/4

tsp

ground black pepper
For the Tart:
1

sheet

puff pastry dough, thawed

1 1/2

cups

shredded gruyere cheese

can substitute with swiss cheese

2-3

cups

arugula for serving
Instructions
**Important: thaw puff pastry according to package directions**

Pre-heat the oven to 425F and line a baking sheet with parchment paper.

Role out the puff pastry dough into a 10 inch by 12 inch rectangle (approximately). Make a half-inch border around the tart by rolling/pinching the sides of the dough. Using a fork, make dots throughout the middle of the tart and then set aside.

To make the mushrooms, melt 2 tbsp butter in a frying pan over medium heat.

Once the butter is bubbling, add in the garlic and give it a quick stir. Then add in the sliced mushrooms. Cook the mushrooms for 5 minutes, stirring occasionally.

Add in thyme sprigs, salt and pepper to the mushrooms and cook for another 5 minutes, stirring often and until the mushrooms are softened. Remove the thyme sprigs and then set mushrooms aside.

Spread 1 cup of cheese onto the tart and bake for 10 minutes. Then remove from the oven. (Note: the middle of the tart may start to puff up a bit so when removing the tart after 10 minutes, just use a fork to make a couple more dots in the tart to get the air out)

Spread the mushrooms out evenly onto the baked cheese layer of the tart, then layer 1/2 cup remaining cheese on top of the mushrooms. Bake the tart for 12-15 more minutes until the crust is golden.

Top with arugula and enjoy!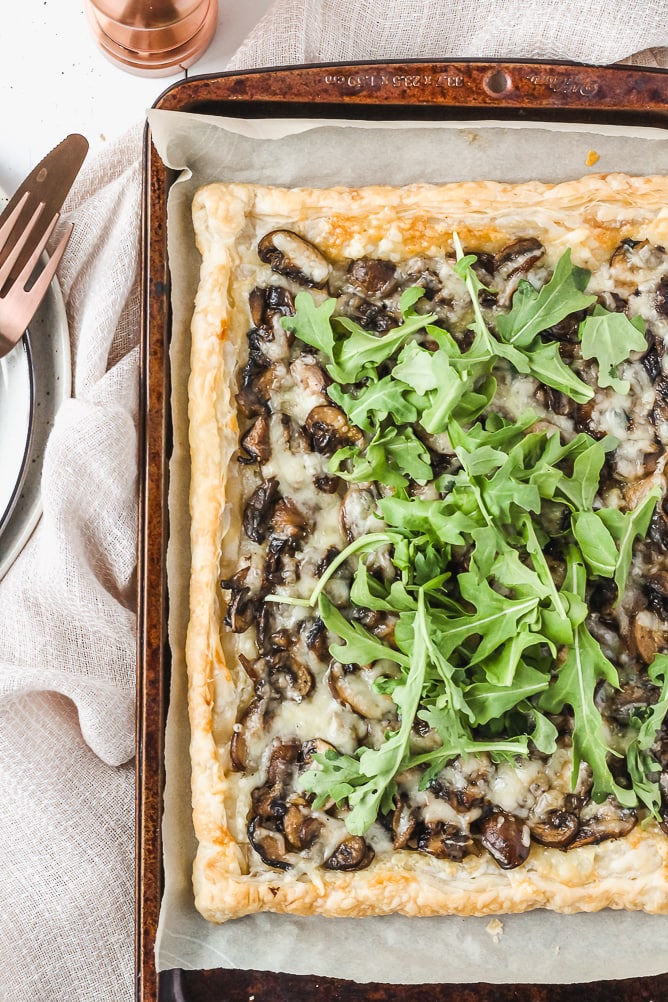 Topping this tart is arugula to bring a fresh bite of greens to round out all of the flavours.
This Mushroom Tart is best served hot out of the oven but honestly it's also delicious at room temperature too for a picnic perhaps. You could even cut this tart into smaller pieces as well and serve as an appetizer!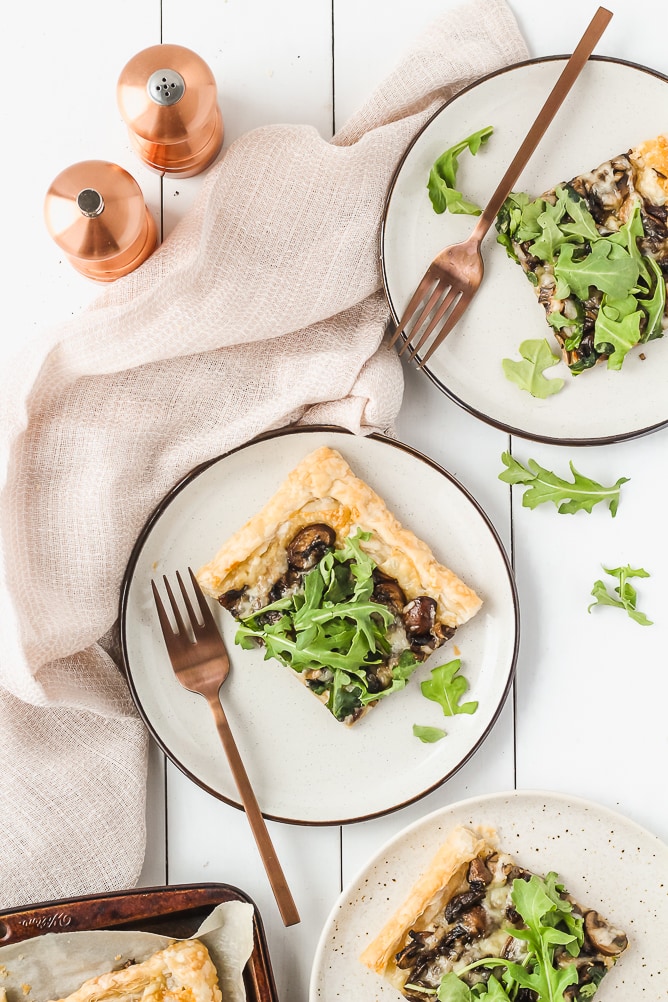 Using store-bought puff pastry dough makes this dish so simple; I am here to make delicious dishes easy for you to make!

And, if you love buttery puff pastry, try out my simple Plum Tarts as a sweet option too.
Until the next cooking adventure,
Jess