I've got a fast, fresh & easy dinner coming at you!
These wraps have become a go-to dinner when I have nothing to make – they can be made any season and you can have fun making your own wraps the way you like them.
Feel free to mix and match the toppings based on your tastes and have fun in the kitchen with this one!
Prep Time: 30 minutes
Equipment: large frying pan
Servings: 4
Ingredients:
1 large head of butter or iceberg lettuce (iceberg is more sturdy but I love butter lettuce!)
4 mini bell peppers or 2 large bell peppers, sliced thin (your choice of coloured peppers)
Small bunch of cilantro, chopped
Small bunch of radishes, sliced thin
2 cups purple cabbage, chopped
2 garlic cloves, minced
1/2 small yellow onion, chopped
1/2 cup + 2 tbsp peanuts, roughly chopped
4 chicken breasts
Salt & Pepper
1 tbsp olive oil
1 cup of peanut sauce (my favourite sauce is Presidents Choice Szechwan Spicy Peanut Satay Sauce)
Instructions:
Slice & chop all of the toppings as listed above (bell peppers, cilantro, radishes, purple cabbage) and set aside in small bowls. Wash and set aside the lettuce leaves.
Next, mince the garlic & chop the onion and set aside in a bowl.  Then, prep your chicken – slice the chicken breasts in strips and season with salt and pepper.
Add 1 tbsp of olive oil to your frying pan and heat over medium heat.  Add the onion and garlic, sauteeing for about 5 minutes.  Then, add the chicken to the pan, stirring occasionally until cooked through, about 10-15 minutes.  Stir in the peanut sauce and turn the pan to medium-low, cooking for 5 more minutes, stirring often.  Add the 1/2 cup chopped peanuts and stir. Let peanut-chicken mixture simmer 2 more minutes.  Remove the chicken from the pan into a serving bowl and top with 2 tbsp of chopped peanuts.
To assemble the lettuce wraps, take a piece of butter lettuce. Sometimes I like to put the purple cabbage in first to keep the wrap sturdy, then add in the peanut chicken and top with peppers, radishes and cilantro!  Then, have many napkins handy!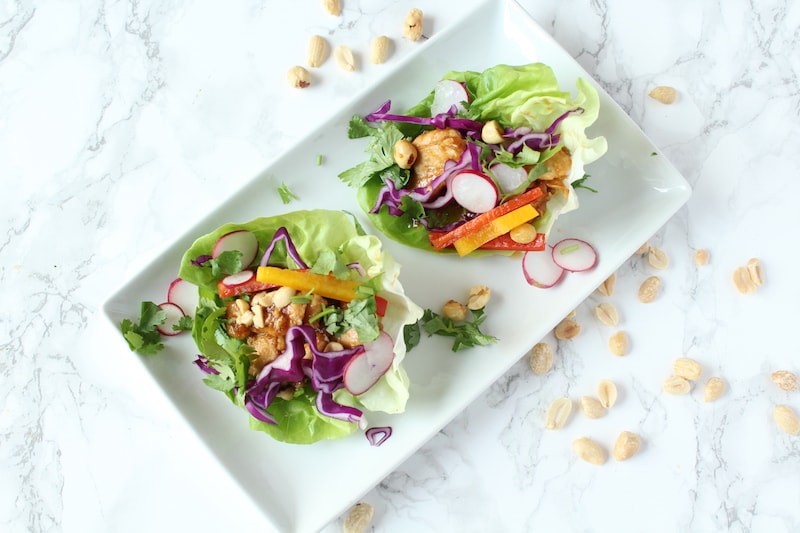 Cook's Note: If you don't like peanuts OR there is a peanut allergy, you can easily substitute the peanut sauce in this recipe for your favourite stirfry or asian-inspired sauce from the grocery store AND you can omit the peanuts or replace with cashews or almonds to still get the same crunch!
Until the next cooking adventure,
Jess