If there's one recipe I'm forever making for lunch it's these Peanut Chicken Power Bowls!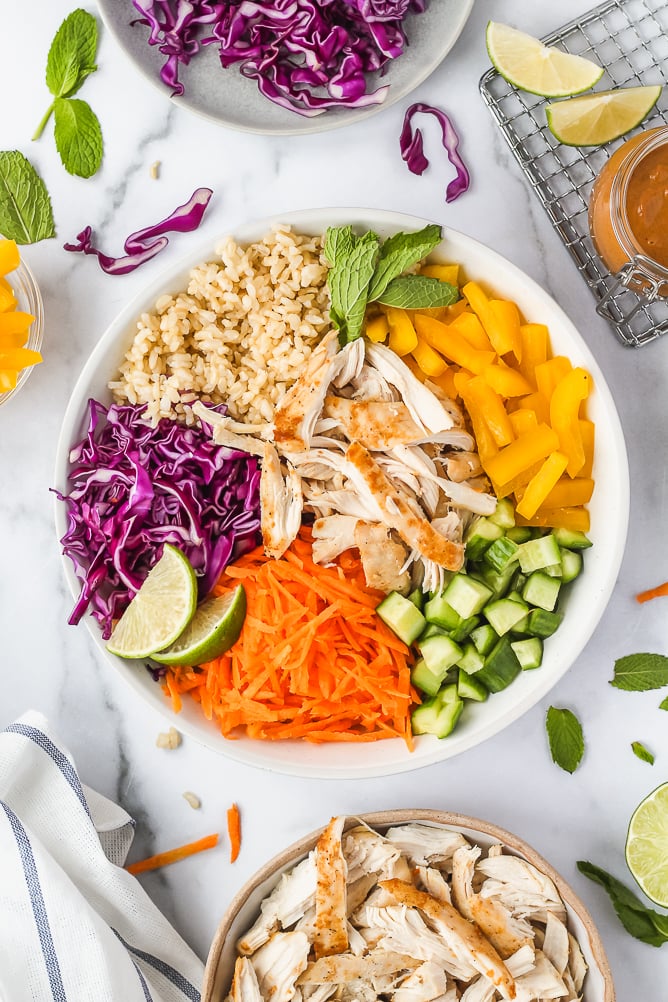 These bowls are healthy and packed full of flavor.
It's so easy to mix and match ingredients so you can make these bowls from pretty much whatever you have in the fridge!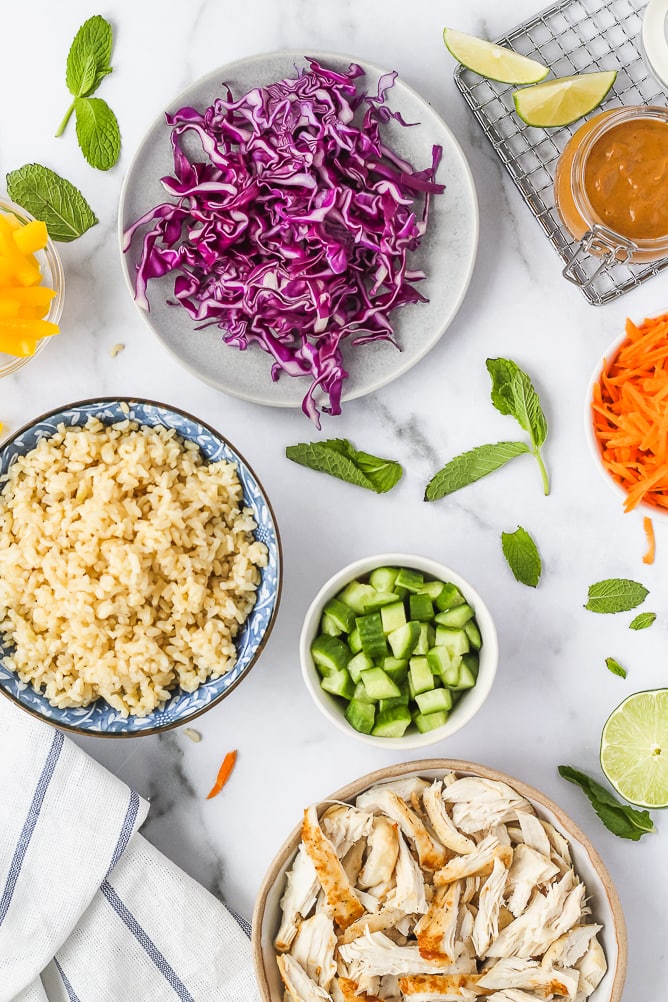 If you ask me what I'm having for lunch most days, it's some kind of bowl. Veggies, grains, protein and a sauce then I'm pretty much set!
So, these Peanut Chicken Power Bowls have been a staple for me for quite a long time and I think you'll love them too.

What is in a peanut chicken power bowl?
Vegetables: Peppers, red cabbage, carrots, cucumbers and mint for a finishing touch. But seriously you could use whatever vegetables you have on hand!
Whole Grains: I love to make these bowls with brown rice or quinoa as the base but you could use any favorite grain.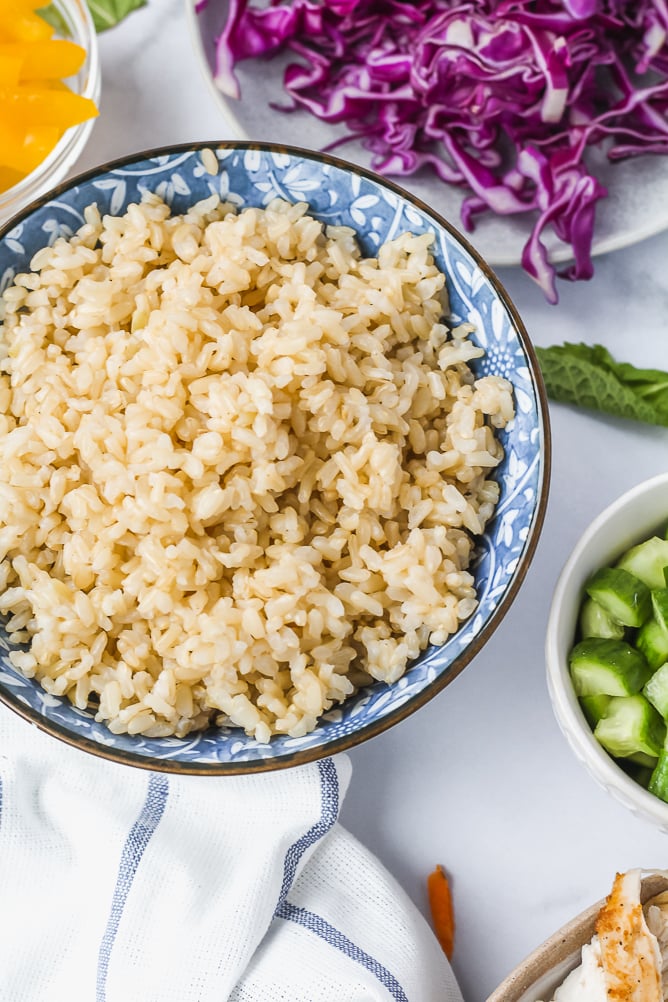 Protein: Chicken! The chicken is a serious protein boost, especially paired with the peanut sauce. Though you could use any favorite meat protein or plant-based.
Peanut Sauce: Just 5 ingredients make up this easy peanut sauce that you mightttt want to use in other recipes too, its THAT good!
Before you make these bowls know that you can use chicken that you may have already cooked, a rotisserie chicken or another protein to make this recipe even quicker.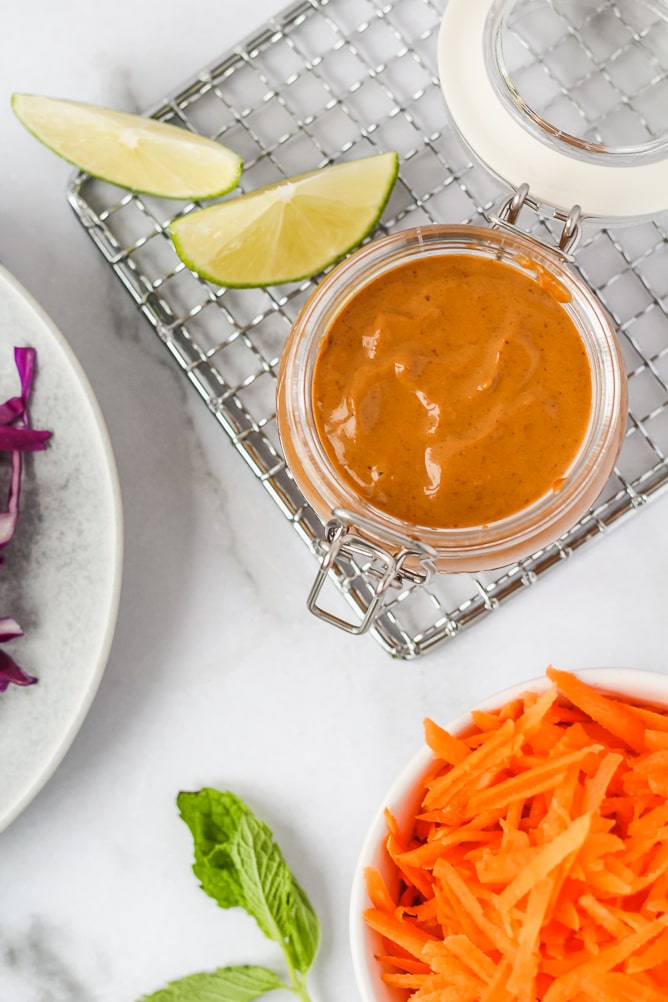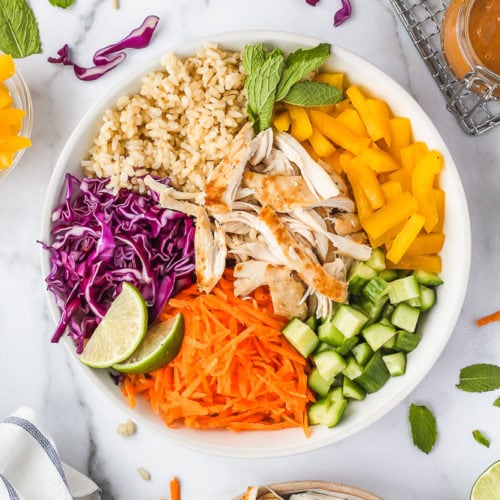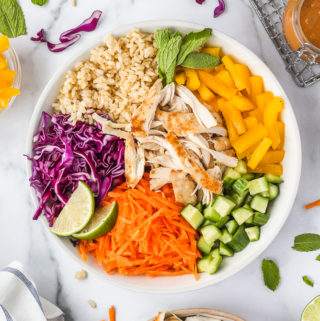 Peanut Chicken Power Bowls
Healthy and flavourful, these Peanut Chicken Power Bowls are packed full of whole grains, vegetables & protein with a simple & easy peanut sauce!
Print Recipe
Rate this Recipe
Pin Recipe
Equipment
baking sheet, parchment paper
Ingredients
For the Power Bowls
1 1/2

cup

whole grains (measure dry then cook)

brown rice, quinoa or another grain

1 1/2

lbs

chicken breasts

about 3 large chicken breasts OR use 2-3 cups cooked rotisserie chicken

1

tbsp

olive oil

1/2

tsp

garlic powder

1/4

tsp

ground pepper

1/2

tsp

coarse salt

1 1/2

cups

chopped red cabbage

2

carrots, peeled & shredded

1

pepper, chopped

1

cup

chopped cucumber

chopped mint or basil
For the Peanut Sauce
1/2

cup

peanut butter

2 1/2

tbsp

soy sauce

1/2

lime, juiced

1 1/2

tbsp

sriracha, chili sauce or another hot sauce

Taste the sauce then add another 1/2 tbsp sriracha if you like it spicier.

1

tsp

grated fresh ginger

1/4-1/3

cup

warm water
Instructions
Cook the whole grains according to package instructions and set aside.

To make the peanut sauce, whisk together peanut butter, soy sauce, lime juice, sriracha, ginger and 1/4 - 1/3 cup warm water and set aside.

**If you already have cooked chicken use that - about 2-3 cups cooked chicken or another protein. If not, see how to cook chicken below.

To make the chicken, pre-heat the oven to 425F. Stir together 1 tbsp olive oil with 1/2 tsp garlic powder, 1/4 tsp pepper and 1/2 tsp coarse salt. Spread over both sides of the chicken breasts, put on a parchment-lined baking sheet and cook for 20-22 minutes or until done (165 internal temperature). Once cooled down, chop or pull chicken for the bowls.

To make the bowls, divide the grains between the bowls and then top with red cabbage, carrots, pepper, cucumber, chicken, peanut sauce and mint.
Notes
If you put the peanut sauce in the fridge, when you remove it the sauce may need a little extra tbsp of warm water just to thin it again to your desired texture.

How do you make a power bowl?
Layering: Starting with a base is key to a power bowl. So in this case whole grains are followed by vegetables, chicken and sauce.
Texture: Different textures make this bowl extremely enjoyable; that's where all of the vegetables come in for delicious crunch. So, so feel free to mix and match what you've got in the fridge. Some of my other favorite ingredients are radishes, arugula, spinach, pea shoots or sprouts.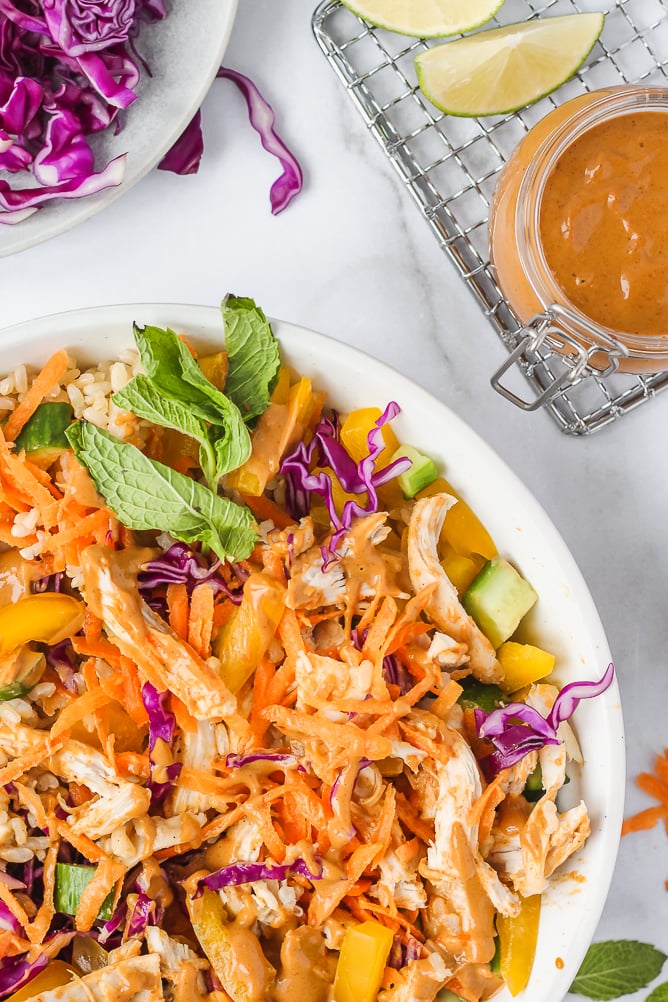 Sauce: Gotta have that sauce! The peanut sauce brings all of the flavors together in this power bowl.
Herbs & Nuts: Herbs add that finishing touch to a power bowl. In this bowl we have mint but there's so many options! Try basil or cilantro for herbs OR add more crunch with chopped peanuts, cashews or almonds.
This is why I LOVE any kind of bowl; they're so versatile! So, build these Peanut Chicken Power Bowls however you'd like.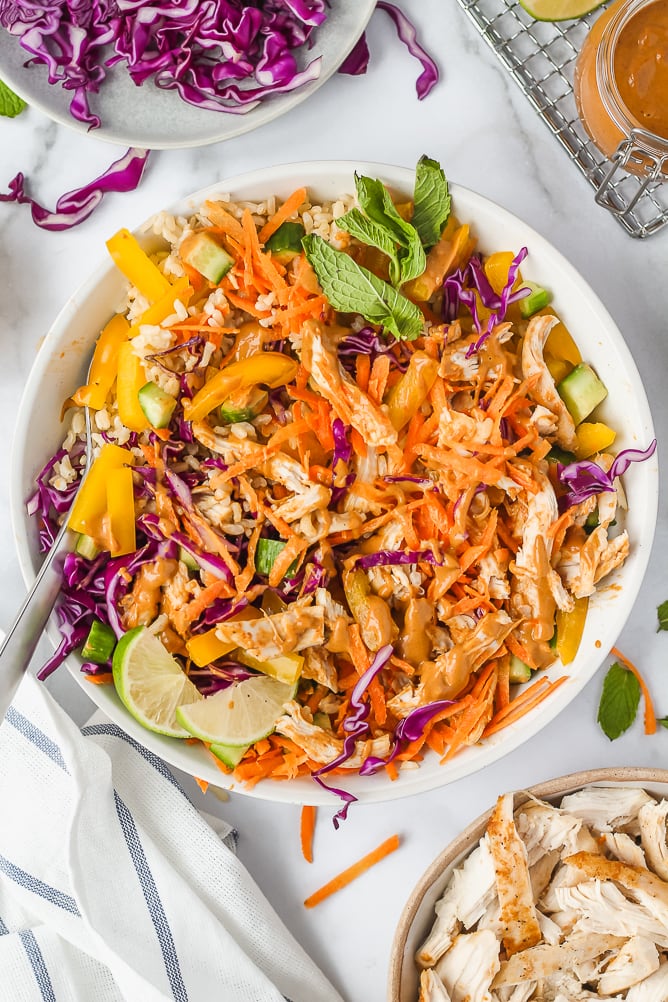 Bonus: These are extremely easy to meal-prep for the week ahead. Make the grains, protein and chop the vegetables and store in the fridge for easy to make lunches or even dinner.
You could totally pack these bowls up in mason jars for a picnic too!
Until the next cooking adventure,
Jess