Is there anything better than comfort food?
I was visiting my brother recently and he told me this story of the first time he made mac & cheese aka 'Kraft Dinner' from a box; it was one of his earliest memories of cooking something by himself when he was young.
Mike and I don't see each other very often but when we do, we catch-up and share stories over many meals.  We have a love for food in common so we decided to make a more grown-up mac & cheese version with some of Mike's favourite things – peas, pancetta and cauliflower. Oh yes, this was going to be one epic mac & cheese.
As Mike doesn't do as much cooking as he'd like, it was nice to spend the time cooking this meal together.  We put on some good tunes, a mix of 90s rock/alternative, went to work in his kitchen and a new classic dish was born.
Ingredients: (Recipe serves 6-8)
1/2 head of cauliflower, cut into florets
1/2 tsp Chili powder
1/2 tsp Garlic powder
1/4 tsp each Kosher Salt & Pepper
Penne (700g)
¾ lb pancetta sliced thick (or 8 half-inch slices)
1 cup frozen peas (I like to use the 'sweetlet' peas, they have a nice bright flavour)
¾ cup panko bread crumbs
Sauce:
1 small yellow onion diced
3 cloves garlic minced
4 tbsp butter
¼ cup flour
3 cups milk (warmed)
¼ cup spicy Dijon
250g or ½ lb of 3-5 year old Cheddar, grated
250g of ½ lb of Gruyere, grated
Hot sauce
Salt & Pepper
Instructions:
Pre-heat oven to 425F.  Chop cauliflower into florets.  In a bowl, add olive oil and season with chili powder, garlic powder, kosher salt and pepper.  Spread on a cookie sheet and roast, 15 minutes, remove and toss then roast another 15-20 minutes until golden & crisp.  Set aside.
Chop pancetta into half-inch cubes.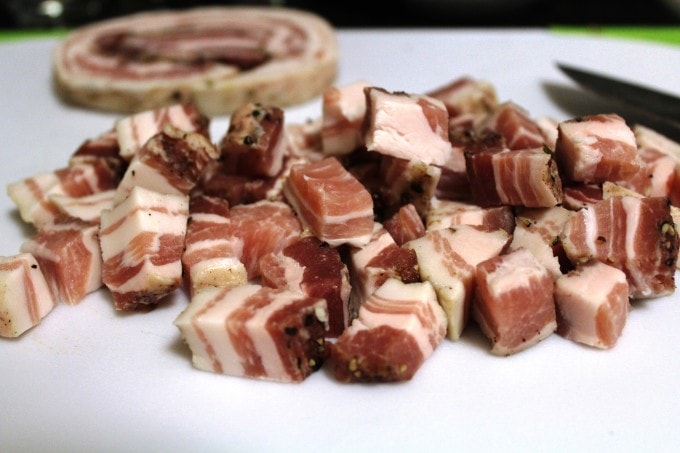 In a medium frying pan, heat to medium and add pancetta.  Cook, stirring a few times, allowing the pancetta to get nicely browned about 10-15 minutes.  Using a slotted spoon, take out pancetta onto a plate with paper towel to drain the fat. Leave a little bit of the fat in the pan.  Add the onion and garlic to the pan, sautéing until the onion is translucent, about 8-10 minutes. Add the frozen peas into the pan and toss 3-4 minutes, seasoning with salt and pepper.  Toss the pancetta back in, turn the pan off and set aside.
Bring a large pot of salted water to a boil.  Cook the Penne noodles 8-10 minutes or until al dente. Drain and set aside to cool.
Pre-heat the oven to 400F. Lightly butter a 9×13 rectangular baking dish (or other shallow casserole dish)
Grate both cheeses.  To make the sauce, heat the milk in a saucepan over low-medium heat.  While the milk is heating, in another medium pot add 4 tbsp of butter, melting over medium heat.  Once melted, add the flour to the butter, whisking until it forms a smooth paste.  Turn the heat to low, whisking occasionally and let bubble for about 2 minutes.  Make sure it doesn't start to brown.   Next, whisk in the warmed milk, the spicy Dijon, a few dashes of your favourite hot sauce, pinches of salt and pepper.  Turn the heat back to medium and whisk consistently until sauce is thick, creamy and smooth – about 3-5 minutes..  Turn off the heat and whisk in the cheese until it is all melted.  Taste the sauce – season with more salt, pepper or hotsauce depending on your taste.
Next its time to assemble the dish – first, mix the noodles into the sauce.  Then, add the peas and pancetta mixture plus the roasted cauliflower into the pot with the noodles, gently folding into the noodle and sauce mixture.  And then pour everything into your baking dish.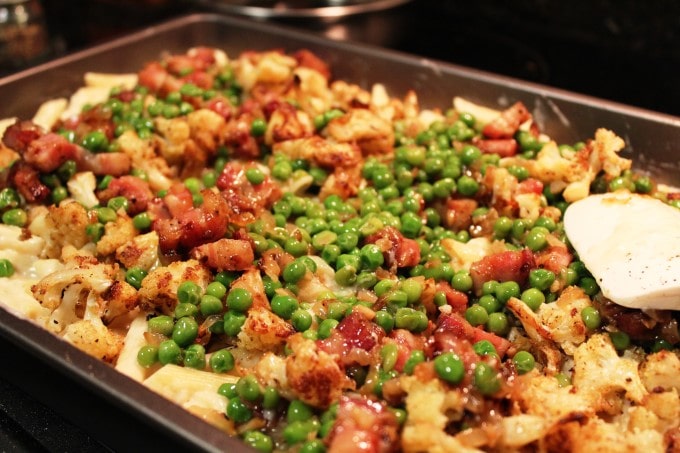 Top with the panko breadcrumbs.  Cover the dish with foil and bake for 15 minutes.  Remove the foil and bake for another 15-20 minutes, until top is brown and golden.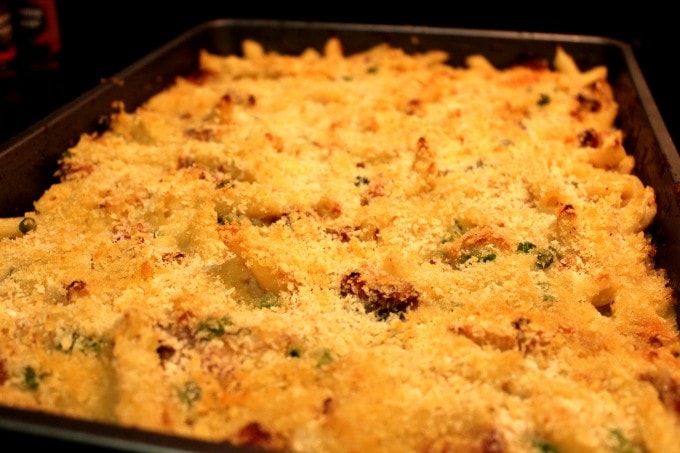 Now it's time to enjoy!
I won't lie, Mike and I both topped our mac & cheese with a bit more hotsauce – I highly recommend the 'Chipotle Tabasco' hot sauce.  The smoky chipotle flavour amps up the dish to the next level.
Plus, you can't have a meal like this without a lovely glass of white wine (well, that's how we roll anyway).  Pair with a nice tart Sauvignon Blanc or my personal favourite, a Sancerre Sauvignon Blanc.
Cook's Note: If you have leftovers, it freezes very well. Portion into lunch or dinner servings then you can defrost in the fridge and warm-up in the oven in the future.  I usually warm-up in a covered dish on 400F for about 20-30 minutes.
Until the next cooking adventure,
Jess