Welcome to another kitchen interview in my series In the Kitchen With!
This month I'm featuring food photographer and recipe developer Murielle Banackissa from Montreal.
I've admired Murielle's gorgeous food photography since I discovered her account last summer so I couldn't wait to chat with her.   Murielle's food photography caught my eye because it's absolutely stunning! She also makes the most divine Vegan recipes.
I connected with Murielle on Instagram and she is just a lovely person in the food photography community.
I'm excited to get to know her more SO read on for Murielle's full interview including her favourite style of photography, the ingredient she can't live without and a delicious Sweet & Spicy recipe!
What do you love most about working as a food photographer?
I love the fact that I do 90-95% of my work from the comfort of my home, which means I set my own schedule and am fully in charge of what my days look like. I also love the creative aspect of the job. No photoshoot is ever the same, which sometimes can make things difficult, but mostly, it makes my work so interesting.
Do you have a favourite style of photography? And, do you have a favourite food subject?
In terms of favorite subject, I loooove shooting ingredients. They do not require many props, but that is kind of what makes them so fun to shoot with. You get to really focus on nailing your light to evoke emotion from a single ingredient as opposed to relying on lots of props, garnishes and an entire styled scene.
What's your favourite recipe to make for family or friends?
My family's Vegan Napoleon Cake. It is made of layers of puff pastry and a rich vanilla cream. It melts in your mouth and I love how, although the flavors are rather subtle, they just work so well all together. This cake takes a bit of time to get ready and requires overnight refrigeration, but it is so worth it in the end! It is a true crowd pleaser.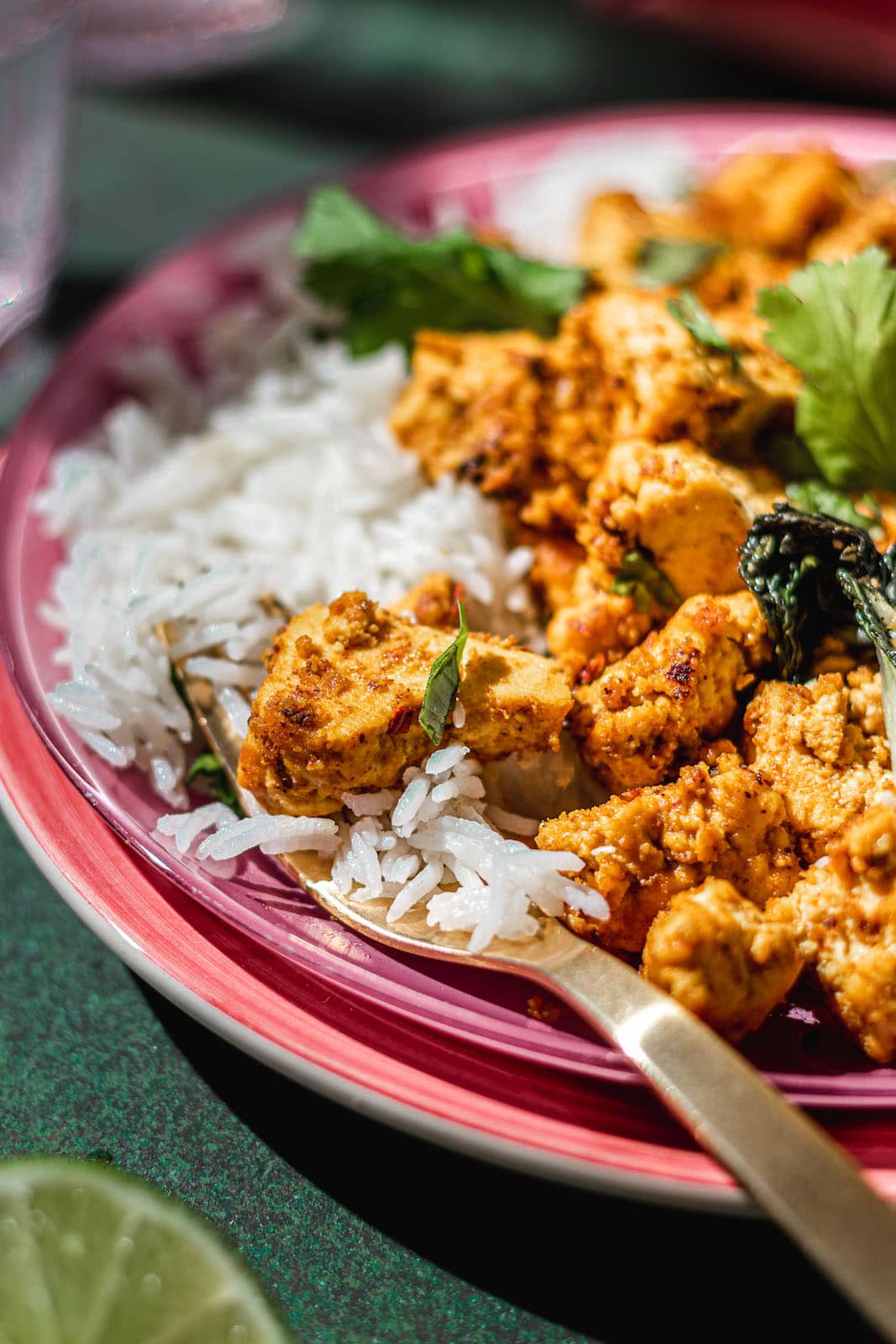 Who is one person you'd love to have to dinner with? Would you cook for them OR eat at a specific restaurant?
I never really thought of that, but I would love to have dinner with Frederik Backman. He is a Swedish author and I have read a few of his books (including the novel Anxious People, which is one of my favorite reads of 2020). His writing style is so unique and his approach to storytelling is one I have never encountered before. I would really just love to pick his brain and ask him questions about some choices he has made in his previous novels. In terms of where I would eat with him, I think I would choose to try out a Swedish vegan restaurant. I am very adventurous when it comes to food so I would be very open to trying something new and that has high reviews on Google.
Do you have a favourite food memory? Perhaps a time you shared with family or friends, a food memory from a trip or a meal you'll never forget?
I could not pick only one, but I would say Christmas & New Year's Eve dinners in general. They are just so festive and they are spent with people I love. Also, the table is full of family classics and recipes I have bookmarked through the year for those special dinners.
Is there one ingredient from your pantry or fridge that you MUST always have available?
Tamari. Tamari is a gluten free soy sauce. Although I personally eat (and adore!) gluten, I prefer tamari to actual soy sauce, because I find that the flavors are deeper and richer. It is basically umami in a bottle and works in sooo many recipes! With mushrooms, it is divine. In a cheesy and creamy vegan dressing – delicious. To season a spaghetti sauce – perfection! Honestly, I use it in almost everything.
What's your favourite snack?
If I could have salt and vinegar chips for the rest of my life, I would. Second choice: Vego chocolate.
If you could only have one dish from a restaurant the rest of your life what would it be and which restaurant is it from? Why is this dish just the best?!
I would choose to have Arbor's Southern Fried Artichoke Sandwich. Arbor is based in Vancouver, British Columbia and I visited the restaurant a few years ago with my boyfriend. We stopped at this restaurant one night after reading amazing reviews about it and tried their famous artichoke sandwich and WOW! It was simply epic. The different layers of flavor were just what I remember blew my mind! The super crispy outer coating of the artichoke together with its soft center and all surrounded by smoky eggplant mayo, crunchy coleslaw, spicy mayo, rich and creamy avocado Mousse, vegan cheese, and jalapeno pepper and finally held together by a ciabatta bread – it was simply divine! So good that we actually ate there twice during our stay in Vancouver.
I love brunch; if we could hang out in real life and enjoy brunch together, is there a favourite brunch dish you'd make OR restaurant we'd meet at??
I think I would make a loaded brunch plate with homemade waffles with a side of berries & maple syrup. The plate would also feature homemade vegan sausage (for that salty element) and crispy baked potatoes. I just loooove a sweet and savory breakfast that features all my favorite brunch foods!
What's the one recipe of yours that we NEED to try?
Sweet and Spicy Nooch Coated Tofu: Made with 8 easy to find ingredients and ready in 15 minutes, this Sweet and Spicy Nooch Coated Tofu is a wonderful flavour-packed recipe to whip up when you are in a rush or on weeknights. Serve it alongside some rice and other veggies of choice and you've got yourself a protein packed dinner!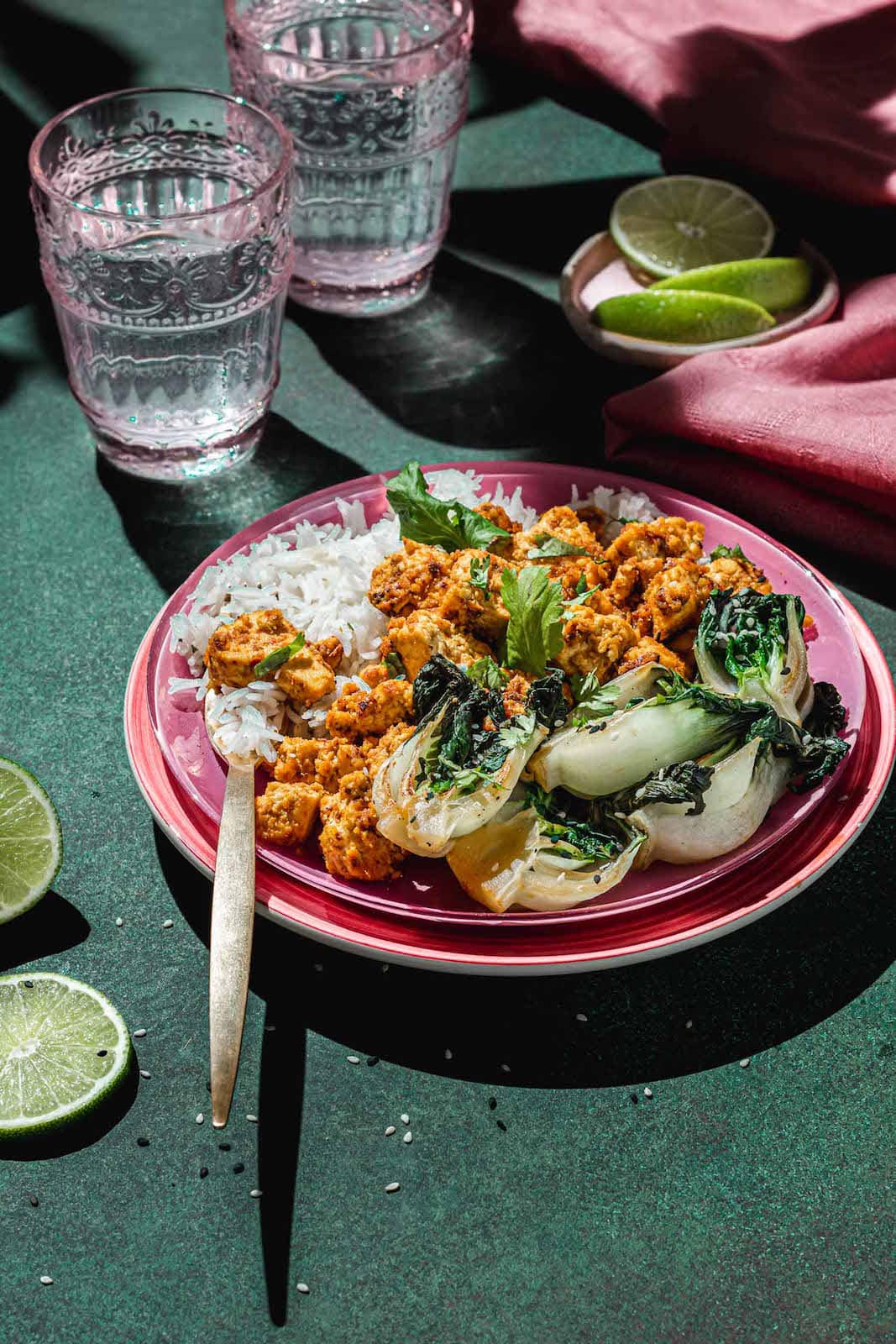 And if you want to be inspired daily, check out Murielle on Instagram – especially if you're into photography as she shares tips weekly too!
Until the next cooking adventure,
Jess
Photos by Murielle Banackissa