Summer is right around the corner and with weekend barbecues heating up these Raspberry Rosé Popsicles are perfect for the warmer weather!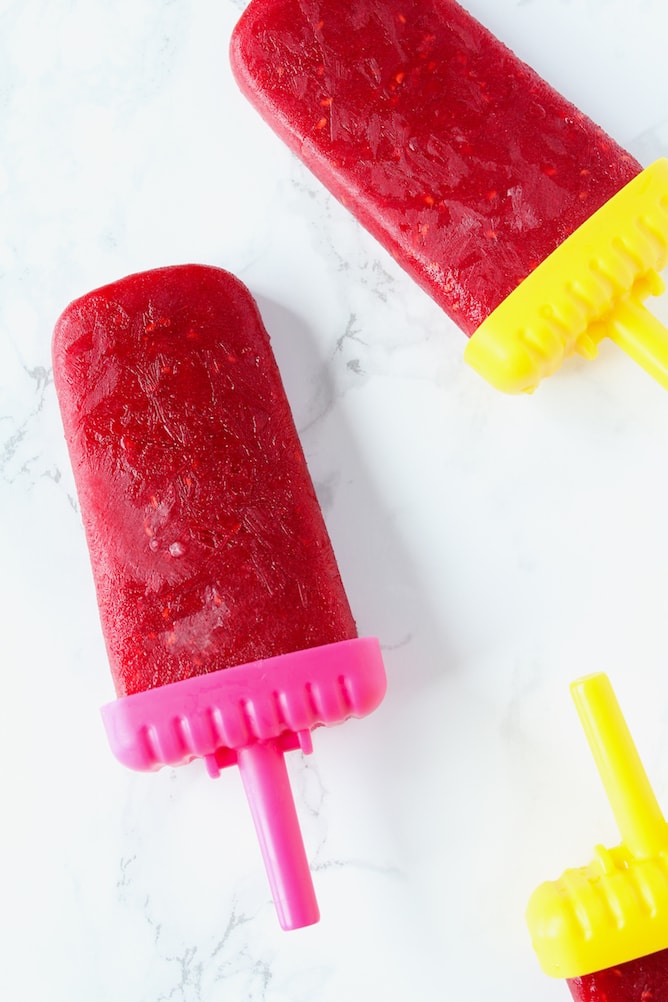 When I was a kid my mom made us homemade popsicles all of the time and I just loved them! It was always fun as a kid to pick different flavours from using lemonade, juices and yogurt to make fun combinations.
So here I am as an adult and I still love homemade popsicles. But I'm putting an adult twist on these by adding my 'drink of the summer,' rosé!
What I love about this combination is the raspberries are a bit tart, the simple syrup adds a bit of sweetness and the rosé rounds out the flavour perfectly.
I think these would be a wonderful treat on a summer night or while enjoying the sunshine on the weekend!
Total time: 15 minutes prep (& 8 hours to overnight to set)
Servings: 6 x 3oz popsicles
Equipment: popsicle holder, blender
Ingredients:
2 cups frozen raspberries
1/3 cup sugar
1/3 cup water
1 tbsp lemon juice
150-200ml rosé wine
Instructions:
First, make a simple syrup with the water and sugar. In a small pot bring the 1/3 cup water and 1/3 cup sugar to a boil. Let boil for a minute and then take off of the heat.
Next, in your blender add the frozen raspberries, simple syrup and lemon juice and blend until smooth. Then, stir in 150ml of rosé wine.
Cook's Note: If you want to make the pops non-alcoholic you could use pink lemonade.
Pour the mixture evenly into the popsicle molds and fill almost to the very top. Then insert the popsicle stick into each mold.
Cook's Note: Use a bit of extra rosé to top up your popsicle molds if you need to.
Freeze the popsicles overnight and then enjoy!
Until the next cooking adventure,
Jess