I've come to realize that most celebrations will be different this year but that doesn't mean they can't still be lovely and beautiful.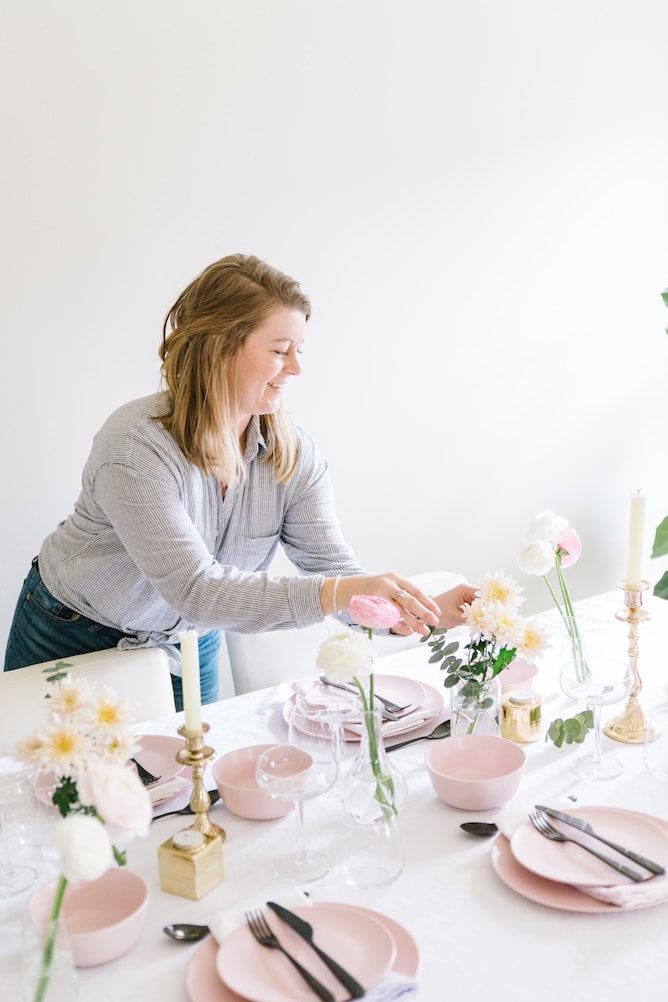 Depending on where we live, we may be experiencing life events (and planning for them) in ways that we're not used to.
So I am sharing my best tips on how to celebrate Mother's Day at home or from afar, and how this might help you to celebrate other events to come!
One of my favourite things to do before everything changed was to gather together with family and friends to enjoy delicious food and drink. From casual gatherings like picnics to setting the table for a dinner party, these are the connections I miss the most right now.
But, I think there are ways we can celebrate the people in our lives or just treat ourselves to a nice 'night-in' using what you have at home.

Mother's Day is just one week away so here are a couple of ways to celebrate Mom together, even though we may need to be physically distant:
Create & deliver a brunch-at-home box
Bake your Mom's favourite muffins or buy a delicious treat and pair with fruit, juice, coffee and something sparkling like prosecco. Drop off the brunch-at-home box at your Mom's on the weekend for her to enjoy! Need a bit of recipe inspiration!? These recipes are delicious, simple & will transport well:
Apple Cinnamon Oatmeal Muffins
One Bowl Oatmeal Chocolate Chip Cookies
Cranberry Chocolate Scones with Orange Glaze
Sweet Potato & Cheddar Drop Biscuits
4 Easy & Creative Breakfast Toasts

Make & send a homemade card
Who remembers making cards with markers, pipe-cleaners and macaroni noodles when they were kids!? Make your Mom a simple, classic homemade card; drop it off or pop it in the mail.
Set a nice table with what you already have at home
I love a good table-setting but these days I enjoy mixing & matching what I have on hand. If you're living with your Mom, set a nice table to enjoy a meal together or set the table anyway to enjoy a virtual meal together. Either cook or do take-out! There's so many restaurants offering delicious takeout menus right now too.  Here are a couple dishes I look to for simple celebrations:
Roasted Tomato, Arugula & Halloumi Salad
Swiss Chard, Goat Cheese & Leek Frittata

Picnic in your backyard
Pack a picnic and deliver to your Mom. Or, if you live with Mom you make one at home to enjoy in the backyard. Setup a blanket to enjoy food and time outdoors.

Pick up the phone
While video chats are all the rage, I do enjoy a 'classic' phone call. Grab the phone and give your Mom a call. Maybe you can both enjoy a cocktail whilst chatting too.
Whether you're celebrating your Mom or that special woman in your life, I hope these ideas inspire you for now or future special days at-home.
Create a custom cocktail or wine tasting
Gather together the ingredients for Mom's favourite cocktail & deliver to her door. Save some for yourself so you can virtually cheers together via video! Or, grab a selection of her favourite wines to enjoy with cheese and crackers. Local businesses may have similar offerings to help get a gift like this together too.

Need a special cocktail? Here's a cocktail recipe I created with Tanya from Extra for Avocado last year that is absolutely divine. (And thanks to Tanya for taking the photo of me above!)
I know things will look different for the foreseeable future but my hope is that we can still make Mother's and Father's Day, birthdays and other times in our life still pretty awesome!
Until the next cooking adventure,
Jess