I love when the season's change, especially when we transition from Winter to Spring and all of the amazing produce that is available, so to celebrate here is my Spring Vegetable Bowl with Lemon and Dill Chicken!
Filled with a ton of vibrant produce this bowl has a ton of bright flavours and is also just pretty to look at!  It's also fairly simple to make and perfect for weeknight meals or even for a weekend picnic.
Other than the peas, the vegetables are raw and give the perfect crunch to this Spring Vegetable Bowl. Plus the lemon and dill chicken adds the perfect hit of protein to make this bowl a full meal.
I've been making this on repeat since I created the recipe so I hope it becomes one of your favourites too!
Total time: 1 hour
Servings: 4-6
Equipment:  baking sheet, vegetable peeler
Ingredients:
Salad:
1 1/2 cups dry quinoa – cooked
2 cups frozen peas, cooked
2 cups shaved asparagus (about 20 stems)
8 radishes, sliced thin
1/2 cup crumbled feta cheese
Dressing:
2/3 cup olive oil
Juice from one lemon
1/2 tsp salt
1/2 tsp pepper
1 tsp dijon mustard
2 tbsp fresh dill
1 tbsp honey
Chicken:
1 lb chicken breast (about 2-3 chicken breasts)
1 tbsp fresh dill, chopped
salt & pepper
2 tbsp olive oil
6 slices of lemon
Instructions:
Cook the quinoa according to the package directions and set aside.
Next, prepare your vegetables.
Cook the frozen peas according to the package instructions. Then, to prepare the asparagus, shave the asparagus with a vegetable peeler and keep the tops of the asparagus to add to the salad as well.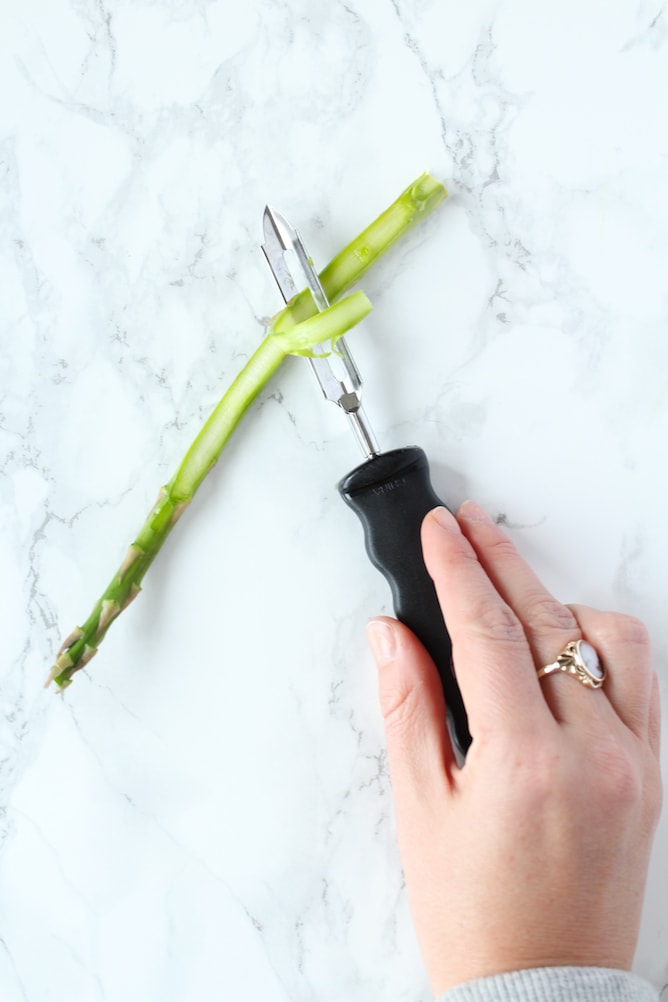 Slice the radishes thin and then combine all of the vegetables in one bowl.
To make the dressing, combine all of the ingredients into a mason jar or container, shake well and then set aside.
Pre-heat your oven to 425F.  Mix the dill, salt and pepper with the olive oil and then prepare the chicken directly on the baking sheet by brushing or drizzling the mixture over both sides of the chicken breast.  Top each chicken breast with a couple slices of lemon and put in the oven to bake for 22 minutes (or until done).
When the chicken is done, remove from the oven and let sit on the pan for a couple minutes before serving.
Now you can prepare the rest of your salad. Shake the dressing again and then mix half of the dressing into the cooked quinoa and half of it with the vegetable mixture.
To assemble each Spring Vegetable salad bowl, put quinoa as the first layer in the bowl, top with the vegetable mixture and a sprinkle of feta and then the chicken.
And there you have a dose of Spring-time flavour for lunch or dinner!
Until the next cooking adventure,
Jess