One of my favourite things to do in the summertime is to enjoy meals outdoors so I'm going to show you how to create a summer picnic with ease!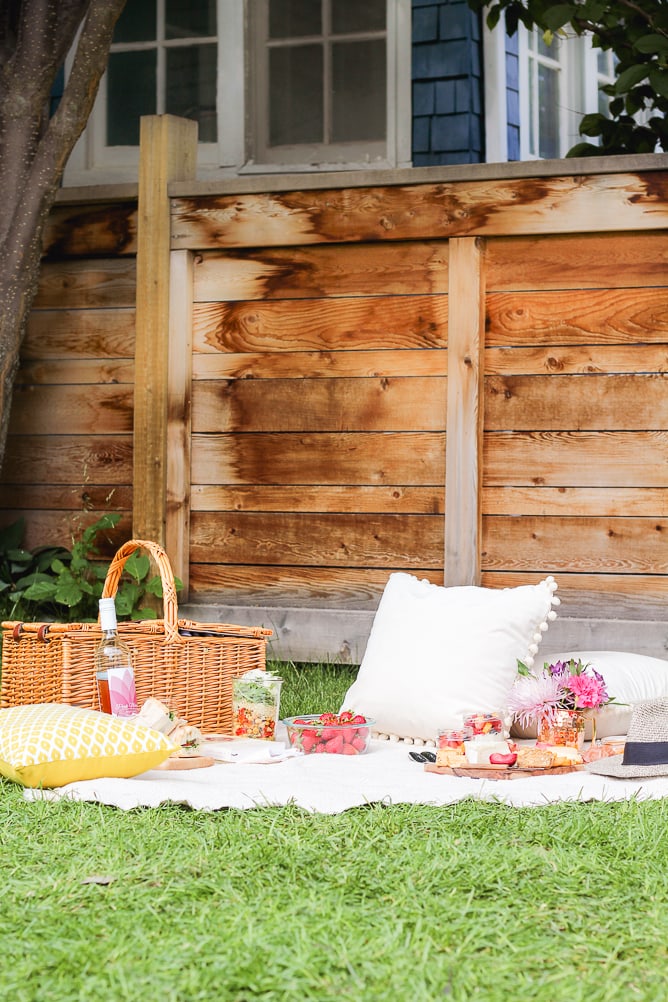 The best part of a picnic in my opinion is it can be super simple from the food to the location.
Grab your family and friends, some simple dishes, a blanket and let's picnic!

When I was a teenager my friend and I used pack a baguette and cheese in our backpacks and head out on our bikes to picnic by the shores of Lake Ontario.
You're probably thinking, 'what teenager knows what a baguette is,' and I have my Mom to thank for introducing me to one of my favourite breads everrrr!
And that is how I was introduced to the easiest way to enjoy food with friends; a picnic.
So, this summer I setup a simple picnic in my friend Gillian's backyard and we had the BEST time enjoying food and drinks in the sunshine. This is what I love about a picnic; it can be anywhere, even in a backyard, and you can make it delicious and lovely in just a few simple steps.
Location
Picking a location is key to a great picnic and you don't need to go far from home. A backyard with space for a blanket can be just perfect! Or, look for a nearby park with trees that provide some shade. Either way, give yourself a bit of space to spread out and enjoy.

Picnic Essentials
While a picnic basket can certainly be the perfect carryall for all of your picnic items, you really just need a sturdy bag for your supplies. A blanket is perfect for setting the scene and if you're driving to your location or at home, outdoor pillows can add a nice touch too. Of course, you'll need a few key utensils, plastic dishes, cutlery, a serving board and cloth napkins.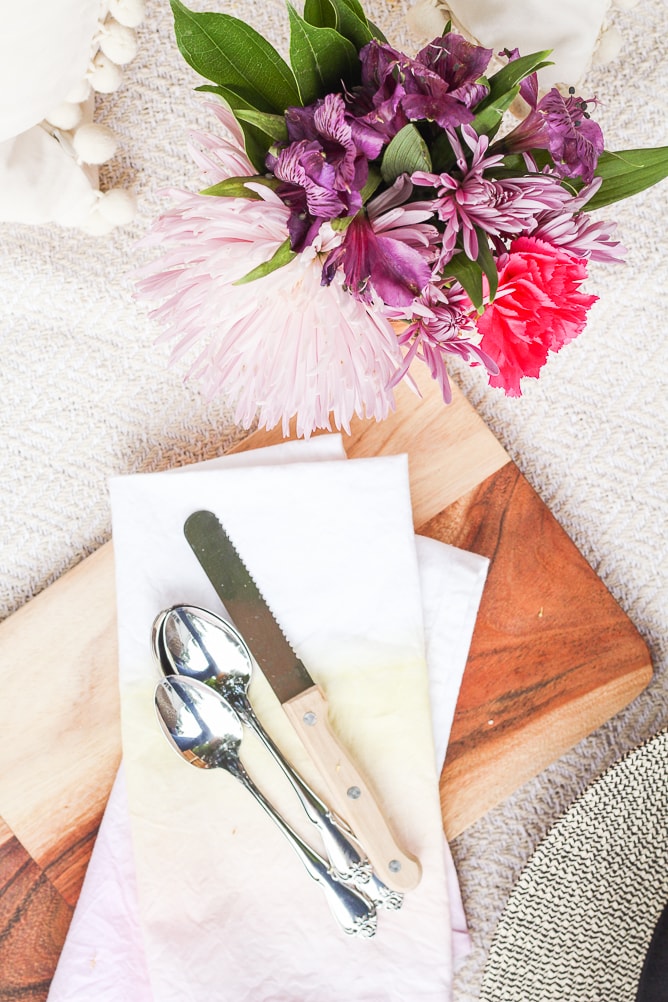 I also brought a couple of flower stems that I had at my house and stored them in my moscow muled mug for easy transport. One more item to pack is a bag to use for dirty dishes afterwards which makes clean-up much easier.

Delicious Food Dishes
The food is what makes the entire picnic experience. I am all for dishes that can be prepared, packaged and stored in the fridge which makes for easy packing.
So, here are a few ideas to help with your picnic menu:
Mason Jar Salads: Mason Jar Salads are wonderful for picnics because you can layer all the ingredients so the salad stays crisp. Then, just shake the mason jar prior to eating to mix all of the ingredients. I made a quick salad by layering dressing, roasted vegetables and chickpeas, quinoa, arugula and parmesan cheese. I mixed the vegetables (small zucchini, red pepper and a cup of baby tomatoes) with about 1 cup of chickpeas plus olive oil and a 1/4 tsp of thyme, basil, garlic powder, oregano and salt & pepper. Then roasted everything for about 25-30 minutes at 400F.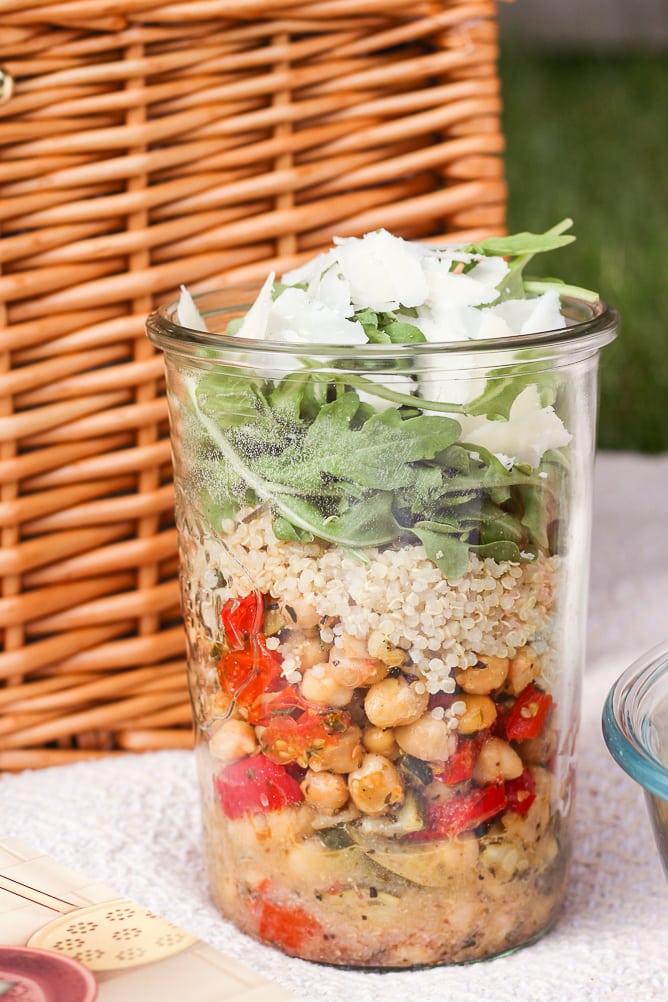 This Roasted Summer Vegetable Salad recipe also keeps very well and transferred into mason jars for a picnic would be delightful. I used the dressing from this salad to make the salad I talked about above.
Sandwiches: A Sandwich is a staple at a picnic and the recipe combinations are endless. I like to use a sturdy bread like baguette which does well with so many ingredients. A favourite sandwich combination of mind is: pesto, seasonal vegetables like zucchini and peppers, then add mozzarella and arugula.

All of these ingredients will do well when prepped a day before your picnic and then stored in the fridge. My Peach & Prosciutto Summer Focaccia recipe would also make a great sandwich option!
Dessert in a Jar: An easy way to pack a treat for your picnic is using small mason jars or really any jar you have. I like to use small jam jars that I've kept because they're for perfect one-person desserts. One of my favourites desserts is a cheesecake in a jar!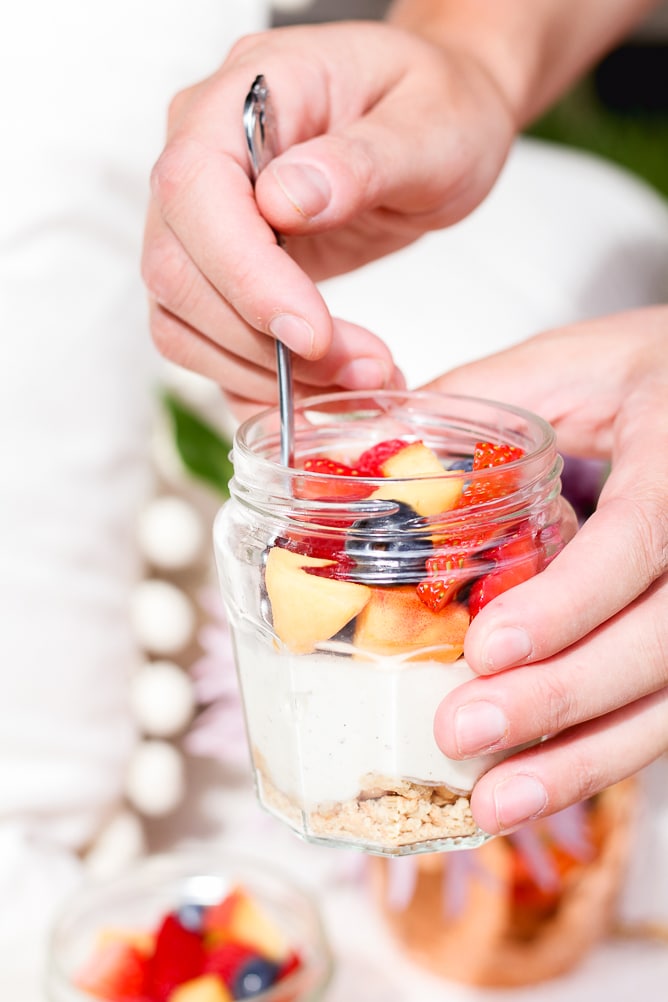 Make each one by layering crumbled graham crumbs at the bottom of the jar followed by mascarpone cheese mixed with a bit of lemon zest and sugar, then topped with fruit. You could also make my Summer Fruit with Whipped Cream recipe, then just divide in to jars.
Charcuterie Board: Making charcuterie boards with seasonal ingredients is one of my favourites for a picnic. I like to mix up tastes and textures with a variety of meats, cheeses, fruits, jams and crackers. A couple of my favourite ingredients for summer:
Cheeses: brie, gouda, manchego
Meat: prosciutto, spicy salami
Fruits: plums, peaches, apricot

Make your board, wrap it up and store in the fridge so it's ready to pack. And, this cheeseboard is a lovely option for dessert too by adding some chocolate, nuts or a couple of sweets of your choice.
Fresh Fruit: Bring whichever fruit is in season. Just wash and cut (if needed), then store in a reusable container to bring in your picnic basket.

Something to Cheers With
A bottle of bubbly or perhaps a rosé is the perfect summer picnic drink to cheers with! You could also opt for a bottle of lemonade or sparkling water instead.

Whichever your choice, always remember to bring lots of water and drink responsibly. If you're bringing glass bottles, wrap them in napkins for packing.
How to Pack a Picnic and Keep Food Cold
Ice packs work great to keep food cool. However, you could also freeze a bottle of water which serves two purposes: keeping food cool and then you can enjoy the water as a refreshing drink as the ice melts.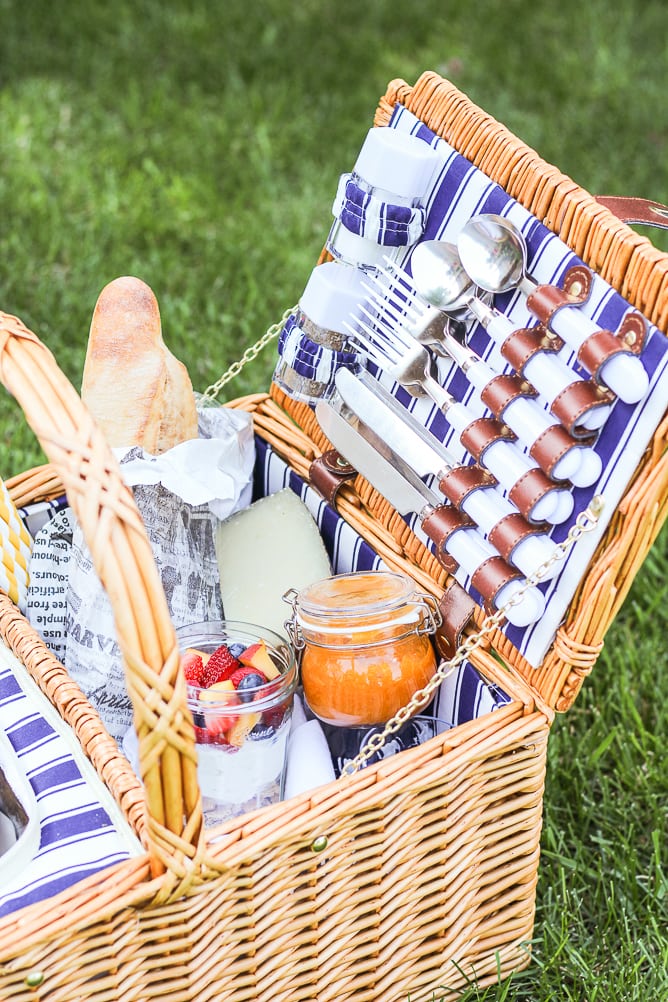 Layer items in your picnic basket or bag starting with the heaviest items at the bottom. Then, put more delicate items towards the top of the basket. Using food containers that stack easily also helps to make packing much easier.
Atmosphere
While enjoying a picnic with a few people is lovely, having a picnic by yourself can be just as enjoyable. Grab a good book like The Recipe Club to enjoy along with your food. Totally disconnecting to enjoy the company of friends or reading a book can be magical. You could even bring cards to play a game after you eat or maybe even an easy lawn game like bocce ball.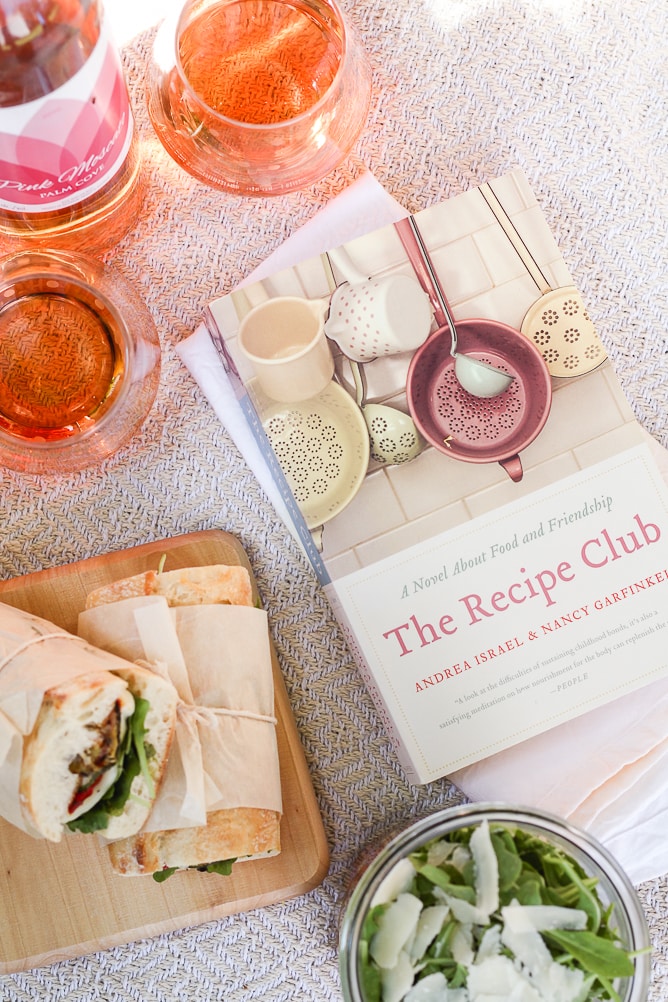 There are so many ways to enjoy time together with a picnic, let your tastes guide you! And, if you'd rather not make food just pop by your favourite bakery or take-out restaurant, grab your favourite baked goods or dishes and take those with you.  Make the summer picnic experience as detailed or as simple as you want, and make it your own.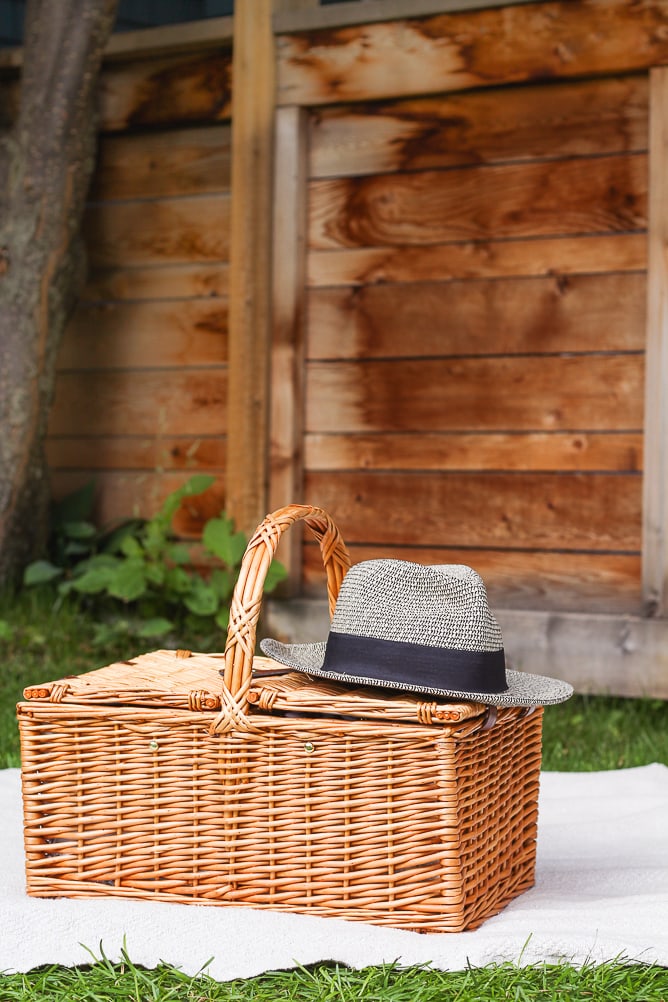 Happy Picnicking friends!
Until the next cooking adventure,
Jess