So here's a little story about a teacup collection, grandmothers and a delicious apple sponge cake.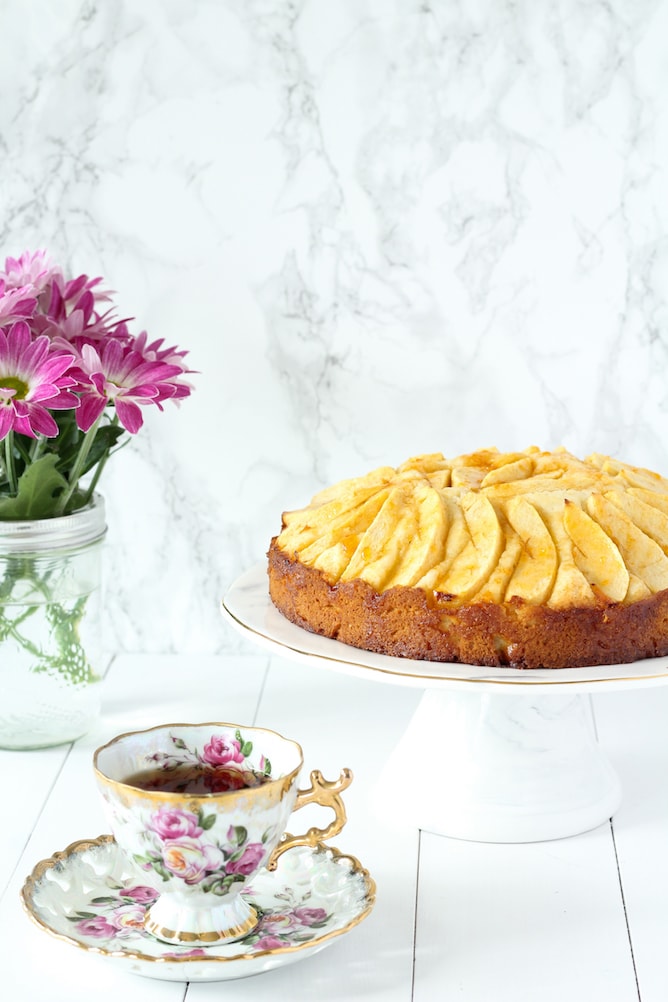 A couple of months ago I was chatting with my friend Clare and we realized we had fond memories of having tea and coffee with our grandma's, always over delicious baked goods.
Clare mentioned that her and her Great-Grandmother had a tradition when she would go over to visit that involved teacups. Given my love for pretty serving pieces that I love to use, I had to know more!
We got together one afternoon and over my Oma's Apple Sponge Cake, I chatted with Clare about her memories while I photographed her amazing antique teacup collection.
Having both an English Grandmother and Great-Grandmother it only made sense she'd have a love for all things tea!
As a child Clare spent days and nights with her Great-Grandmother, learning to quilt, sew and taking several tea and cookie breaks in between. Each time when she would leave her Great-Grandmother's house she was allowed to pick one tea cup from the china hutch, to take home and begin her own collection.
The collection is comprised of family heirlooms from New Brunswick that were brought across country when the family moved and lots of fun colourful pieces that were acquired over the years – creating this lovely backdrop for endless entertaining possibilities.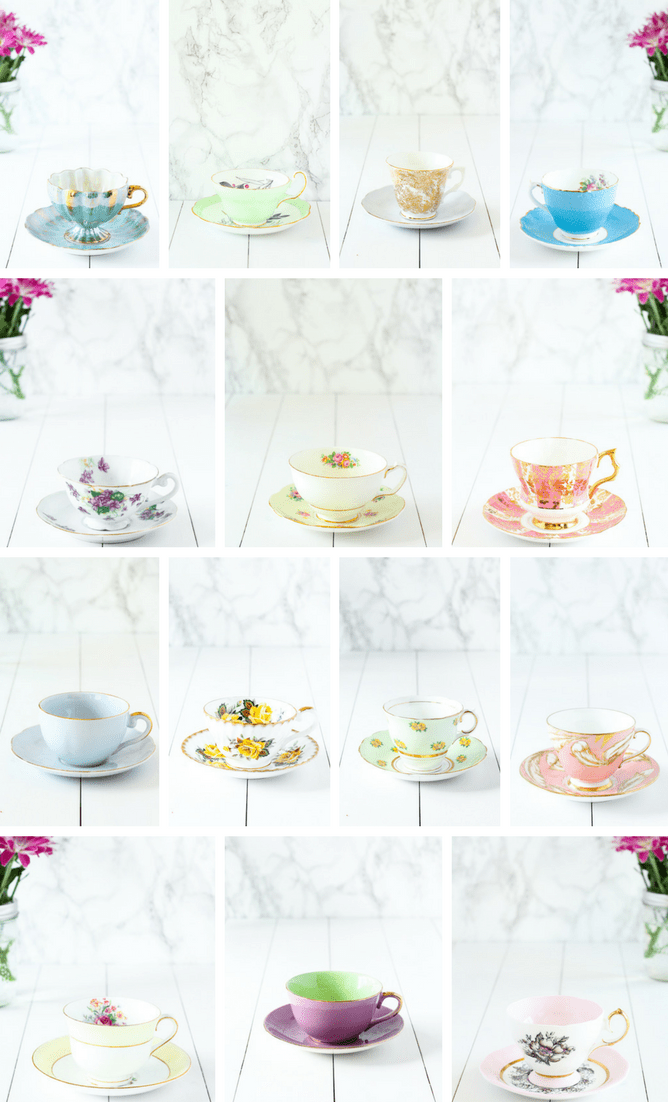 As you can see, Clare has this amazing collection of teacups that carry such special memories and whenever she uses one of those teacups, she can be transported back to those lovely afternoons with her Great-Grandmother.
For me, seeing Clare's collection reminded me a lot about my Oma (German grandma).  A tradition that I can remember since I was very young was having 'coffee' around 3-3:30PM every afternoon which involved everyone sitting down, enjoying coffee from teacups and of course a delicious baked good.
That is where this simple Apple Sponge Cake comes in as its a cake I remember having at 'coffee' and its the perfect accompaniment to coffee or tea.  It's a light sponge with a buttery outer crust that forms from baking the cake in a springform pan. Plus the apples add the perfect sweetness and you can top this cake with either an apricot jam glaze or simply icing sugar.
Total time: 75 minutes (30 minutes preparation, 45 minutes baking)
Servings: 10-12
Equipment: springform pan, electric mixer
Ingredients:
2 large apples (i.e. Gala), peeled and each sliced into about 16 slices
1/2 cup + 1 tbsp unsalted butter, softened
1/2 cup + 2 tbsp sugar
1 1/2 tsp vanilla extract
1 pinch salt
1 tsp lemon zest
3 eggs
2 cups all- purpose flour
2 tsp baking powder
3 tbsp milk
2 tbsp butter, melted
For the topping you simply sprinkle icing sugar over the cake once cooked OR make the apricot topping:
2 tbsp apricot jam
1 tbsp water
Instructions:
Pre-heat your oven to 350F and butter the springform pan.
Peel the apples and cut each apple into about 16 slices. Set the apples aside.
For the sponge cake, use an electric mixer or hand-mixer with a whisk attachment.  Whisk the soft butter for 2 minutes on medium speed.
Add the sugar, vanilla extract, salt and lemon zest, whisking for 2 minutes on medium speed until you obtain a smoothie mixture, scraping the sides of your mixing bowl as needed.
Whisk in the eggs one at a time, mixing for about 30 seconds on high speed after you add each egg.
In a separate bowl, mix together your flour and baking powder.
Then, add the flour mixture into the mixture in two instalments, alternating with the milk, whisking on medium speed briefly after each addition (flour-mix-milk-mix-flour-mix-milk-mix).  You will have a mixture that is more like a dough than a batter once all is combined.
Transfer the mixture into the springform pan and smooth the top to make it even.
Arrange the apples in two circles on the sponge cake mixture. Then melt the 2 tbsp of butter and pour the melted butter over the apples.
Put the cake in the bottom third of the even to bake for 45 minutes or until toothpick comes out clean.
As the cake is getting close to being done mix the 2 tbsp apricot jam with 1 tbsp water in a small pan. Bring to a boil and then immediately remove from the heat.
As soon as you take the cake out of the oven, pour the apricot jam mixture over the cake.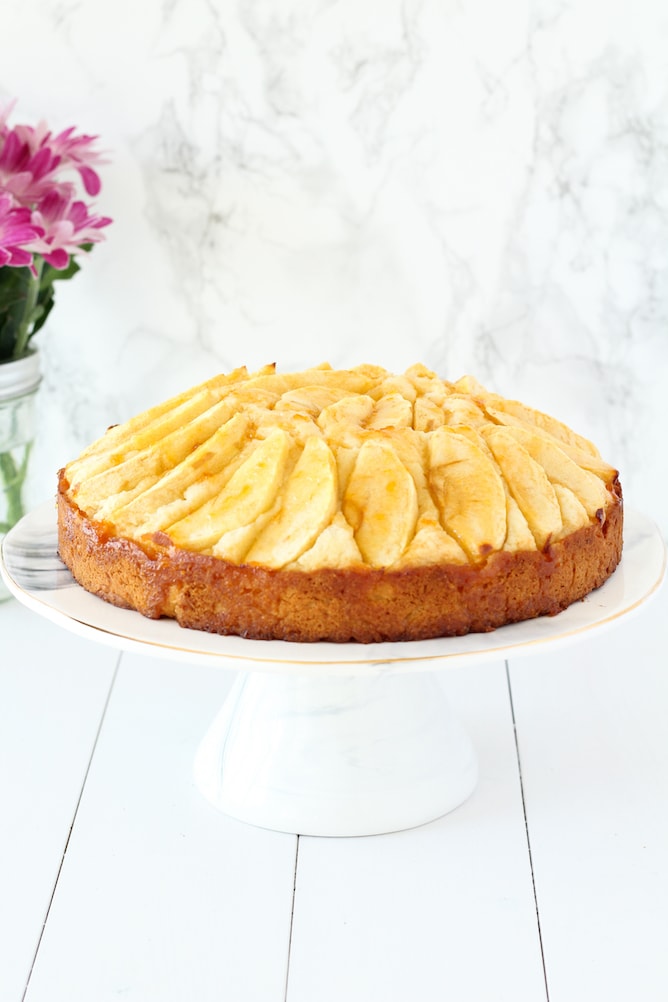 Then, release and remove the ring part of the pan. Loosen the cake away from the bottom of the pan, then leave to cool on a wire rack.
Alternately, if you don't use the apricot jam mixture as a topping when the cake has cooled sprinkle the top with icing sugar.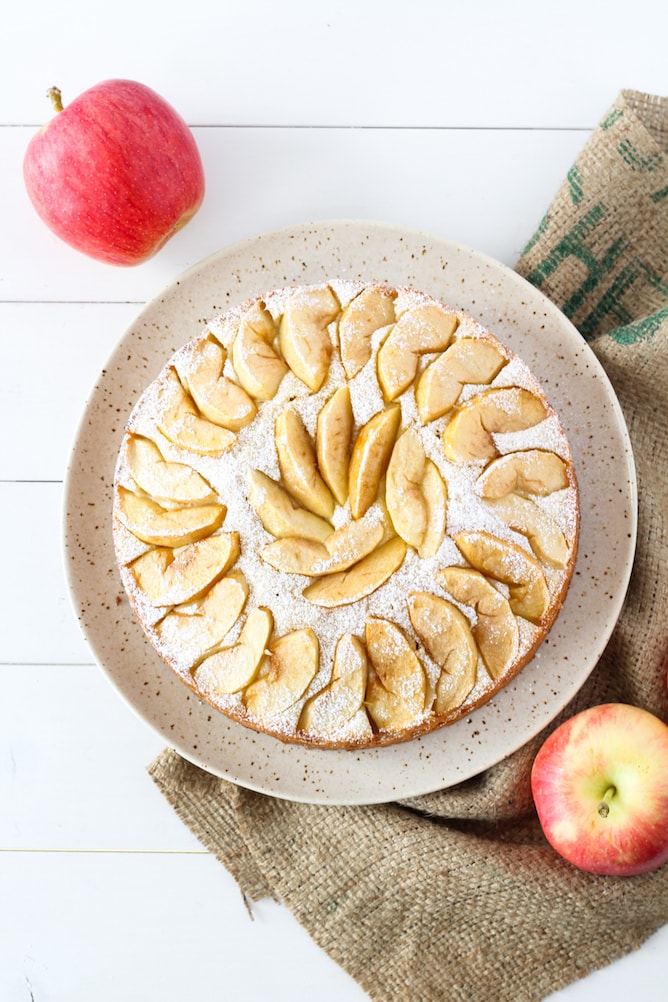 Then, enjoy a piece of this delicious cake with a cup of tea or coffee and family or friends!
This cake is best enjoyed within two days of baking.
Until the next cooking adventure,
Jess