I have vivid memories of being at the cottage during the summer; we'd spent most of our day by the lake and then 'coffee time!' my Oma would announce to us AKA 'the best time of the day.'
We would all gather at the table, the aroma of coffee in the air and enjoy coffee & cake every afternoon around 3PM. I absolutely loved this tradition – I mean really, which kid wouldn't love cake mid-day?!


While I liked the cake part of 'coffee time,' having everyone together at the table just being together was what I loved most and remember most. It was a pretty neat tradition and one I still talk about to this day.
I had my mom send me some of my all-time favourite recipes of my Oma's, specifically related to 'coffee time' and today I'm sharing with you Blueberry Streusel Cake. When I baked this recently I opened the oven and this wave of sweetness plus baked blueberries hit me, it smelled EXACTLY like it did 20 years ago at the cottage; it was like being transported back in time.
Perhaps this cake will inspire you to start your own coffee & cake tradition.
Prep time: 1 hour for cottage cheese step + 1 hour to prep & bake
Equipment: 15″ x 10″ (approximately) Cookie Sheet, scale & stand mixer (if you choose to use)
Ingredients: (Recipe serves 12-16)

Dough:
200g cottage cheese (drip/drained for 1 hour prior to use in recipe)
6 tbsp milk
1 egg
8 tbsp vegetable oil (only use vegetable oil, do not use olive oil)
100g sugar
1 tsp vanilla
Pinch of salt
400g flour
4 tsp baking powder
Blueberry Streusel Topping:
4 small blueberry containers, washed and dried
Streusel:
65g melted butter
100g flour
65g sugar
¼ tsp cinnamon
Instructions:
**Special Step: Measure out the cottage cheese. Rest a sieve on a bowl, put the cottage cheese in and let it drip/drain for 1 hour. Once most of the liquid is gone, empty liquid and press the cottage cheese through the sieve. You will end up with a finer curd.
Mix cottage cheese with milk. Then, add the rest of the liquids (egg, vegetable oil, vanilla) and the sugar.
Measure the flour and baking powder into a separate bowl and whisk to combine.
Then mix in half of flour mixture into the liquid mixture. This will start to form a doughy texture.
Knead the rest of flour mixture into the dough you've already started to form. I would recommend incorporating the flour gradually, you can use a quarter or half cup to transfer the flour, then knead in until combined. Repeat until the flour is gone. (This part of the recipe is where you get an arm workout OR you can use the knead function if you own a stand mixer at home).
Use butter to grease a cookie sheet. Then, roll dough to approximately the same size of the cookie sheet – transfer to cookie sheet. **Helpful tip: I rolled my dough onto a piece of parchment paper approximately the size of the cookie sheet, then used it to help flip the dough onto the cookie sheet.
Layer blueberries onto dough.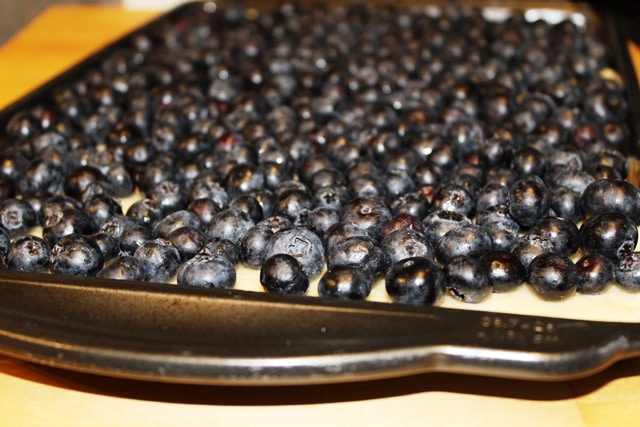 To make the streusel topping, measure & then melt the butter. Combine melted butter, flour, sugar and cinnamon in a bowl – stir until ingredients are combined and form into crumbles (otherwise known as streusels).
Use hands and crumble streusel onto blueberries.
Bake 20 – 30 min at 350. (Berries will start to burst and bottom of cake will be golden)
Once cooled, dust with icing sugar.
Cook's Note: This cake is good covered and stored on cookie sheet pan for 1-2 days. To make it go a bit further, store in an airtight container. Also, since the cake overall is on the less sweet side, you could definitely have a piece as breakfast – I may have done this a few times growing up.
While this cake is delicious fresh-baked, it's even better the next day! Pour yourself a cup of coffee and enjoy.
Until the next cooking adventure,
Jess