Well Feast Portland, what an event!
I recently returned from a road trip with my husband where our last stop was the lovely city of Portland for their signature food event, Feast Portland!
Feast Portland is 'a food and drink festival that celebrates everything that makes Portland and Oregon awesome.' What I also LOVE about this festival is that there is a charitable component to it, raising funds for Partners for a Hunger Free Oregon.
We had been to Feast Portland a couple years ago but only attended one event so this time we went back with much bigger appetites!This year Feast Portland featured 134 chefs, 31 wineries, 15 breweries, 11 artisans, and 12 distilleries and we started off our experience with the Sandwich Invitational!
With 19 Chefs presenting their spin on a sandwich, we tried a delicious array of creations!
My personal favourite (and eventual winner of the night) was Lardo's 'Nashville Hot Fried Chicken Sandwich;' with bacon, honey butter, sweet pickles and mayo, it hit all the spicy-sweet notes that I love!
My husband Scott loved both the Nashville Chicken AND the 'Rib Biscuit' from Chef Kate McMillen of the Portland restaurant Lauretta Jean's.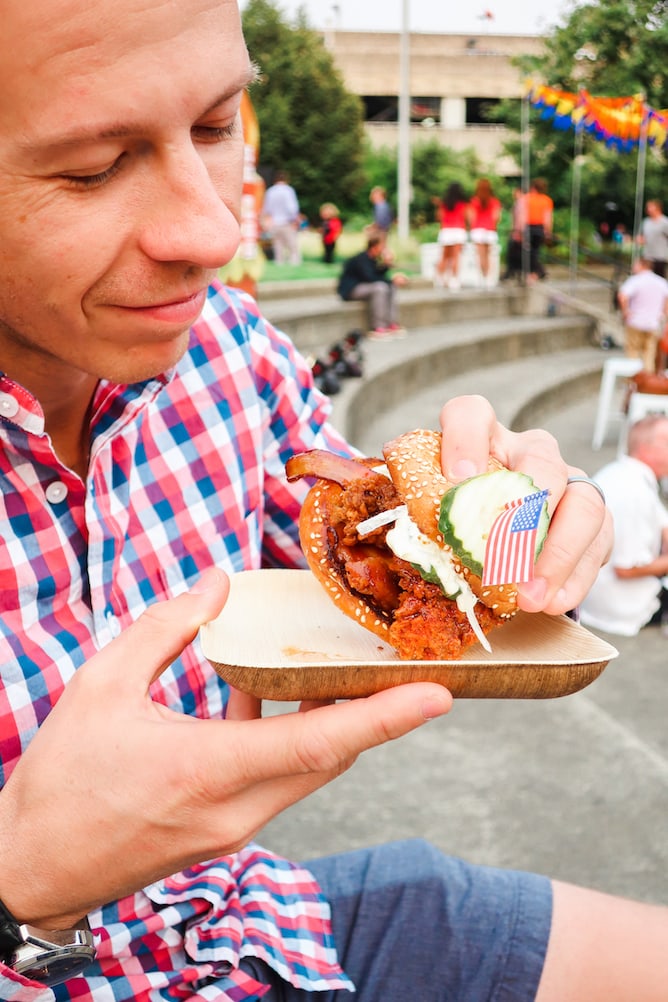 The Sandwich Invitational was a great way to kick-off our Feast Portland experience on Thursday evening.
On Friday I had the pleasure of attending the media breakfast at Hotel deLuxe where I got to connect with other local and visiting media and bloggers, meeting Erica from the blog Bacon and Braids and a Canadian transplant to Portland, Lisa from the blog This Beautiful Day.
Then, I joined other media and bloggers for Health-Ade's Kombucha workshop which I was super pumped about since I love drinking kombucha and now I have my very own kit to make it! (thanks Health-Ade!)
Friday was a beautiful day so I went over to the Grand Tasting, where I was able to taste the afternoon away and chat with 'chefs, vintners, brewers, bakers, cheesemakers and food artisans from the Northwest and across the country.'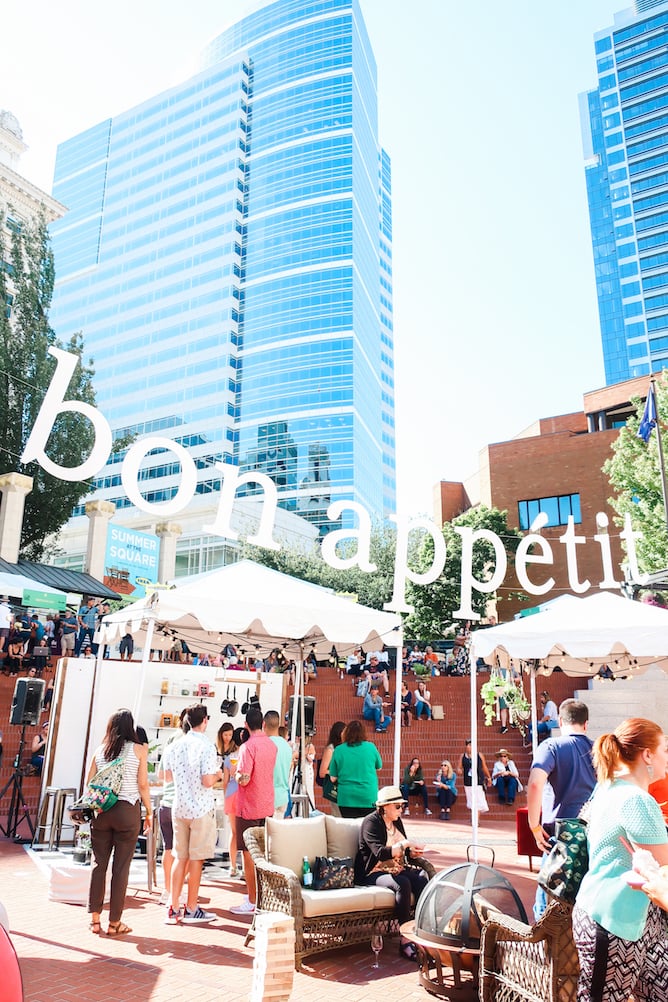 Oregon Berries was one of my favourite stops of the afternoon, with a sweet and savoury dish to taste plus a 'foodie photo booth,' I was in food blogger heaven!
First I tried their savoury dish, Hand-pulled mozzarella, black raspberry pureé, pickled peppers with prosciutto cracklings, which was a perfect balance of salty and a bit of sweet.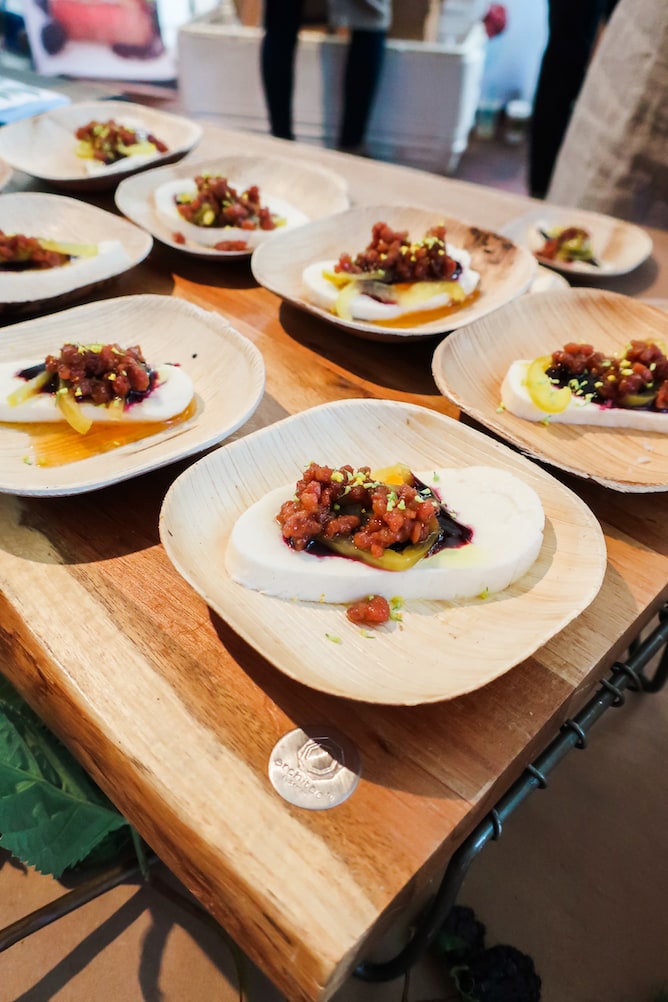 Then I savoured their Boysenberry Crisp Concrete, a frozen treat with a ton of boysenberry flavour and topped with a wonderfully sweet crisp!
What was really neat about the Grand Tasting is they had Chefs cooking live throughout the day as well as Chef interviews; I was able to catch Christina Tosi, the founding Chef from the famous Milk Bar.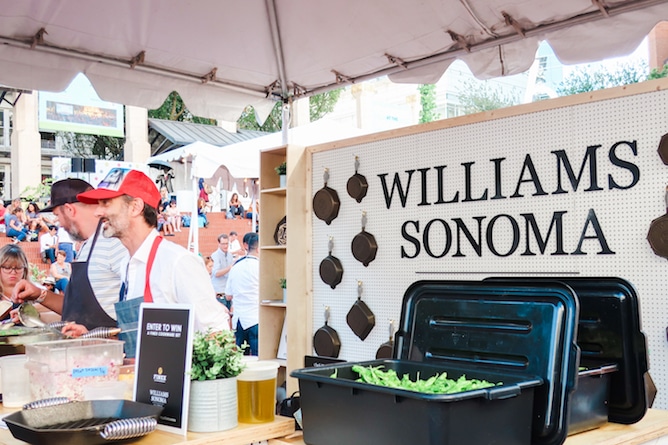 The day continued with a stop at the Drink Tank, where there was a much smaller gathering of attendees and an expert panel.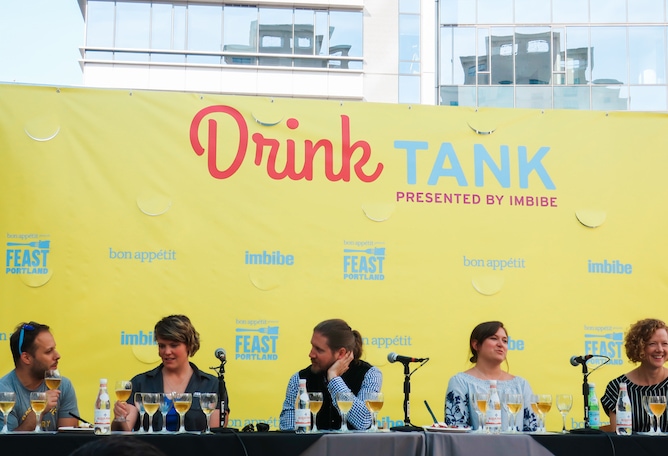 I attended 'Pilsners: So Fresh and So Clean,' and given I actually don't know much about the beer world, I really enjoyed learning from the expert panel. And of course, tasting local beers! Now when I go back to Portland I know of some great beers to try.
Friday night we headed to the Night Market for a taste of Latin America and Spain.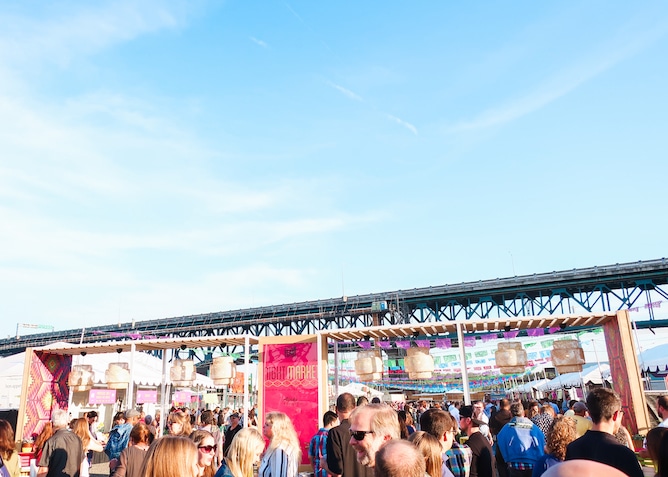 Situated by the Willamette River, we had a glorious time under the stars, with upbeat music by a live DJ, tasting a ton of delicious food.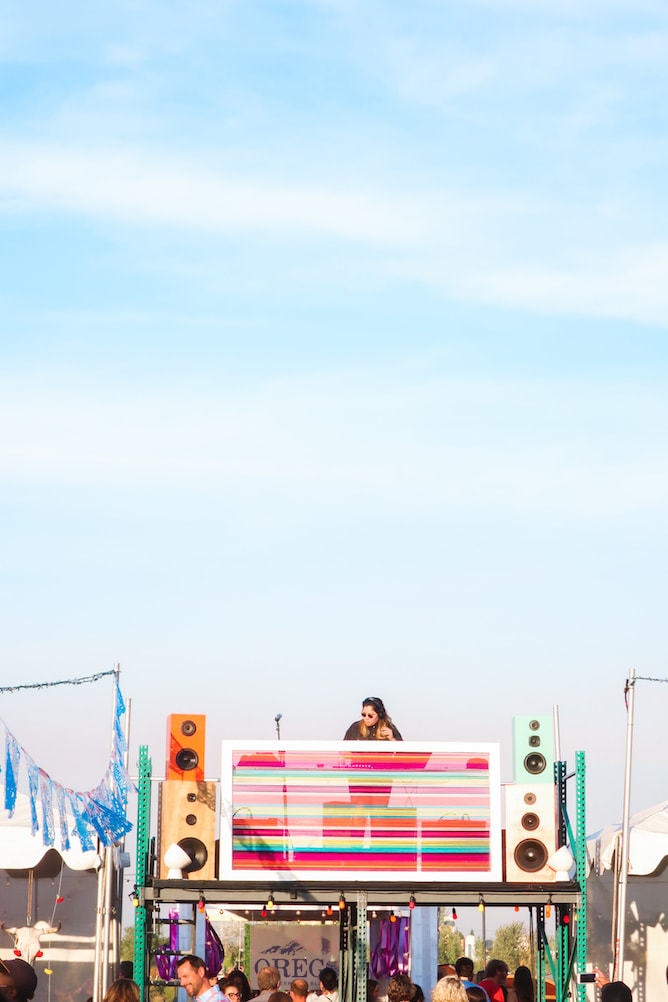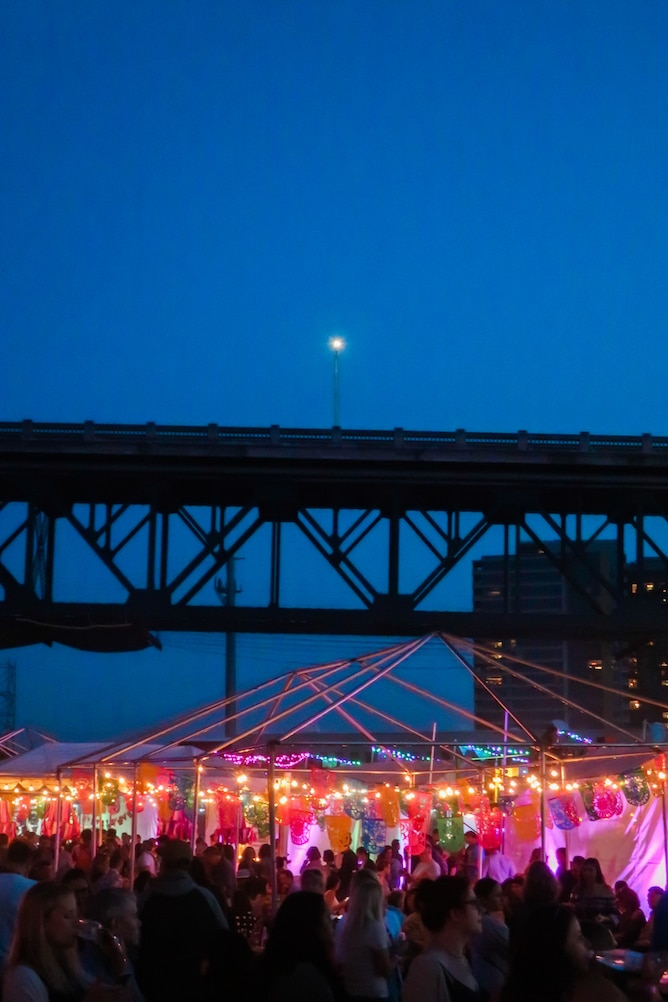 My favourite bites of the night were:
Albacore Tuna Tostadas from Chef Enrique Sanchez-Rodriguez at Local Ocean Seafoods restaurant
Prawns and Mango Ceviche from Chef Dustin Koerner at Andina
We closed out Friday with a pretty gorgeous Portland view.
Needless to say by Saturday I was getting pretty full, ha! But nothing could stop us now. We headed to a Hand's On Class from Bon Appétit magazine, 'Inside the Test Kitchen.' First of all, I absolutely LOVED the venue! Upon walking in there were so many neat elements up on the walls and given I plan events for a living, all I could think about is I wish I could plan an event here!
This Hands-On class was really neat because our hosts took us through their process of how dishes are created in the Bon Appétit test kitchen. We tasted two dishes, Whole Grain Pancakes and Olive Oil Cake, that they started off with in the Test Kitchen; then they took us through the steps and stories along the way to get to what they decided was the final recipe to be published.
As an avid reader of Bon Appétit magazine, I really enjoyed hearing all of the behind-the-scene stories from our two hosts, the Test Kitchen Manager and Food Editor. Plus those Whole Grain Pancakes are definitely a recipe I'll make again! I loved the use of actual grains like barley and quinoa, they gave the pancakes the perfect hearty punch.
Saturday was beautifully sunny so we spent some time walking around Portland before heading to Smoked! Saturday night. When walking into Smoked! we were so delighted to see it was setup like a big barbecue cookout and the smells of barbecue were intoxicating.
22 Chefs were serving up their take on barbeque along with vendors offering cocktails, wine and beers for the occasion.
It would be hard for me to say which dish was my very favourite of the night, so here's a rundown of some of the best bites:
Smoked Brisket Sandwich from Storrs Smokehouse
Char Siu St. Louis Rib with Puffed Rice, Scallion, Jalapeno & Cilantro from Fat Rice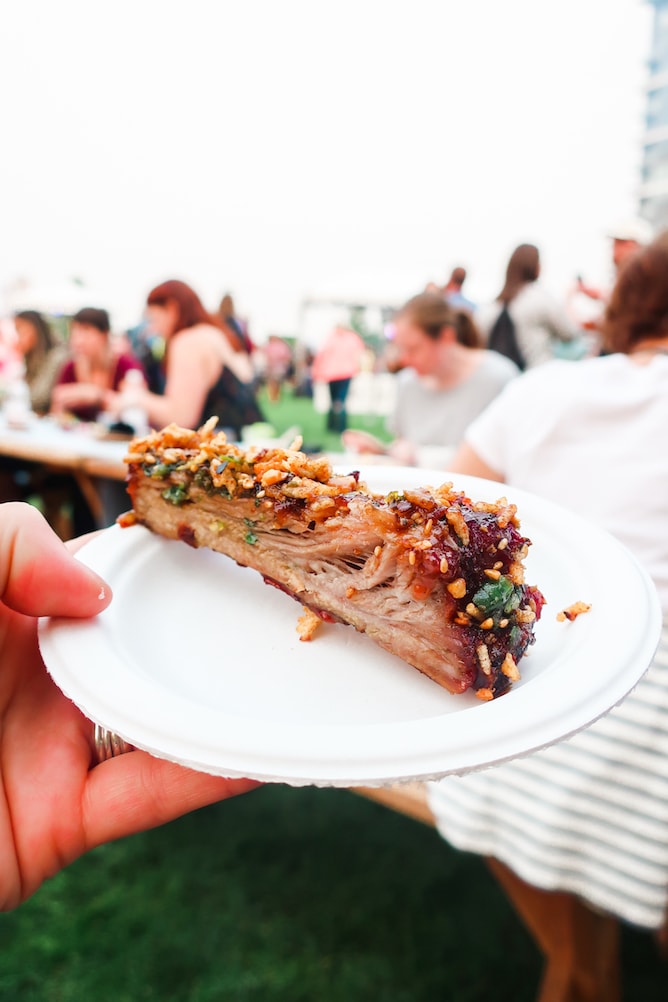 Matt's BBQ Brisket, tomatoes and peaches jungle curry, garlic rice from Langbaan
Ricotta Fritter, Apple Butter, Rosemary, Pork Fat Powder from Launderette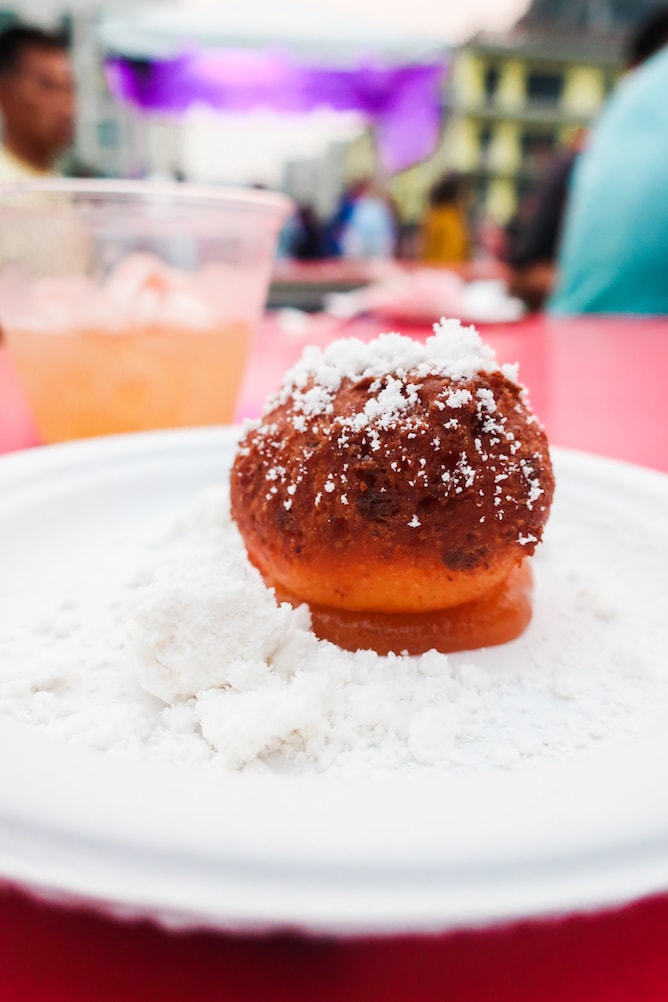 Plus, if you don't know already, I am a bourbon fan and Bulleit Bourbon was at the event serving up two cocktails!
My favourite cocktail was the 'Smoke Signals' which included Bourbon, tea concentrate, lemon juice, corazon bitters and a splash of champagne.
I always have room for brunch so Sunday morning before leaving Portland to head back to Calgary we toasted to an amazing Feast Portland weekend at Brunch Village!
I was thrilled to start off brunch with Chef Maya Lovelace's dish as I had interviewed her before the festival all about Why We Love Brunch.
Her dish of Coffee-Rubbed Blackberry BBQ Lamb Biscuit with Okra and Smoked Black Pepper Cheddar was heavenly! The flavours were the best savoury bite you could ask for in a brunch dish.
Chef Christina Tosi was also in attendance serving up a variety of brunch treats and we also really enjoyed the 'Fried Chicken & Donut.'
Another memorable bite was from the Broder Café, an 'Aebleskiver,' which is a Danish dessert and was served with a Ligonberry Jam. They were cooking these delightful bites to order so when we tried the dessert it was still warm from the oven!
I really enjoyed Brunch Village as it was a bit smaller scale than the other main events we went to. As we walked around tasting dishes and toasting with rosé we met tons of great people so it really felt like you were having brunch with a group of friends! It was truly the best sendoff to an amazing, food & drink filled Feast Portland weekend!
I know Scott and I will DEFINITELY go back again for Feast Portland and we hope to see you there!
Have questions about Feast Portland OR want to share your fav foodie travel memories, I'd love to hear from you in the comments below!
Until the next cooking adventure,
Jess