Oh my goodness these Tex-Mex Sweet Potatoes are SURE to be a new dinner winner for you!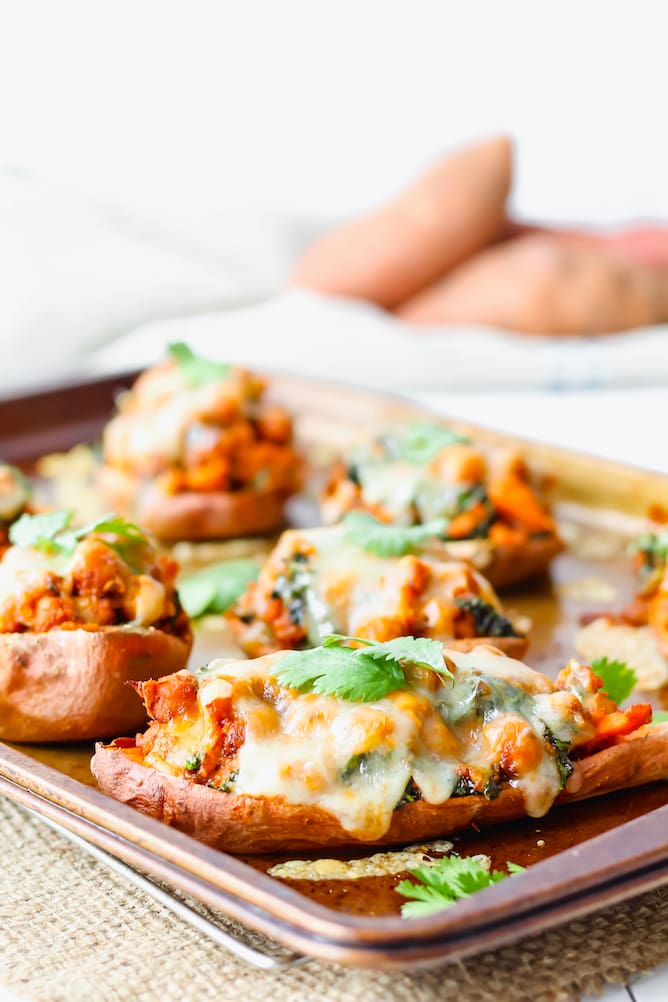 Consider this a mash-up of some of my favourite things – sweet potatoes and tacos plus some seriously good for you ingredients like chickpeas and kale!
I really like to use chickpeas in my meatless dishes; they have a great taste and texture and take on any flavour you put to them so they're really versatile and delicious.

The only time commitment you need to make for this recipe is baking the sweet potatoes; afterwards, this recipe comes together quite quickly.
Total Time: 1 1/2 hours (includes sweet potato baking time)
Equipment: baking sheet, parchment paper, frying pan, medium mixing bowl
Servings: 4-6
Ingredients:
4 x medium sweet potatoes (about 6-7 oz each)
2 tbsp chili powder
1 tsp salt
1 tsp garlic powder
2 tsp oregano
Optional: 1/2 tsp red pepper flakes (if you like a bit of spice, definitely add these into the mix!)
1 x 540mL can chickpeas, rinsed
3 cups kale, thinly sliced
1 tbsp olive oil + 1 tbsp olive oil
1 1/4 cup old cheddar cheese, shredded (keep 1/4 cup aside)
Cilantro for garnish
Instructions:
Pre-heat your oven to 400F. Mix all of the spices together and set aside. Scrub the skins of each potato and then using a fork poke a few holes into each sweet potato to let the steam escape.

Bake sweet potatoes directly on the oven rack for 45 minutes to 1 hour, until each sweet potato is fork tender.
While the sweet potatoes are cooking, drain and rinse the chickpeas, chop the kale and shred the cheese.

Let potatoes cool for 5-10 minutes before cutting each sweet potato in half. Once cooled, scrape out each potato and put the potato flesh into a bowl, set aside to be used as a part of the filling. Leave about a 1/4 to 1/2 inch layer inside each potato skin.
Place the potato skins on a parchment-lined baking sheet and put back in the oven to keep warm.
Cook's Note: Keep your oven set at 400F as you will bake the potatoes once more!
Place a frying pan on medium heat and add 1 tbsp olive oil. Once the frying pan is warm, add the chickpeas and sauté for 3-4 minutes. Then, turn the pan to medium-low and add the kale, 1 tbsp olive oil plus all of the seasonings (2 tbsp chili powder, 1 tsp salt, 1 tsp garlic powder, 2 tsp oregano, Optional: 1/2 tsp red pepper flakes). Stir consistently until the kale has wilted and then take the pan off the heat.

Mash the sweet potato you've removed from the potato skins and then add in 1/4 cup shredded cheese and the chickpeas and kale mixture, stirring until combined.
Remove the potato skins from the oven and divide the chickpeas and kale mixture evenly between the potato skins. The potato skins will become quite full and the filling will be above the edge of the potato skin. Top all of the filled sweet potatoes with cheese and bake in the oven for 10 minutes, until the cheese starts to bubble.
Top each sweet potato with a few cilantro leaves and then it's time to dig into these flavourful Tex-Mex Sweet Potatoes with Chickpeas and Kale!

I like to serve these Tex-Mex Sweet Potatoes with a green salad and some avocado to make this a full meal.

I think these Tex-Mex Sweet Potatoes with Chickpeas and Kale are going to be making an appearance on our dinner table fairly often and I hope you enjoy them too!
Until the next cooking adventure,
Jess