This Baked Risotto is a cozy dish perfect for those cool, Winter nights.

I absolutely love risotto but I wanted to make a simpler version with seasonal ingredients.
This dish comes together in one pan and is simply baked instead of standing at the oven stirring!

To me, this dish is the epitome of comfort food!
Traditional risotto is made with Arborio rice. However, this risotto is made with short-grain brown rice for a delicious, nutty flavour which pairs lovely with the mushrooms.

First, onions and garlic are sautéed together in a Dutch oven or braiser. Next the rice and broth are added and brought to a boil. The pot then goes into the oven for 50 minutes to an hour with no stirring needed.
While the risotto is baking we can make the delicious mushrooms. And, to add some colour to this dish I sautéed some kale too!

At the end of baking, stir in parmesan, wine, salt and pepper and a bit more broth to bring everything together.
How do you know when the risotto is done?
When you remove the pot from the oven give it a quick stir and taste before adding anything. The rice should be just on the softer side of al dente which is soft with a bit of bite.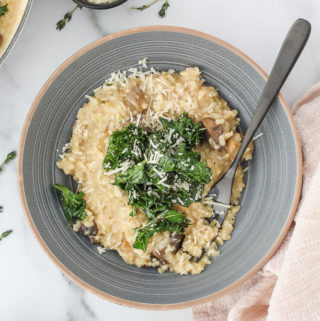 Winter Oven Baked Risotto with Mushrooms
This simple, seasonal winter oven baked risotto is the perfect comfort food for the season. Served with mushrooms & kale for a dish made for sharing!
Print Recipe
Rate this Recipe
Pin Recipe
Ingredients
Risotto
1/4

cup

extra virgin olive oil

1

yellow onion, chopped

3

cloves garlic, minced

4 2/3

cups

chicken broth, divided (4 cups + 2/3 cup)

use vegetable broth to make it vegetarian

1 1/2

cups

short grain brown rice

1/4

cup

white wine

3/4

cup

grated parmesan cheese

3

tbsp

butter

1/2

tsp

coarse salt

extra parmesan cheese for serving
Mushrooms & Kale
4

cups

sliced mushrooms

1

tbsp

extra virgin olive oil

1

thyme sprig

salt & pepper

a couple stems of kale, chopped

optional
Instructions
Pre-heat the oven to 375F. Heat olive oil in the pot over medium-high heat.

Add onions to the pot, cooking and stirring occasionaly until soft and starting to brown, about 8-10 minutes.

Then add in the garlic, stir and cook for 2 more minutes.

Add to the pot 4 cups of chicken broth and bring to boil over high heat. Once boiling, turn the heat off and stir in the rice. Put the lid on the pot and put in the oven to bake.

Bake for 50-60 minutes, until the rice is tender and cooked through.

While the risotto is baking for the last 10 minutes, sauté the mushrooms and kale by adding 1 tbsp olive oil to a frying pan set to medium-high heat. Add in the mushrooms, cook stirring sparingly until browned, about 8-10 minutes. Once done, stir in the thyme leaves from one sprig of thyme and season with salt and pepper. If using kale, add it to the mushrooms and sauté 2-3 minutes more until kale is slightly wilted.

Once the risotto is cooked, stir in 2/3 cup chicken broth, 1/4 cup wine, grated parmesan cheese, butter, coarse salt and a couple turns of ground pepper. Continue stirring until everything is combined, the liquid is mostly absorbed and there is a creaminess to the risotto. If the risotto still seems a little dry, stir in a bit more chicken broth.

To serve, stir the mushrooms into the risotto and top with sauteed kale and extra parmesan.
This dish is just perfect for a weekend dinner or even when you're having friends over. Just prep all of your ingredients ahead of time and put the dish in the oven before guests arrive!
It's lovely to bring the pot over to the table and enjoy family style. Just add some bread and butter for a side and you're all set.

What other ingredients can you add in instead of mushrooms or kale?
In this case, this risotto is a main dish with the addition of the sautéed mushrooms and kale. However, other delicious add-in's I'd recommend are: sautéed peas, shrimp, asparagus, roasted butternut squash, fresh arugula or crispy prosciutto.
You can get super creative with this recipe; just make the risotto as described, skip the mushrooms and kale and add what suits your taste!
Can you freeze risotto?
It is perfectly ok to freeze risotto. However, you will notice some texture changes when it's reheated.

If you're looking for other recipes that are perfect to serve friends check out my free e-Cookbook, Gatherings!
Until the next cooking adventure,
Jess