As one season starts to wind down and a new one ushers in, this Zucchini and Prosciutto Pizza showcases the best of what is fresh right now.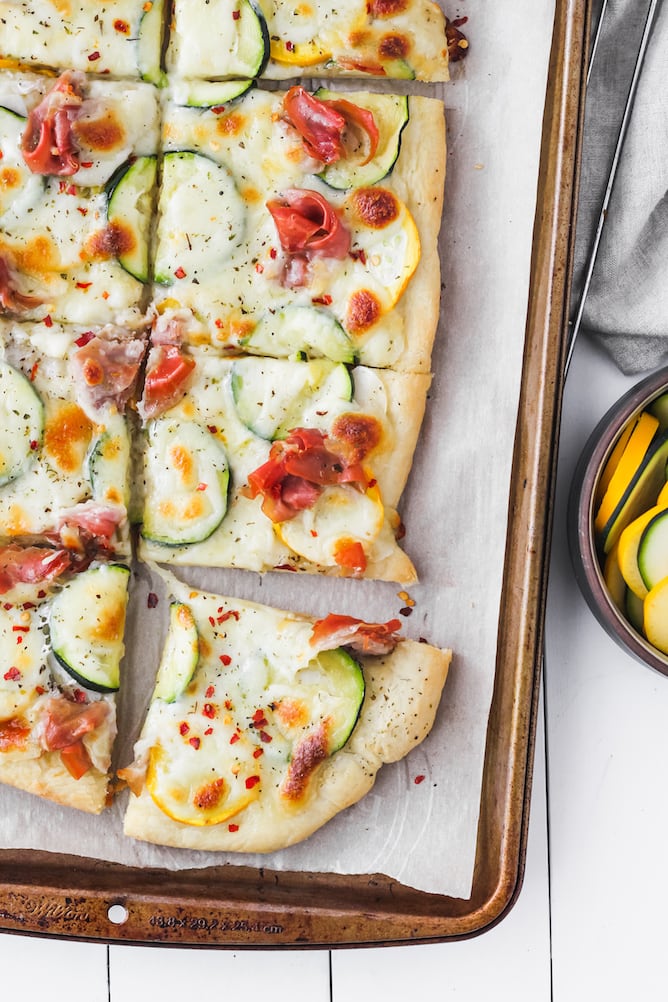 This pizza is inspired by the many zucchini's our garden has brought us this year. And, paired with prosciutto and a yellow summer squash, this pizza is a wonderful way to enjoy your love for summer and fall.
This recipe is made for the changing seasons and is easy to enjoy on weeknights or share with friends on the weekend!
I used both zucchini and yellow summer squash (aka yellow zucchini) on this Zucchini and Prosciutto Pizza since they're both in season. But, if you can't find the yellow squash opt for all green zucchini. Trust me, you'll get the same great taste!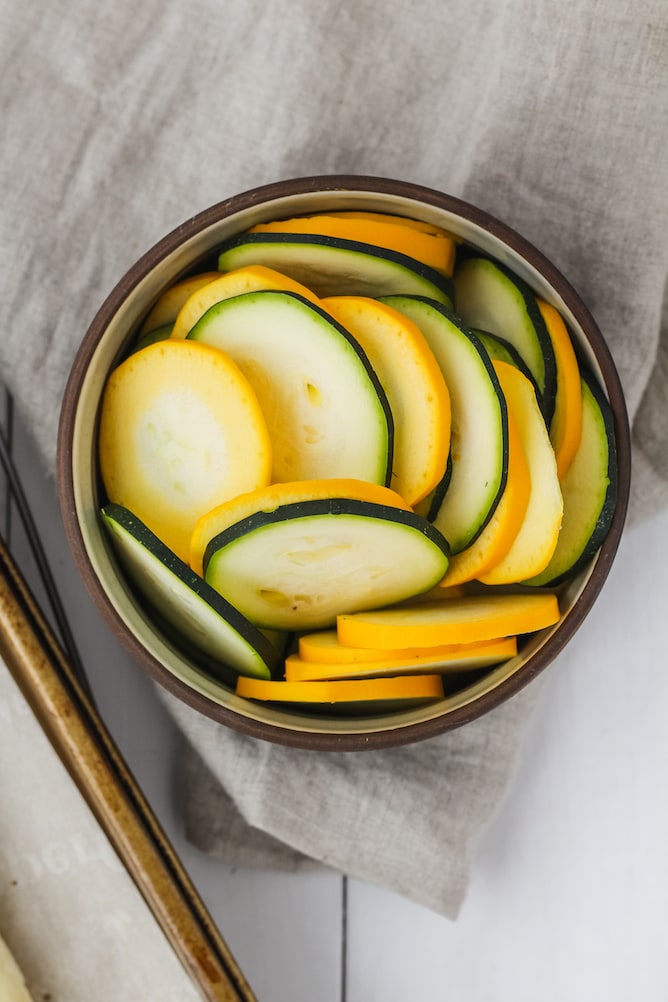 Pizza is one of the best vessels (in my opinion) to enjoy flavours of any season. I love that you can mix and match ingredients based on exactly what you enjoy on pizza.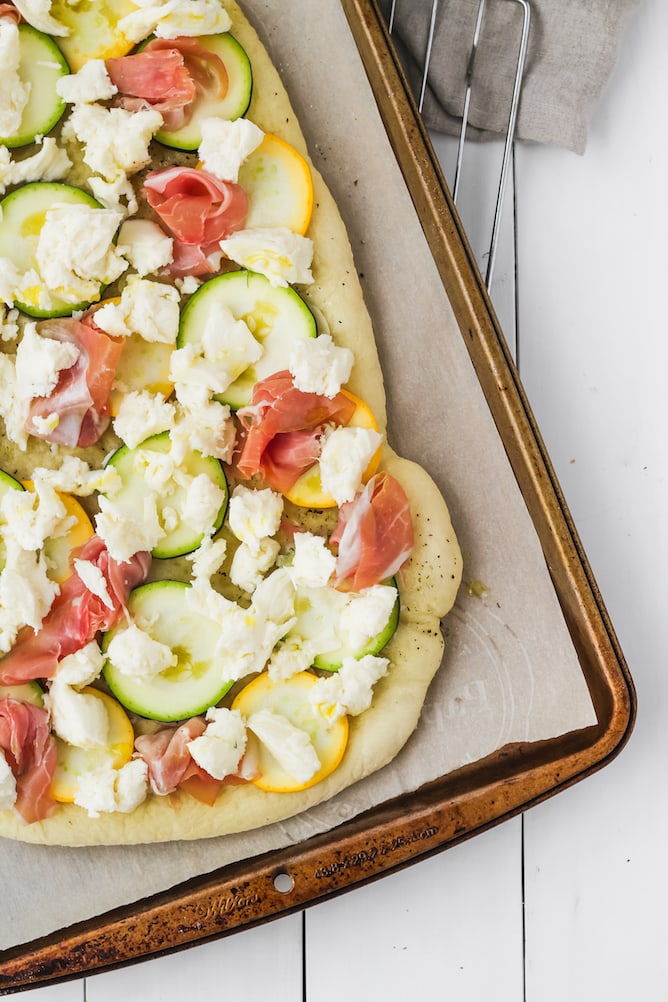 There are SO many delicious flavour combinations to discover. This Zucchini and Prosciutto Pizza is definitely one of my new favourites!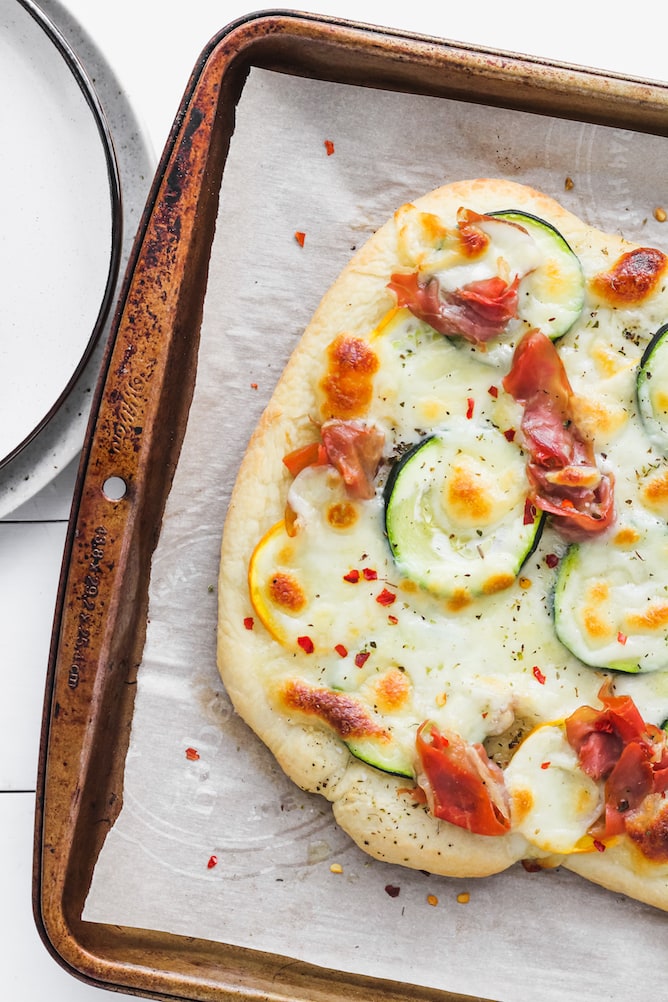 On this Zucchini and Prosciutto Pizza you get a taste of crispy, salty prosciutto paired with the fresh taste of zucchini. Plus the oregano and garlic act as a delicious, buttery base when combined with olive oil. Then as I always do, top the pizza with red chili flakes for a bit of heat!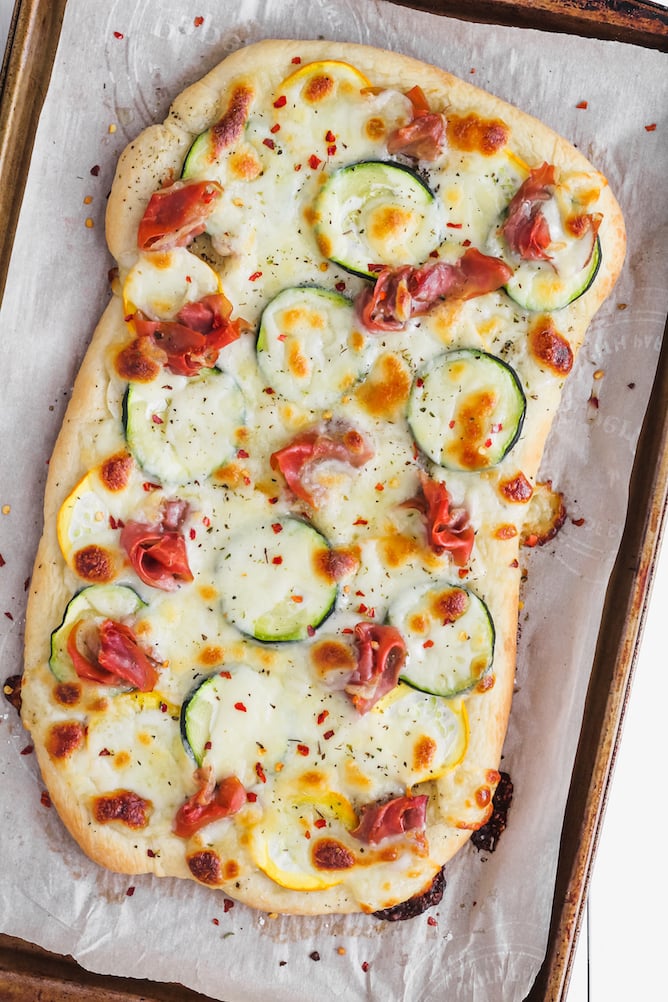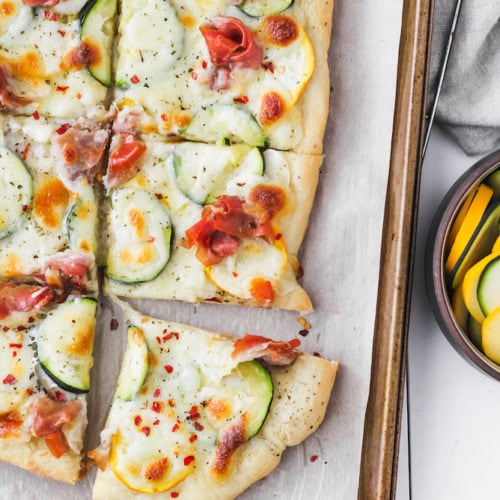 Zucchini and Prosciutto Pizza
This Zucchini & Prosciutto Pizza is the perfect way to celebrate the changing seasons. Crispy, salty prosciutto is paired with fresh zucchini, oregano and garlic for a delicious combination of flavours. An easy weeknight meal or perfect for sharing with friends!
Print Recipe
Rate this Recipe
Pin Recipe
Ingredients
425

g

fresh, store-bought pizza dough

usually this can be found in the bakery section or frozen section of your grocery store and may vary in size; one package of freshly-made dough will work

1

tbsp

extra virgin olive oil

2

cloves

garlic, sliced thin

1/4

tsp

dried oregano

pinch

kosher salt

pinch

pepper

10

thin slices

green zucchini

10

thin slices

yellow summer squash (aka yellow zucchini)

1

tbsp

extra virgin olive oil

6

slices

prosciutto, torn in half

250

g

fresh mozzarella

(or about 1 1/2 cups shredded mozzarella)

dried oregano and red chili flakes for garnish
Instructions
**Remove the pizza dough from the fridge and leave on the counter, covered with a tea towel for about 15 minutes before beginning**

Lay a piece of parchment paper on your counter and using a bit of flour, stretch or roll the pizza dough to an oval or rectangular shape, about 12-14 inches wide and 8 inches tall.

Pick up the edges of each end of the parchment paper and move the stretched dough to the baking sheet.

Using a spoon, spread 1 tbsp extra virgin olive oil on the dough, then layer the garlic slices and sprinkle on the oregano, salt and pepper.

Bake in the oven for 8 minutes and then remove to add the toppings.

First layer on the zucchini slices, then fill in with the prosciutto and tear up the mozzarella and place over the entire pizza, putting toppings to the very edge of the dough. Drizzle with 1 tbsp olive oil.

Bake another 15-20 minutes, until cheese is golden and bubbling. (Oven's vary in baking time so your pizza may need a bit of extra time to bake or a bit less, depending on the dough you buy - just keep your eye on it!)

Sprinkle with dried oregano and red chili flakes and enjoy!
Notes
Equipment: large baking sheet

This Zucchini and Prosciutto Pizza is also wonderful for sharing! Make it as an appetizer for get-together by cutting smaller slices and serve on a tray or wooden board for easy presentation.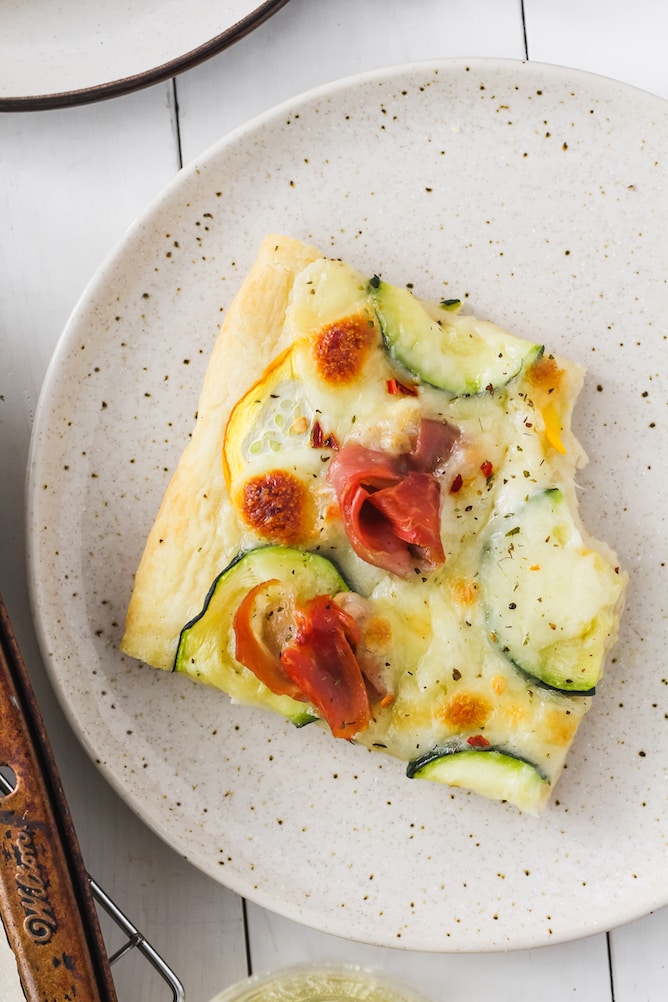 Mmm, ok I'm making myself hungry as I continue to write about this pizza so off I go to make another one for the weekend!
Want more pizza love!? Check out my pita pizza recipes for more delicious flavour combinations!
Until the next cooking adventure,
Jess