Comfort. Round 2.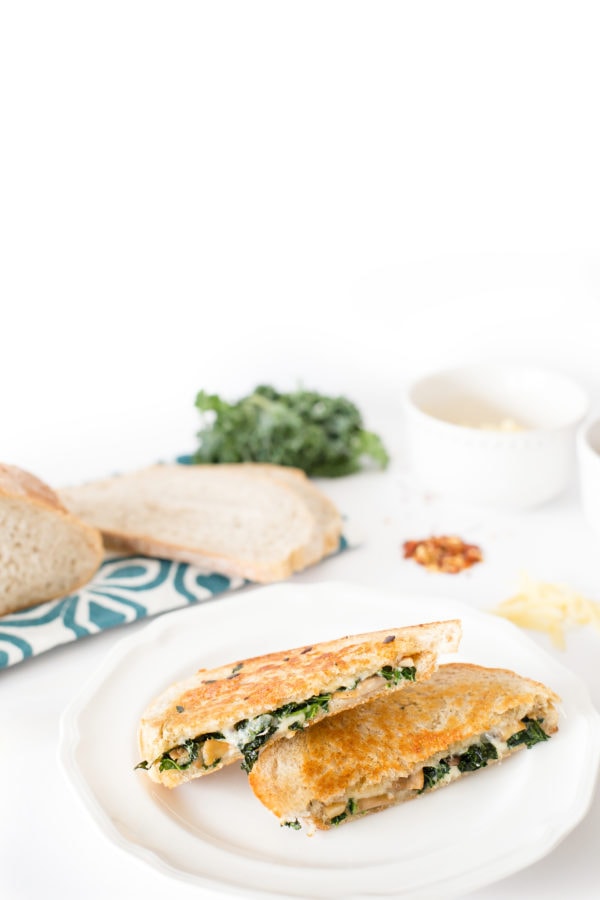 It's supposed to be rainy and grey this weekend in Calgary so why not dive into a comforting grilled cheese? And perhaps pair it with last week's Tomato Soup recipe?
Last week you got a taste of part 1 of my favourite food combination of all-time – Tomato Soup.  But this week it's the cheesy goodness galore! I am telling you, this combo of the kale & mushroom with the gruyere cheese is heavenly – there's a bit of heat from chili flakes and then the gooey goodness you expect in all grilled cheeses.
Let's do this.
Total time: 30-45 minutes
Servings: 4
Equipment:  frying pan
Ingredients:
3 cups of kale, washed and chopped
10 white mushrooms, sliced
8 oz (approximately 3 cups) gruyere cheese, grated
1 tbsp olive oil
1/4 tsp salt
1/4 tsp pepper
1/2 tbsp olive oil
1/2 – 1 tsp chili flakes (if you like less spice use 1/2 tsp)
8 slices of sourdough bread
4 tbsp unsalted butter
Instructions:
Wash and chop the kale and thinly slice the mushrooms. Grate the cheese and set aside. Heat 1 tbsp olive oil over medium heat. Add mushrooms and season with 1/4 tsp each of salt and pepper. Sauté, stirring occasionally 8-10 minutes. Push mushrooms to the sides of the pan, add in kale and drizzle with 1/2 tbsp olive oil. Turn to medium-low and sauté, stirring occasionally until the kale is wilted, about 3-5 minutes. Turn heat off and mix in chili flakes.
Next, slice the bread into 8 slices, 2 per sandwich. Then, butter one side of each slice of bread. Place 4 slices butter side down on a cutting board. Distribute half of the cheese evenly, followed by the kale & mushroom mixture. Then, distribute the remaining cheese on top. Next place the remaining bread slices on top, butter side up.
On the oven, heat a large non-stick pan to medium – let it heat up for about 4 minutes.
Cook's note: If your pan will only fit two sandwiches at once you can either turn your oven to 250F to keep the first sandwiches you cook warm OR heat two non stick pans and cook all four sandwiches at once.
Put the sandwiches in the pan and cook until golden brown, about 5 minutes. Then turn each sandwich, pressing each sandwich to flatten slightly. Cook about 5 minutes or until golden brown. Flip one more time, pressing each sandwich to flatten slightly again and cook until the cheese is fully melted, about another 2-3 minutes. Remove from the pan and let cool about 3-5 mins. Then cut in half and serve.
Pair with last week's Tomato Soup for a winning combination!
Until the next cooking adventure,
Jess
PS. I also have to mention the lovely Rachel Rouhana who took the photos in this recipe.