Let's eat cake! When is the last time you just sat down, gathered with the people you love and ate cake for no other reason than to enjoy each other's company and eat cake!?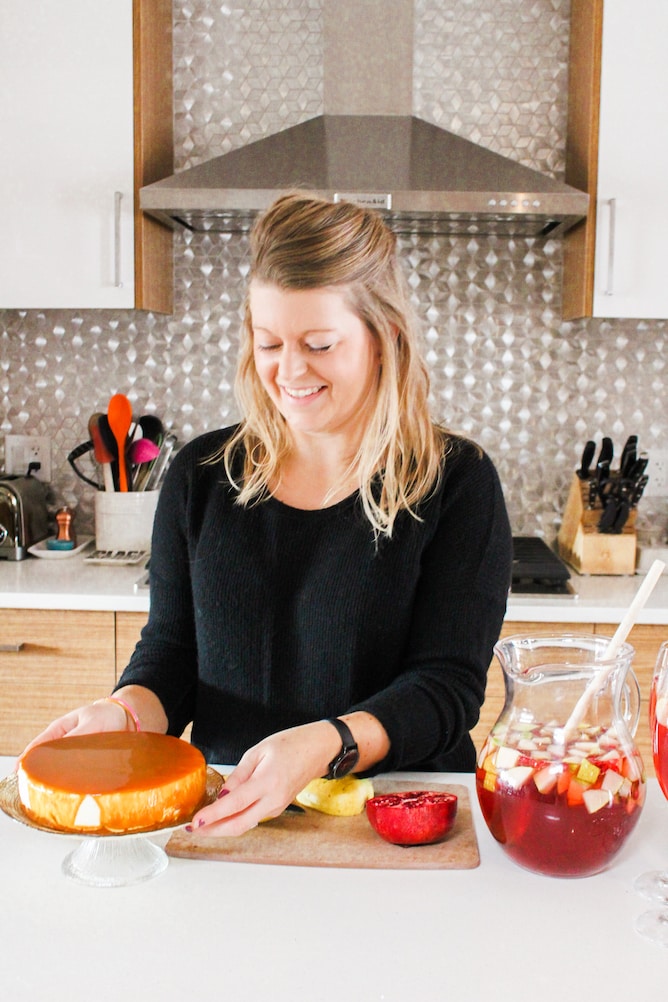 One of my absolute favourite things to do is have my family and friends over to our house to enjoy great food, drinks and time together. And here's the thing, it doesn't have to be hard!
You can entertain with ease, slow down and enjoy each other's company AND still have great food and drink without too much stress and work.
So I've partnered with one of my favourite local spots, Alforno Bakery & Café, to bring you some easy at-home entertaining tips featuring one of their amazingly delicious cakes and the perfect cocktail to pair with it from yours truly!
Alforno Bakery & Café is not only an amazing place to get your coffee fix, they have a full-service bakery that offers the most amazing treats that you can imagine. Specifically I am in LOVE with their cake selection! My personal favourite cake is their Caramel Cheesecake; a luscious cheesecake with the perfect graham-cracker crumb bottom, this cake is topped with the most delicious caramel I've ever tasted. Alforno has classic cake flavours you can always find in their pastry case, but they also like to switch things up a bit and add new ones frequently. They can also make gluten free and vegan cakes too – cake for everyone!
So head on over to Alforno Bakery & Café to pickup one of their amazing cakes, invite some friends over and enjoy some delicious cake and the company of the people you love! You can pre-order a cake or just pop in and grab one on your way home!
A couple of entertaining tips for when you're hosting at home to make your soirée simple from beginning to end:
1. Make a plan & do what you can ahead of time! Pickup your cake & cocktail ingredients ahead of time, the day before always works great, and this means less stress for you on party day.
2. Prep your food before guests arrive. If you've picked up a cake, display it on the cake platter you're using before guests arrive and set out all of the plates, utensils & forks you'll need so everything is ready to go when your guests arrive.
3. Make a signature cocktail like my Pear Cider Sangria (below). You can make a batch of this cocktail ahead of time, store in the fridge and then add the garnishes just before guests arrive. Also, don't forget to put out all of your glasses too so you'll be ready to offer guests a drink upon arrival.
4. Décor doesn't have to be overly complicated, use what you have! Pretty, small gift boxes can be used as décor along with holiday decorations (anything glitter) and floral.
With these tips and my easy cocktail recipe, Pear Cider Sangria, you'll be all set to host a lovely get together.
Total Time: 5 minutes
Equipment: drink pitcher
Servings: 6-8 (served in champagne flutes)
Ingredients:
3 1/2 cups hard pear cider
1/2 cup apricot brandy
1/2 cup pomegranate juice
1/2 cup ginger-ale
2 pears, chopped
1/3 cup pomegranate arils
Instructions:
Mix all ingredients together in a pitcher.
Pour into glasses and garnish with pears and pomegranate arils per glass.
Then it's time to cheers!
So now that you know where to go for an amazing array of cakes, the lovely Alforno Bakery & Café, and you have the perfect cocktail to go with your cake, set a date in the calendar to have a bunch of family and friends over!
Using my entertaining tips you can have a lovely get-together with delicious food & drink and the best part, have a ton of quality time with your loved ones.
If you host a get-together I'd love to see your photos! Just tag @cookinginmygenes or use #cookinginmygenes on Instagram and we can do a virtual cheers to your party!
Until the next cooking adventure,
Jess
P.S. I'm giving a 'virtual cheers' to Terralynn from Alforno Bakery & Café who took the time to take photos of me in my kitchen for this story!
Disclaimer: Thank you to Alforno Bakery & Café for sponsoring this post. Thank you for supporting the brands that I support. All opinions are my own.