I can finally feel Spring in the air!

Garden centres are open which has allowed me to start planning our vegetable gardens.
We got our hands on some fresh herbs that we've already been cooking with AND they'll eventually get planted once it warms up just a bit more. So with that in mind, let's chat what's in season and May recipe inspiration!
The first gardening I really did was planting herbs each summer. I love that I can go outside and grab some parsley for the finishing touch to a recipe when I need it. Or, any other herbs for that matter!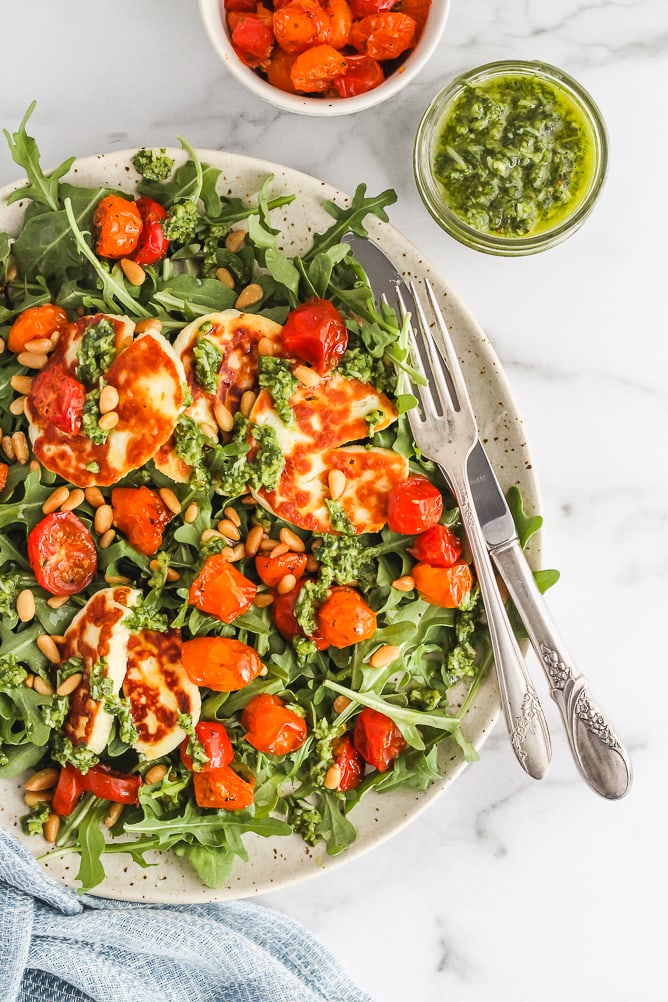 I started small by planting a round planter of herbs each summer just like my Mom did (& still does) to this day. I find it's the easiest way to grow them when you don't have a lot of space too.
How to Use Fresh Herbs in Recipes
Parsley:
We use parsley as a garnish a lot. However, it's so great mixed into fresh summer pastas – think baby tomatoes, parsley, parmesan cheese, garlic and squeeze of lemon. YUM!
Thyme:
Fresh thyme is delicious in my Sweet Potato & Cheddar Drop Biscuits. These are great for Spring weekend breakfast or brunch.
Rosemary:
Chop fresh rosemary and mix with olive oil, salt & pepper for the perfect potato 'marinade.' Bake chopped potatoes with this mixture at 425F for about 40-50 minutes for a crispy & delicious side.
Basil:
One word – pesto. I basically harvest all of my basil, make a batch of pesto & freeze it. Then, wait for the basil to grow back to start this process all over again! Pesto is SO versatile; I love it on pasta or in pasta salads. Also, basil is a delicious herb to use in cocktails.

Dill:
I love making my own yogurt-dill dip using fresh dill, garlic and a squeeze of lemon. Plus don't forget pinches of salt & pepper! Delicious with salmon or on sandwiches. You could also try adding some fresh dill to this yogurt dip that goes with my parsnips fries; just limit the garlic a bit so that the dill flavour comes through!
Cilantro:
If you're on 'team cilantro,' it is so fantastic for tacos and asian-inspired dishes.
In general, whether you're buying fresh herbs from the grocery store or market or pulling them from the garden, take a little extra time when you bring them home so they last longer in the fridge.

Tips for Storing Fresh Herbs
Soft herbs like parsley, basil, cilantro and dill have 'soft' stems so store them like you would fresh flowers. For parsley, cilantro and dill, cut about 1 inch off the stems, place in a jar with water, cover with a plastic produce or ziploc bag and store in the fridge. Keep in the fridge and replace the water every couple of days. These can last about 2 weeks so when ready to use, take the amount you need, wash and they're ready!
Basil is a bit of a tricky one as it's very delicate. If purchased from the grocery store, it's like grown in a greenhouse and comes already packaged. I usually leave this at room temperature and use within a couple of days. If I'm cutting basil from the garden, I'm generally going to use it right away. However, you could follow the same instructions as the soft herbs BUT leave it in the water at room temperature.
Hard herbs like rosemary, thyme and sage store well when wrapped in a slightly damp paper towel, then wrapped in plastic and put in the fridge. They will last 1-2 weeks. My best tip for these herbs is to
Mint is technically a hard herb because of it's stem, however, I've found I can store either way mentioned above and it still does well.
And, the best way to clean any herbs that you're using is get a bowl of cool water and dunk the herbs in a couple times so that any dirt sinks to the bottom. Refresh the bowl with clean water before moving on to another herb.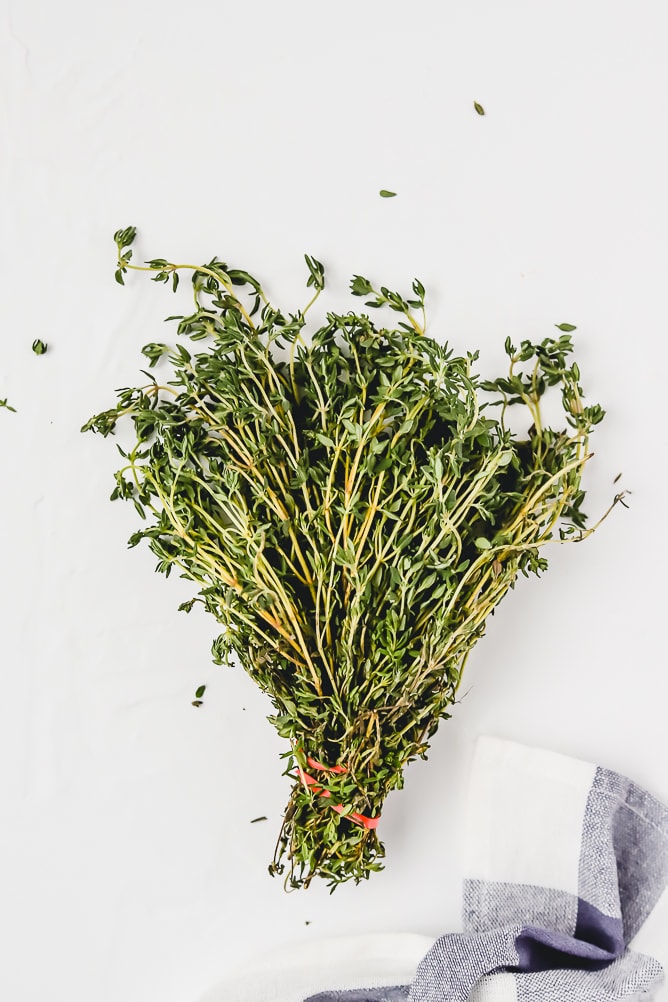 With all of this fresh herb talk, let's get to the recipes to make in May! Many of which feature some favourite herbs like mint & basil:
Cucumbers – Minty Cucumber Gin Spritz
Fresh Herbs – Easy Basil Pesto
Radishes – Spring Toast with Radishes, Pea Shoots & Feta
Rhubarb – Rhubarb Cake
Strawberries – Easy Strawberry Jam
Tomatoes – Roasted Tomato, Arugula & Halloumi Salad with Pesto

I hope that the Spring season reaches you wherever you are if it hasn't already! And, that these recipes inspire you in the kitchen this season.
Until the next cooking adventure,
Jess