I've been filling my house with fresh flowers each week to bring Spring inside until the weather adjusts itself to the actual season.
March certainly flew by and while it was on average snowier and colder than normal, we decided to head indoors and enjoy a TON of food!
We ate alllll the things at The Big Taste, Calgary's dining festival and one of my favourite times of the year! Along with a couple of special events, restaurants around Calgary offer prix fixe menus so you can try a wonderful array of food at amazing price points!

We attended two feature events, the kick-off Lunch at Blink Restaurant and Brunch Naturelle at River Cafe. My favourite dish from the Blink lunch menu was the mushroom risotto which I told Scott I'd share with him but I definitely ate more than my share!

Next up was brunch at River Café which is located on Prince's Island and is one of the most picturesque restaurants in Calgary. The walk to the restaurant is gorgeous and your views during your meal are divine.

Brunch was unbelievable but it's seriously hard to choose a favourite from the menu so I thought I'd share a glimpse of all of the deliciousness!

Oh, and we also went to a pie-making class this month at The Cookbook Company! As much as I love to cook and bake, pie dough still terrified me. But after our class I feel so much more confident cooking pies! So you can bet you'll see a pie or two on the blog this year.

Even though the weather has been cold, I've started to dabble in some Spring-time ingredients too like adding peas and asparagus to our weekly meals. I also refreshed my Easy Pea Soup recipe (a Spring favourite) with new photos and we also enjoyed a couple of bowlfuls here at home.
Other fav dishes we made this month were…
Chicken, Zucchini & Feta Meatballs from Donna Hay
Cheddar-Stuffed Sweet Potato BBQ Turkey Meatloaf from Ambitious Kitchen (I know you're thinking meatloaf!? BUT seriously there is SO MUCH FLAVOUR & it's easy to make!)
Roasted Sweet Potato Pitas with Arugula and Garlic Dressing from Salt & Lavender
March got a bit brighter with one of my absolute favourite collaborations, Connecting Over Cocktails, featuring seasonally-inspired cocktails from myself and my fellow food blogger friends. This edition is full of bright colours & flavours focusing on Springtime ingredients including my Grapefruit Lavender Spring Blossom Cocktail; get inspired over on my blog post where you'll find all of the cocktail recipe links!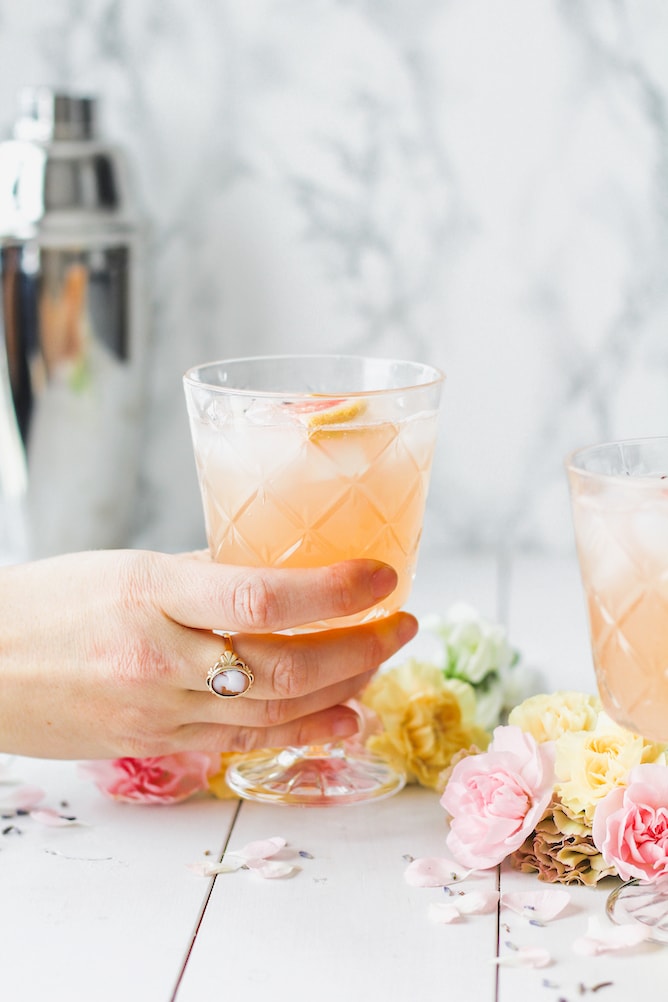 By the end of the month we decided to embrace the weather and we took a little day trip out to the mountains to experience the new Kananaskis Nordic Spa. The Spa takes inspiration from Scandinavian wellness practices and features hot and cold pools, a variety of saunas along with some very Canadian touches like the outdoor campfires. We experienced the most serene atmosphere, situated amongst nature, sunshine and blue skies and it was a wonderful opportunity to disconnect for a couple of hours; we'll certainly be back!
The next couple of months bring quite a bit of travel my way so I can't wait to share some travel & foodie adventures with you! Can you guess where I'm headed?? One has beaches for daysssss and one has cactuses! Come join me on Instagram for all of my trip highlights!
Want to save this list of favourite restaurants and experiences for Calgary? Pin this post for next time!
Until the next cooking adventure,
Jess