Situated in the mountains just west of Calgary, Mount Engadine Lodge is the most gorgeous and peaceful mountain retreat. I had the pleasure of travelling out to Mount Engadine Lodge on beautiful Sunday afternoon with my friend Gillian to experience their talked-about Afternoon Tea.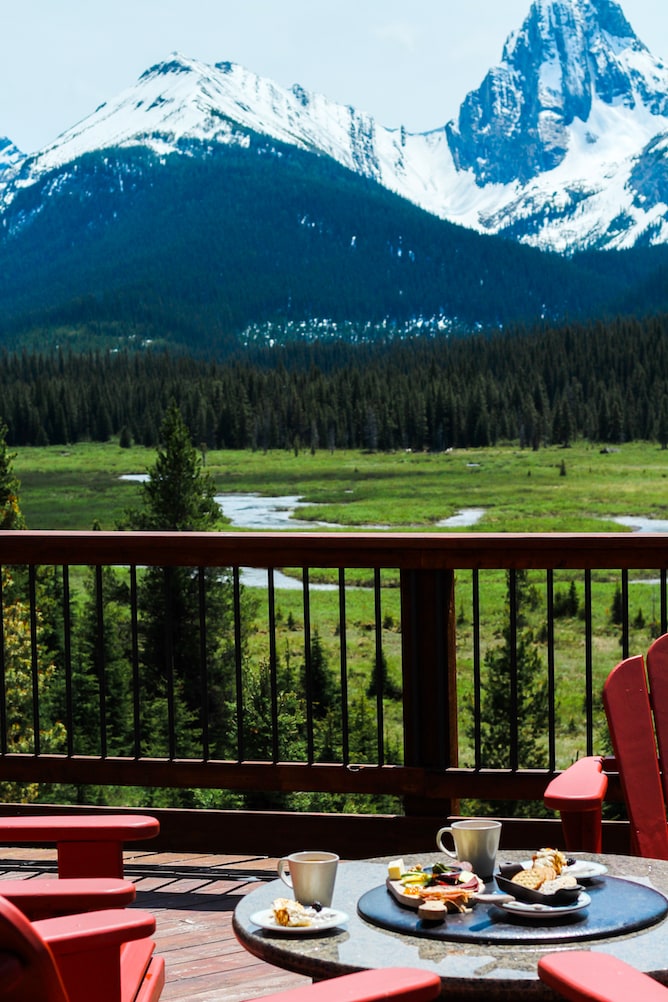 Blending together my love for the mountains and food, their Afternoon Tea was a top-notch experience.
The drive out to the Kananaskis area where the Lodge is located itself is relaxing and beautiful.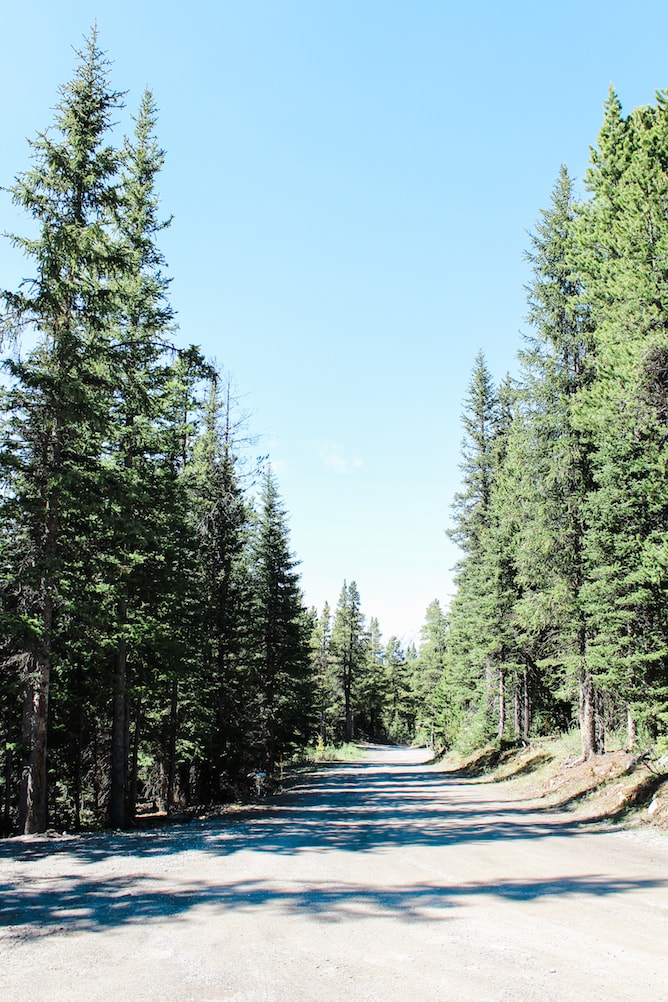 The mountains sort of pop-up around you as you make your way off the main road onto a gravel road toward Mount Engadine.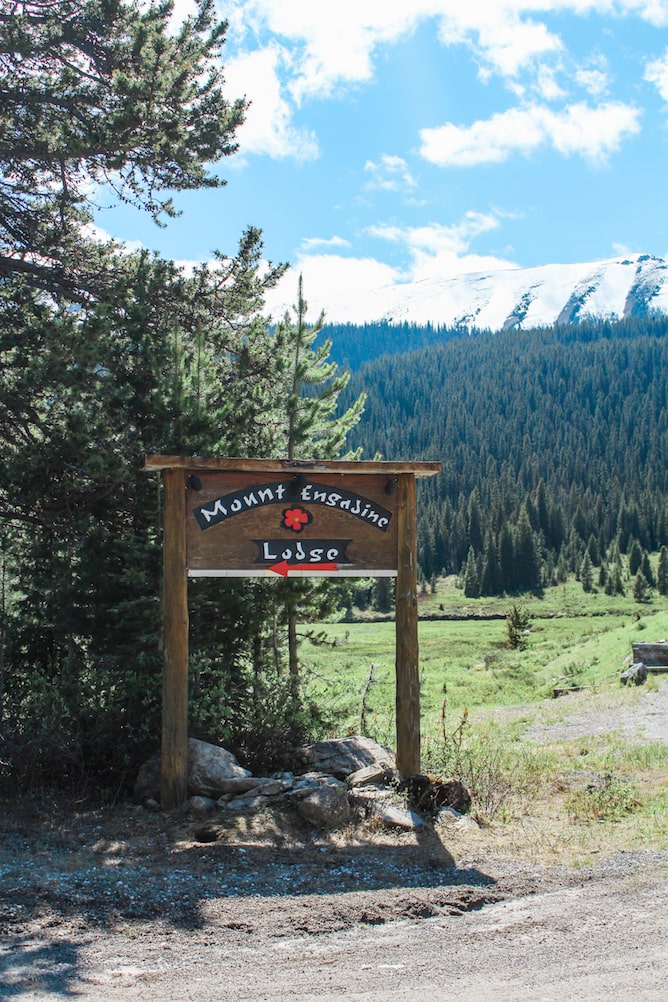 As we arrived, we drove up to the main lodge which sits amongst nature and the mountains.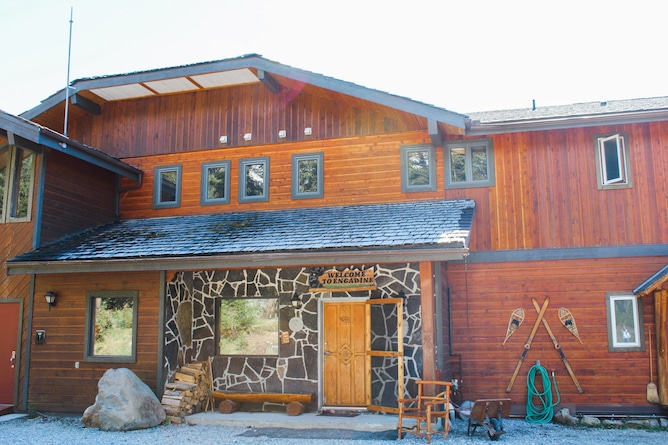 When we walked into the lodge we discovered a main dining area as well as a wrap-around deck that holds comfortable, red 'muskoka' chairs (as I like to call them having grown up in Ontario). Both inside and outside have unreal views of the mountains.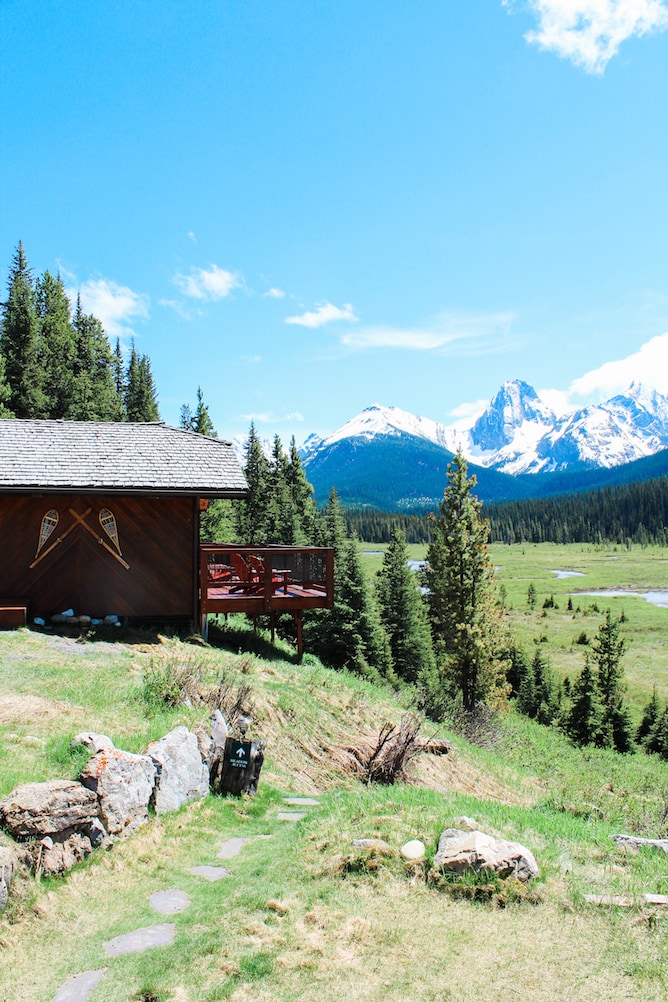 We situated ourselves in some comfortable chairs out on the deck and I'm pretty sure we had the best spot in the house to enjoy their Afternoon Tea.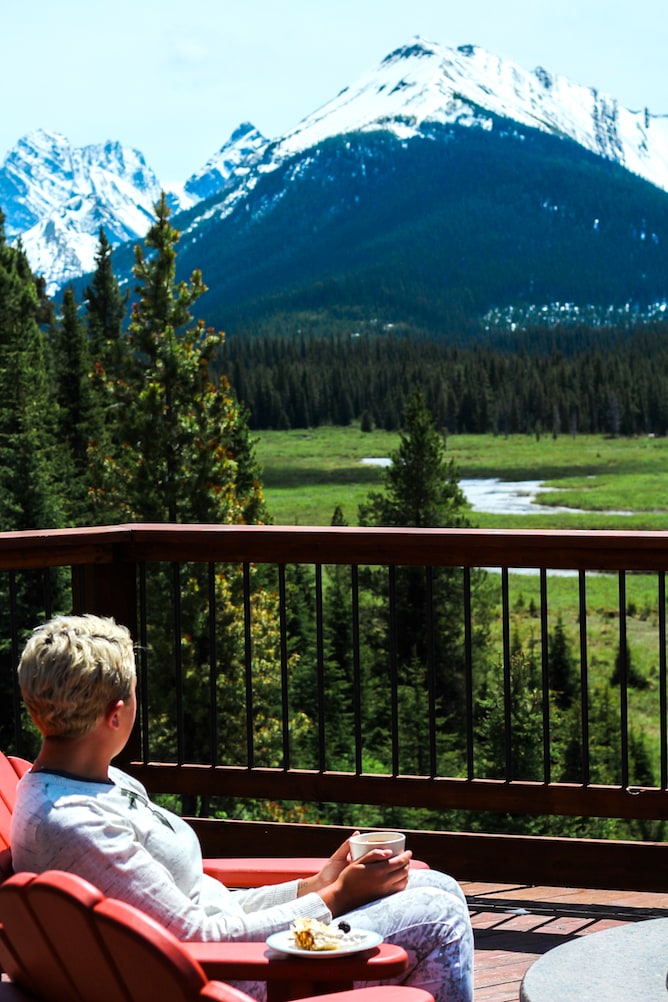 We started our Afternoon Tea experience with their famous 'Sunday Strudel' and our choice of coffee from Mountain Blends (based in Canmore) or tea from the Banff Tea Company. The staff told us a story about the original owners who 'were both Swiss and Austrian' and inspired their strudel recipe that they have crafted in their honour. And then, we enjoyed the best Apple Strudel I have ever had!  The pastry was perfectly buttery and flaky and the filling was full of apple goodness. We savoured every, single, bite as we basked in the sunshine and mountain views.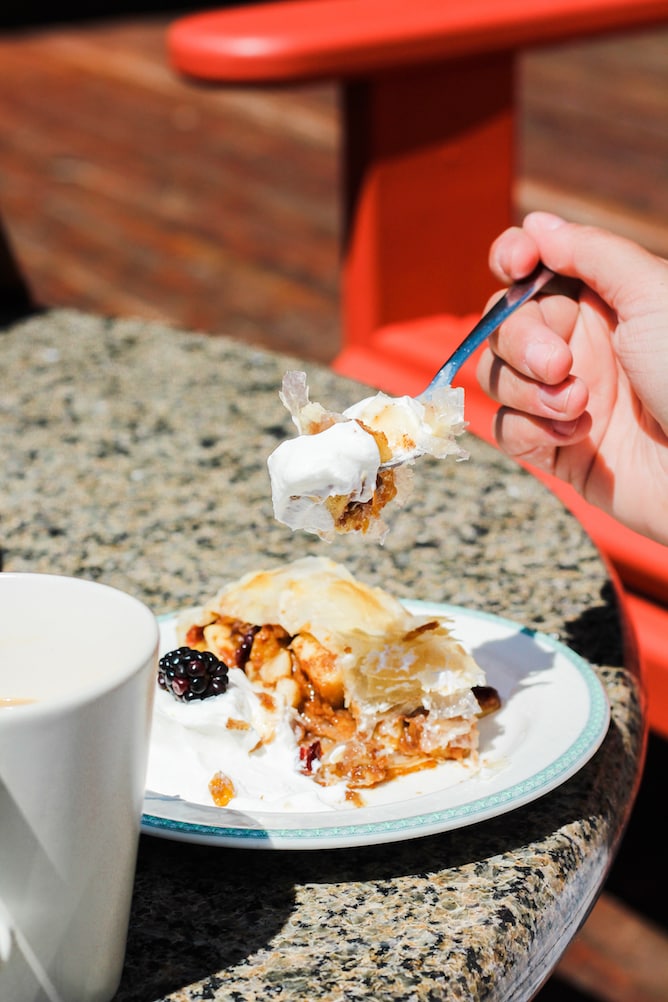 Next up were some savoury bites with a local cheese and meat board which included: salami, cured bison and prosciutto along with gorgonzola, gouda and brie, and grainy mustard and marmalade to round out each bite.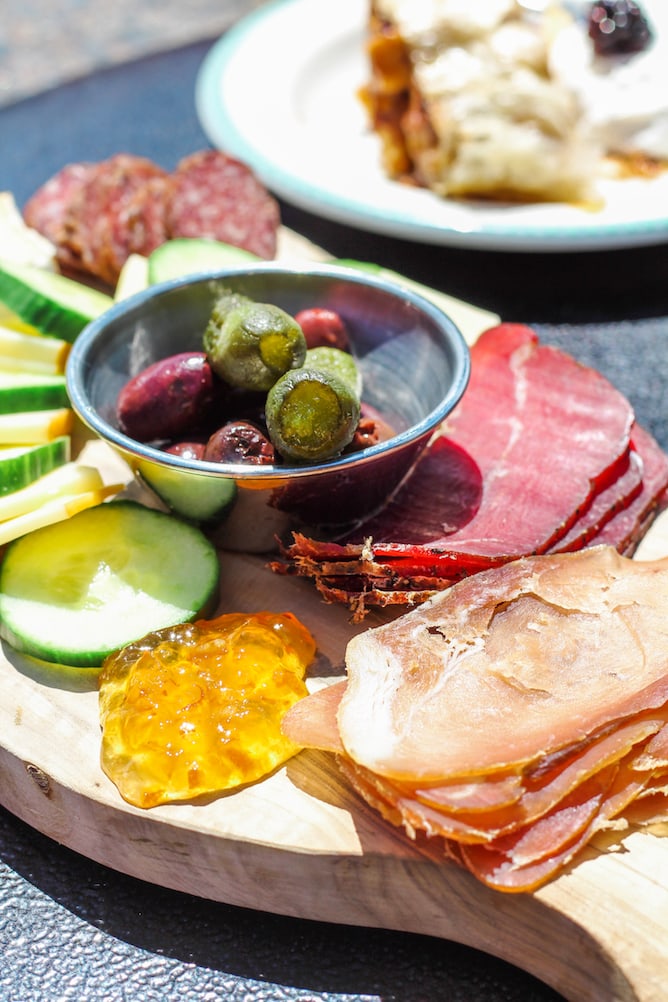 The meats and cheeses were fresh and full of wonderful flavours.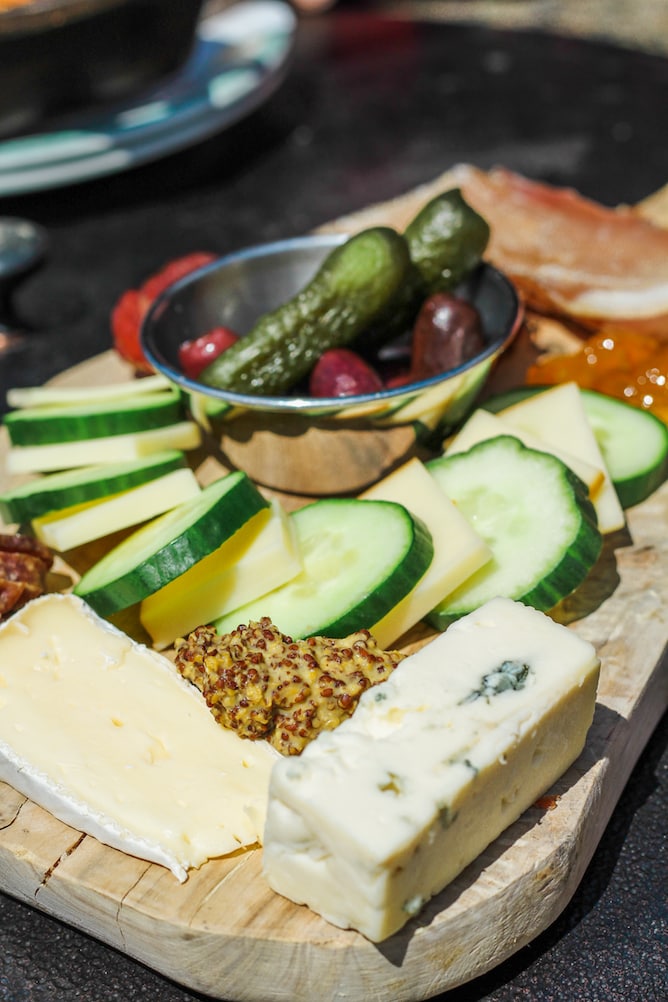 To me it doesn't get much better than an afternoon amongst the mountains with a great friend, wonderful conversation and scrumptious food. And, as we sat on the deck and enjoyed the afternoon, we noticed how quiet and peaceful it was; it was simply the sounds from nature as the backdrop to our afternoon.
Mount Engadine Lodge is a beautiful oasis in the mountains. Not only do they serve Afternoon Tea every day of the week, you can stay overnight at the lodge in one of their 9 unique bedrooms including one of their suites or chalets which have a balcony or deck where you can bask in the stunning views. And, if you look around while you're visiting, you'll notice the Swiss and Austrian influence in some of the décor with the original, hand-carved pillars in the dining room area.
If you're looking for the perfect mountain getaway, head on up to Mount Engadine Lodge for their Afternoon Tea and bask in the amazing views and enjoy delicious fresh-baked items and local food!
You can even call 24 hours ahead of time to make a reservation for Afternoon Tea. (And a tip we learned, if you're going on the weekend, give them a shout anyway to make sure they're not closed for a private event).
P.S. Mount Engadine Lodge just started serving brunch every weekend too so maybe I'll see you up there as I'm definitely going to be heading back their soon!
Until the next cooking adventure,
Jess
Disclaimer: Thank you to Mount Engadine Lodge for treating us to Afternoon Tea.  Thank you for supporting the brands that I support. All opinions are my own.