Well, here we are in August and what a summer season it's been full of travel adventures and delicious summer recipes!

I spent most of July on vacation, enjoying visits with family and friends and feasting on all of the amazing fruits and vegetables in season.
And, we've also been thoroughly enjoying sipping coffee on our back deck and reading on weekend mornings. So come on over for some travel adventures AND recipe ideas for what to cook in August!
We headed east to Toronto and area for visits with family and friends in mid-July and the weather was spectacular!

Scott and I went for a couple of lovely bike-rides along the Waterfront Trail along Lake Ontario.

We also spent a bunch of time around my parent's backyard pool because you just can't beat sunny, bluebird Ontario summer days. And, we always joke that it's like being at an all-inclusive resort – there's always snacks and drinks! (Thanks Mom & Dad for being the best hosts!)

Much of our vacation centred around enjoying the outdoors and food with family and friends. We even took a day-trip out to Prince Edward County for lunch at the Drake Devonshire which has the most lovely lake-view from their patio.

Then, we then toured around to a couple of wineries.  We stopped in at Rosehall Run which has one of my FAV sparkling wines, the Pixie, and checked out The Grange's variety of wines plus their new cider and stunning views.

We stopped in at Hinterland which I had not been too before and absolutely LOVED their Les Etoiles Sparkling Wine.  The tasting room was beautiful and open-air concept which continued to a patio that looked out at the vineyard.

I find Prince Edward County so magical and serene; I love visiting when I'm back in Ontario when I can for the scenery, wine and the food. If you are ever in Ontario I highly recommend going!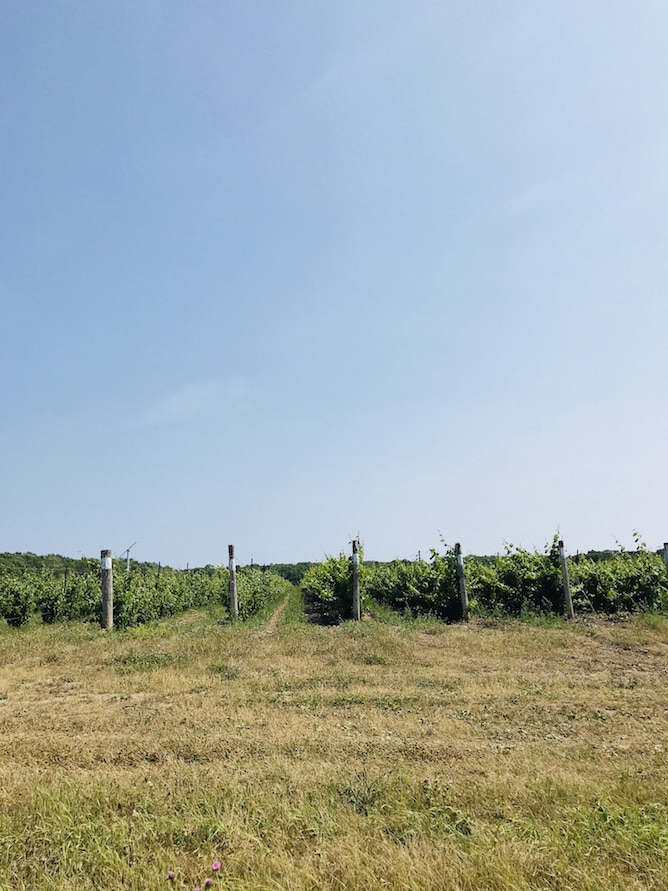 Before we headed back to Calgary we spent a couple of days in Toronto. One morning we had croissants and these Italian 'donuts' called bomboloni which are one of the best bites of food I've ever had at Sud Forno. I will DEFINITELY be going back there again! And, we also made a lovely family dinner on the weekend featuring an epic rib-eye steak that was made for sharing.

It was truly a wonderful trip and when we got back to Calgary it was hard to get back into the swing of things! But one lovely surprise when we returned was our garden in full bloom, specifically the radishes! These French Breakfast Radishes are AMAZING.

I've been enjoying them on sourdough, making many lunches of my Toasts with Radishes, Pea Shoots & Feta recipe. They're also delicious with just butter and a sprinkle of salt on toast too.
We're definitely cooking seasonally lately, especially with all of the fresh produce we get weekly from our YYC Growers food share and from our garden. So, here are some of my favourite recipes that you can make in August:
Apricots: Easy Apricot Jam
Berries: Aloha Breakfast Bowl
Corn: Roasted Summer Vegetable Salad
Peaches: Peach & Prosciutto Summer Foccacia
Strawberries: Strawberry Lemonade Rosé Punch
Tomatoes: Heirloom Tomatoes, Mozzarella & Sourdough Bread Board

I can't wait to make some of these recipes on repeat the next couple of weeks while all of the produce is in season! AND if you're looking for a cool treat, I made three easy Fresh Fruit Popsicle recipes for the Italian Centre Shop here in Calgary including Strawberry-Basil and Peach & Mint flavours!
Until the next cooking adventure,
Jess