It's time to start the new year fresh with seasonal recipes!
Time to try allll the citrus recipes from smoothies to salads and cozy recipes too.
So let's dig in to the seasonal recipes to make in January plus some inspiration from my favourite blogs and cookbooks!
It was definitely a quiet holiday season here at our house so we took the opportunity to hunker down, enjoy a ton of movies and read ALOT of books. I took some time to scour my large collection of cookbooks too for new recipes we have not tried yet. Let me just say if you are looking for a new cookbook (or two) to try, Healthyish and Super Simple from Half Baked Harvest are STILL my go-to books. There are so many recipes that I continue to go back to!
Since I love to start the year trying new recipes here are a few that I'm looking forward to trying this month:
One Pan Enchilada Zucchini Turkey Meatballs & Rice from Ambitious Kitchen
Honeycrisp Quinoa Salad with Kale & Pistachios from How Sweet Eats
Meal Prep Instant Noodle Cups from Meal Plan Addict
So many recipes and honestly lots of time at home to make them!
I'm probably the most excited about ALL OF THE CITRUS coming to grocery stores and markets. It is the season for citrus so whichever recipes you have saved involving bright, citrusy flavours make them this month. One recipe I look forward to making this time of year is this Parsnip Cake with Blood Orange Buttercream – its DIVINE!
If you're looking for more wholesome, satisfying and vegetable forward recipes you'll love what's in season this month! Here are the recipes to make in January:
Apples – Apple Cinnamon Oatmeal Muffins
Beets – Roasted Harvest Vegetable Bowl
Citrus – Winter Citrus Chopped Salad
Oranges – Tropical Blood Orange Smoothie
Potatoes – Simple Potato Leek Soup
Winter Squash – Roasted Butternut Squash and Apple Soup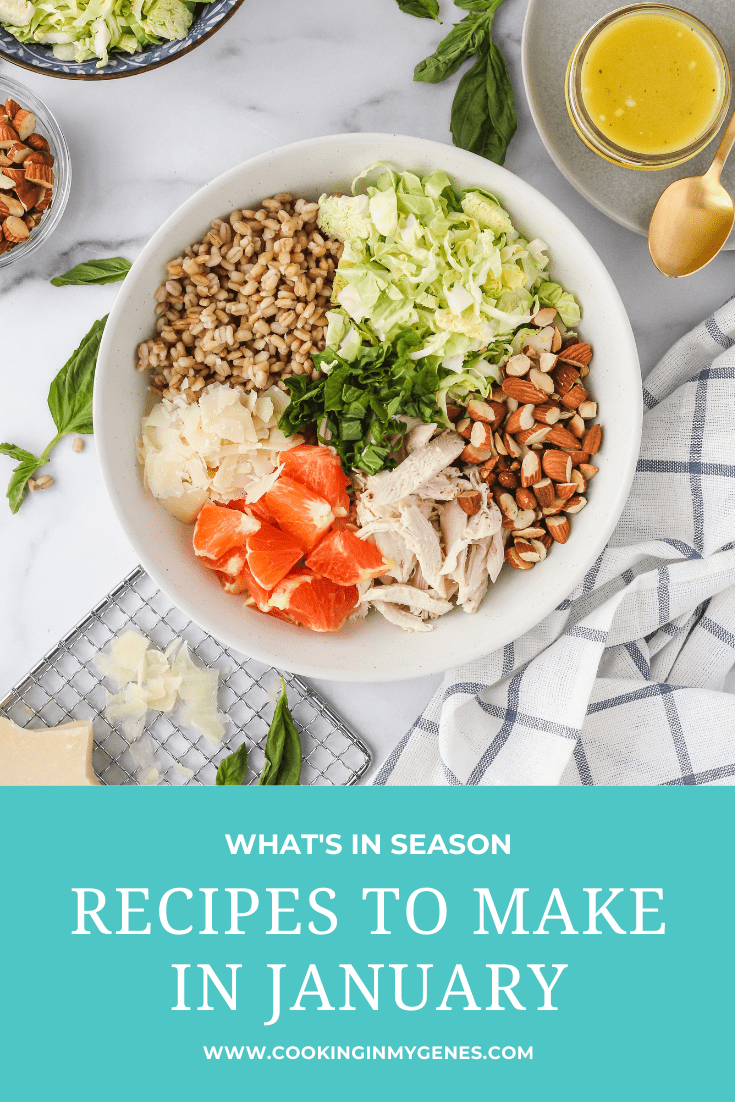 What are you most looking forward to cooking this month? I'd love to know in the comments below!
Until the next cooking adventure,
Jess