How about a cheesy, flavourful, flaky biscuit? I'd say these Cheddar-Thyme Biscuits would indeed hit the spot!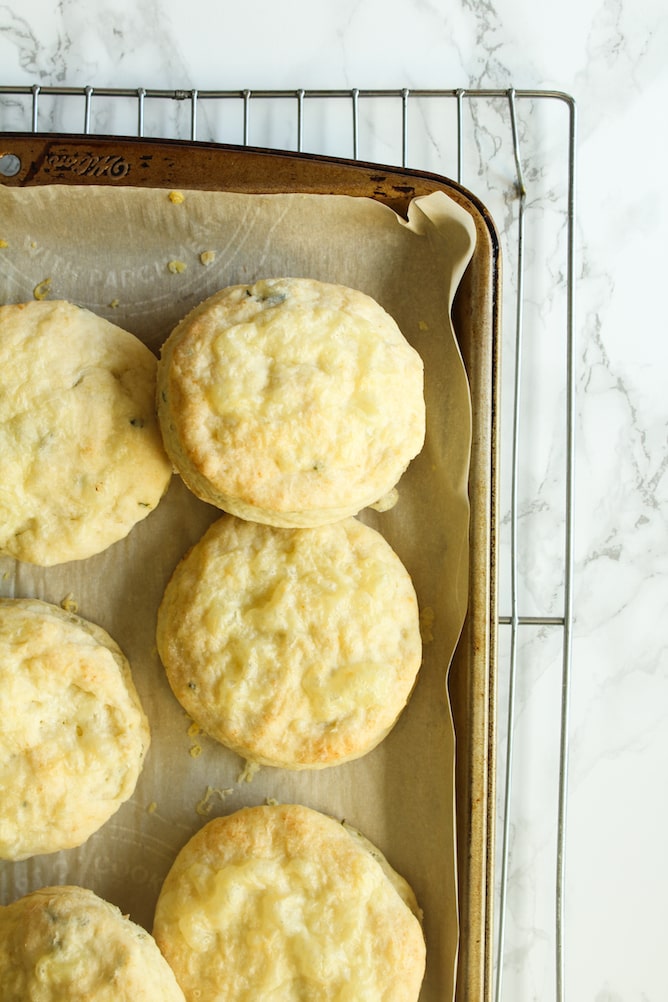 This is my husband Scott's family biscuit recipe that I've used as the base and then added my own little spin to it with white cheddar and fresh thyme.
The dough come together ever so simply and the cheddar adds a wonderful cheesy touch.
Now, how would you enjoy these delightful biscuits? Might I suggest you eating them fresh out of the oven with a dollop of butter OR toast the biscuits for the perfect egg-sandwich for breakfast OR eat them as the perfect accompaniment to a big family dinner.
Total time: 45 minutes
Servings: 10-12
Equipment: cup or circle cookie-cutter, baking sheet, rolling pin
Ingredients:
2 cups flour
4 tsp baking powder
1/2 tsp salt
1/4 tsp cream of tartar
1/3 cup white cheddar cheese, finely shredded
1 tbsp fresh thyme
1/2 cup cold unsalted butter, cut into cubes
2/3 – 1 cup of milk
1/2 cup white cheddar cheese, finely shredded (for topping)
Instructions:
Pre-heat oven to 400F.
In a mixing bowl, mix together flour, baking powder, salt, cream of tartar, 1/3 cup shredded white cheddar and thyme.
Next, using two knives or pastry cutter, chop the butter into the flour mixture until small pieces of butter remain.
Then, stir in 2/3 cup of milk to get a soft dough (add in a bit more milk if needed).
On a lightly floured surface, turn the dough out and knead for about 30 seconds. Then roll the dough out to a 1/2 inch thickness and cut into circles.
Cook's Note: A glass cup makes a perfect cookie-cutter to cut out the biscuits.
Place the biscuits onto a parchment-lined baking sheet, sprinkle with the remaining 1/2 cup cheddar cheese and bake for 12-15 minutes until golden.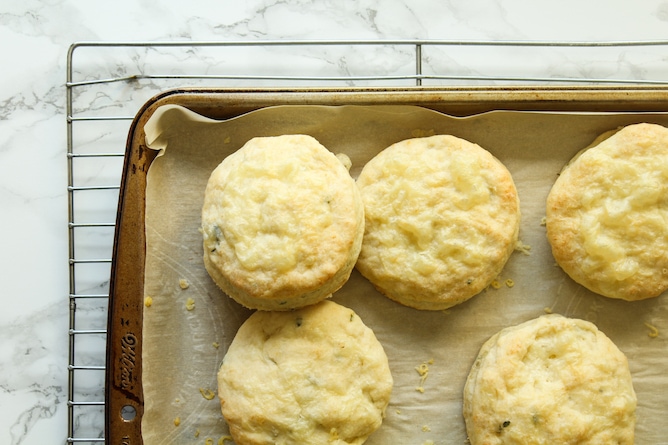 It will be hard to resist eating one of these right out of the oven so I say just go for it! Break a warm biscuit open, top with butter, sit back and enjoy!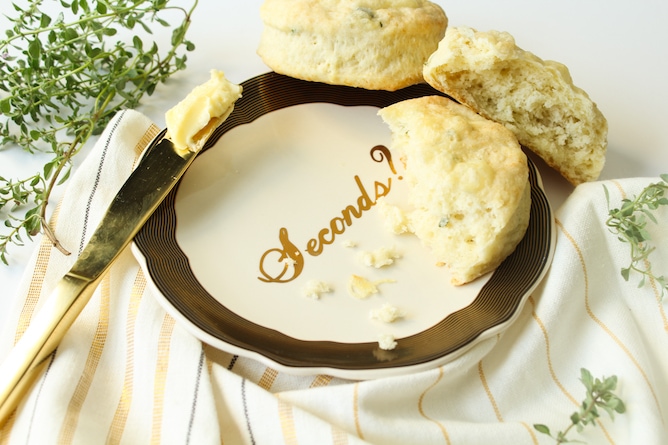 Until the next cooking adventure,
Jess