One of my favourite things to do is bake and baking these Almond Butter Squares with a fellow blogger sure made this a fun one!
Sam from Sugar & Sam Blog and I collaborated in the kitchen for this recipe and we had a ton of fun baking together!
We only knew each other from Instagram and ended up meeting in person at a YYC Blogger Babes Meet-up. Realizing we had a lot in common, we decided to collaborate on two recipes and were lucky to have Rogers Foods partner with us to create two recipes that reflect some of our favourite things – desserts and oats! As a blogger we are often in the kitchen by ourselves so it was such a nice treat to get to create something delicious in the kitchen with Sam.
First we went to the grocery store and picked up a bunch of baking ingredients courtesy of Rogers Foods plus a couple of other items we needed and then headed back to my house for an afternoon of baking and taking photos.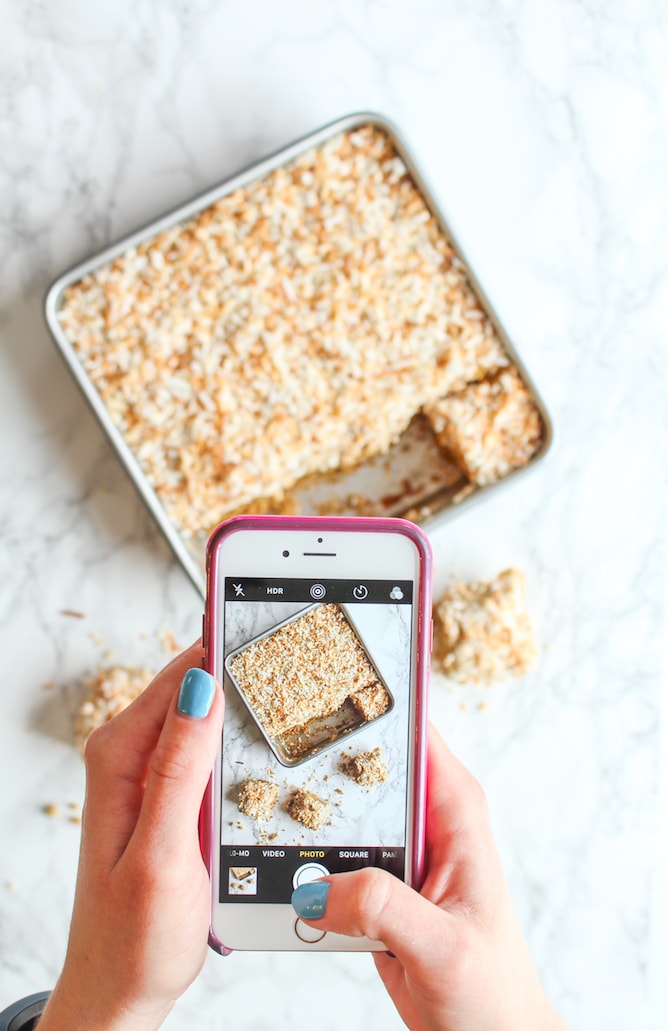 This is the first recipe we created together where we substituted in a few of our favourite ingredients including almond butter and toasted coconut to a Rogers Foods recipe. Plus we got to try out Rogers Foods Wheat Germ in this recipe which gives the bars a wonderful nutty flavour.
Total time: 1 hour
Servings: 24-30
Equipment: square cake pan (8×8 or 9×9), baking sheet
Ingredients:
Bars:
1/2 cup margarine
1 cup brown sugar
2 eggs, beaten
1/2 cup almond butter
1 tsp vanilla
1 ¼ cup Rogers Whole Grain Whole Wheat Flour
1 cup Rogers Wheat Germ
½ tsp baking soda
½ tsp baking powder
¼ tsp salt
½ cup unsalted cashews, chopped
1 cup sweetened coconut, toasted
Frosting:
1 ¾ cup icing sugar
½ cup almond butter
4 tbsp almond milk
Instructions:
Pre-heat your oven to 350F.
Cream together margarine and brown sugar. Add eggs in one at a time, beating well after each addition. Then, stir in almond butter and vanilla.
Next, in a separate bowl combine the flour, wheat germ, baking soda, baking powder, salt and cashews. Then, stir this dry ingredient mixture into the creamed mixture.
Pour your batter into a buttered square cake pan and bake for 25-30 minutes.
While your bars are baking, make your icing by combining the icing sugar, almond butter and almond milk and set aside.
When your bars are done, turn your oven to a low broil, spread the 1 cup of coconut onto a baking sheet and toast for about 2-3 minutes or until golden brown.
You can frost the bars while they are still warm and then top with the toasted coconut (pressing the coconut down gently into the icing).
These bars are best shared with a friend over coffee and conversation, which is pretty much what Sam and I did after these delicious Almond Butter Squares were done!
And stay tuned for our other baking collaboration coming in the next few weeks!
Until the next baking adventure,
Jess
Disclaimer: Thank you to Rogers Foods for sponsoring this post. Thank you for supporting the brands that I support. All opinions are my own.