Friends, this has been one heck of a week so these breakfast toast ideas have become my go-to recipes.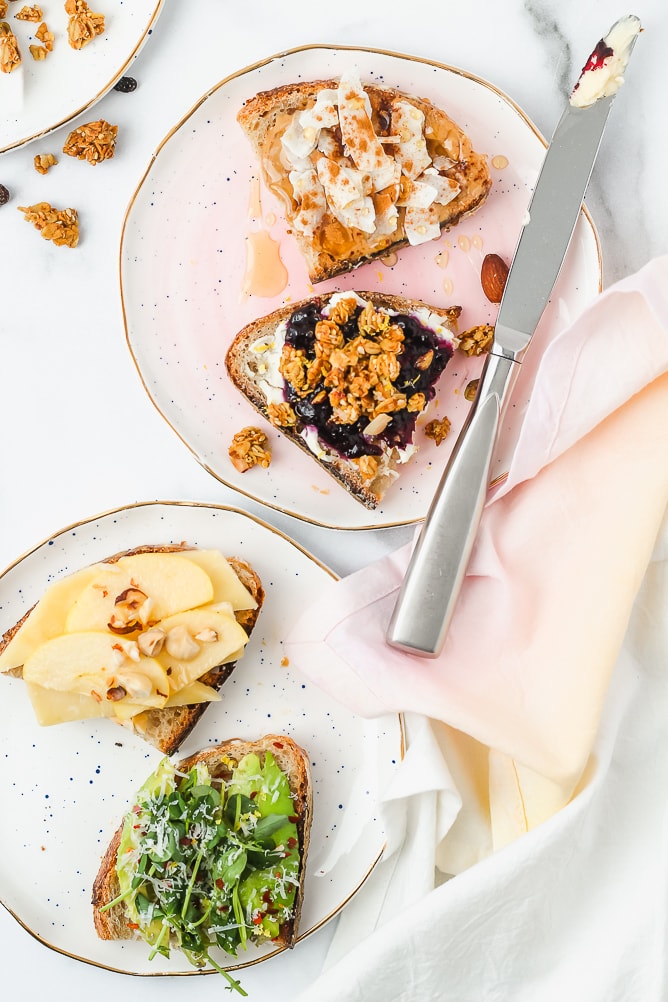 Using simple pantry ingredients, you can fancy up toast to enjoy for breakfast or brunch as we spend more time at home.
Let's get creative with what we have on hand to make breakfast toasts!
I've been thinking a lot about how much things have changed in this past week. If you're pretty much anywhere in the world right now, social-distancing is the new normal.
Given that we're all spending more time at home and perhaps depending on more sturdy pantry ingredients for our meals, I wanted to take your regular breakfast toast recipe to the next level. Whether you're looking for good comfort food with carbs or a healthy breakfast option, you'll find exactly what you need in the following toast recipes.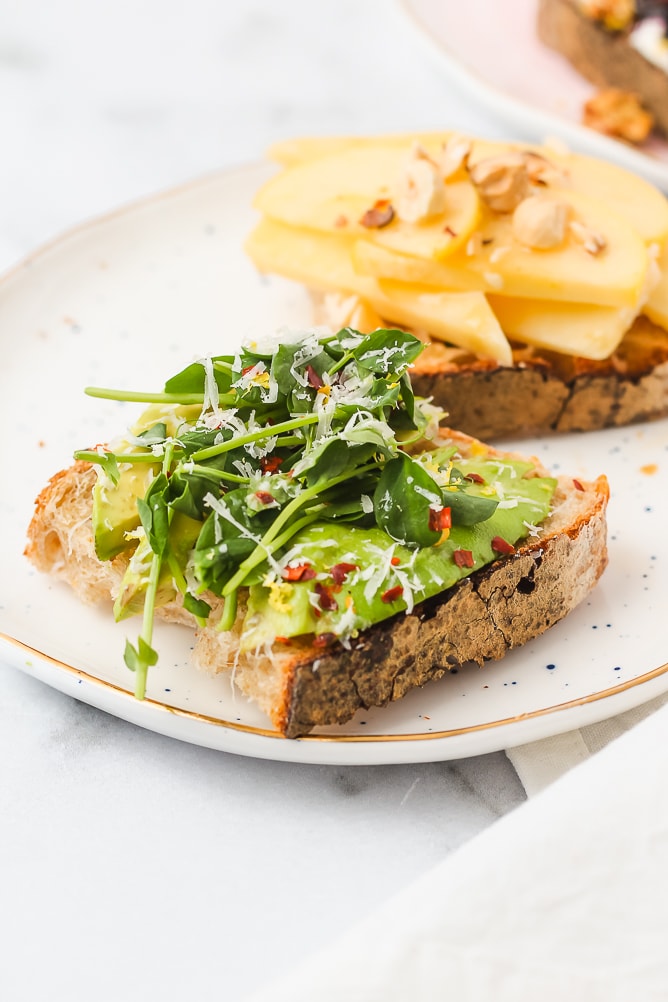 I did my first Instagram Live this past weekend, where I showed how to make these toasts so we could all have a 'virtual brunch' together. Now, I'm sharing the ingredients with you:
Grab your toaster, and let's get to toasting!
Blueberry Cheesecake Toast
Cream cheese or Yogurt: The base layer of the toast which is key to making this 'cheesecake.'
Blueberry jam: My personal favourite to top cheesecake but you can use any jam you'd like
Granola: Gives a little crunch and brings all the 'cheesecake' flavours together.
Lemon Zest: This is totally optional, so if you have a lemon around, use the zest as a topper
Cinnamon Coconut Toast
Almond (or other nut butter): Almond butter, peanut butter or any of your favourite nut butters will work.
Coconut Flakes: I LOVE coconut flakes for a nice crunch on this toast.
Cinnamon: It goes so well with the nut butter.
Honey: The honey drizzle takes this toast over the top and brings all the flavours together.

Spicy Avocado Toast
Avocado: I still don't think you can go wrong with an avocado toast, so start this with many slices of avocado.
Pea Shoots: I love pea shoots though you can use any greens you'd like; try microgreens, thinly sliced spinach or kale, or arugula – use what you have!
Chili Flakes: Here's the spice! I LOVE chili flakes; my favourite spice store in Calgary ships across Canada too and these are the ones I always buy.
Lemon: Just a squeeze of lemon juice brings everything together.
Parmesan Cheese or Pinch of Salt: Either works; you just need a little saltiness to complete this toast.
Apple Cheddar Toast
Cheddar Cheese: Start with a layer of your favourite cheddar cheese; you can melt the cheese on your toast if you'd like to.
Apple Slices: I like a granny smith apple but honestly, use whatever you have in your fridge! Pears work great too.
Honey: Honestly, honey goes so great with cheddar cheese and apples; they're flavours I'd serve on a cheese plate.
Chopped Nuts: Walnuts, almonds or hazelnuts. Any of these would make a great topping on your breakfast toast.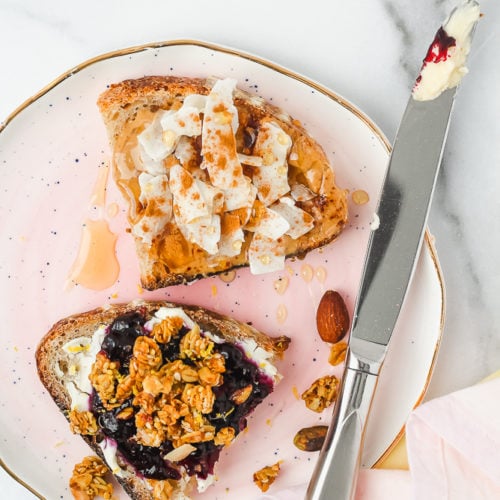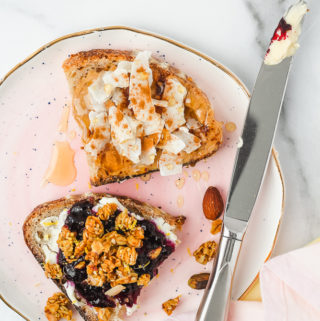 4 Creative Breakfast Toasts
The next time you want to treat yourself to breakfast or brunch at home, whip up one of these creative breakfast toasts! 4 easy toast ideas to suit your sweet or savoury tastebuds.
Print Recipe
Rate this Recipe
Pin Recipe
Ingredients
Blueberry Cheesecake Toast
1

slice of bread, toasted

sourdough, whole wheat, white or whole-grain bread - choose your favourite

1-2

tbsp

cream cheese or yogurt

1-2

tbsp

blueberry or other berry jam

1-2

tbsp

granola

lemon zest

optional
Cinnamon Coconut Toast
1

slice of bread, toasted

sourdough, whole wheat, white or whole-grain bread - choose your favourite

1-2

tbsp

almond, peanut or other nut butter

1-2

tbsp

coconut flakes

sprinkle of cinnamon

drizzle of honey
Apple Cheddar Toast
1

slice of bread, toasted

sourdough, whole wheat, white or whole-grain bread - choose your favourite

cheddar cheese slices

apple slices

honey drizzle

chopped walnuts, almonds or hazelnuts
Spicy Avocado Toast
1

slice of bread, toasted

sourdough, whole wheat, white or whole-grain bread - choose your favourite

half an avocado, sliced

pea shoots or other greens

thinly sliced spinach, kale or arugula - choose your favourite

chili flakes

squeeze of lemon juice

parmesan cheese or coarse salt
Instructions
Layer toppings according to ingredients per type of toast.
These ingredients are seriously so interchangeable. I wanted to make these toast recipes as easy as possible to make using whatever you have on hand. These breakfast ideas are simple enough for the amateur chefs but tasty enough to please the foodies too!
Make these toasts during the week, even for a snack or keep these creative toast ideas for a weekend breakfast. I am going to make these breakfast toasts for my husband and I to make weekend 'brunch at home' feel a little more special.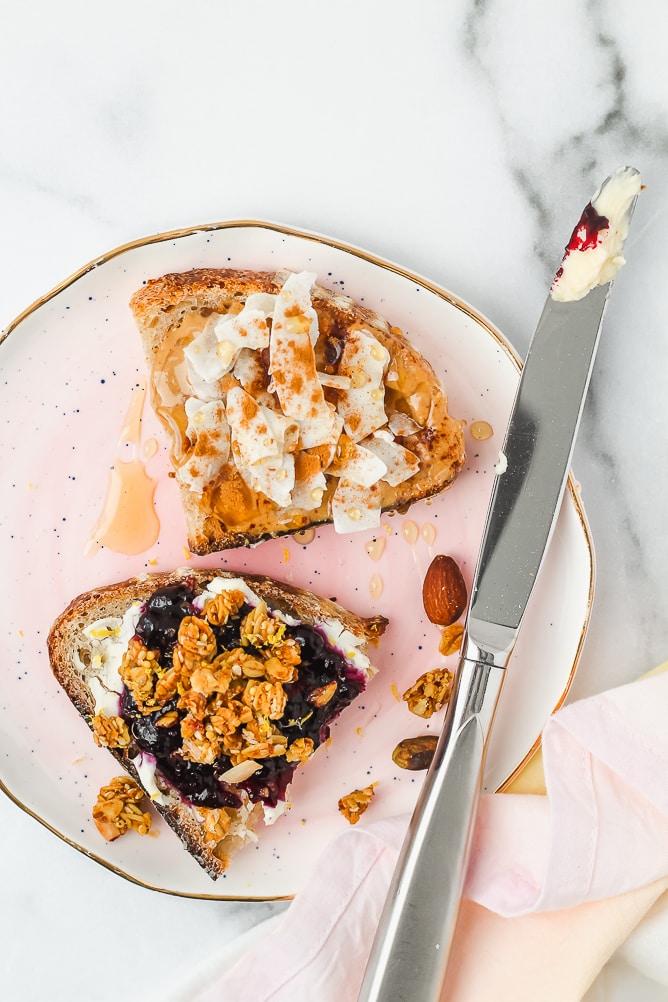 However you enjoy these, I hope this helps you make something yummy in the kitchen with whatever you have on hand. Keeping ingredients simple can sometimes make the MOST delicious dish!
When it comes to toast, the possibilities are truly endless! I challenge you to make your own creative toast combos with the ingredients in your kitchen. I've played around with fun toppings like fried eggs and poached eggs, pesto, balsamic glaze, chia seeds, and even pomegranate! I'm also a big sucker for cheese, and I find that cottage cheese, goat cheese, feta, and ricotta are all great options.
And, if you like toast just as much as I do, check out my 3 summer jams for some simple jam recipes as we head into warmer months.
Until the next cooking adventure,
Jess