I love to grow a little herb garden each summer and this time around I've got a beautiful basil plant, perfect for making homemade basil pesto.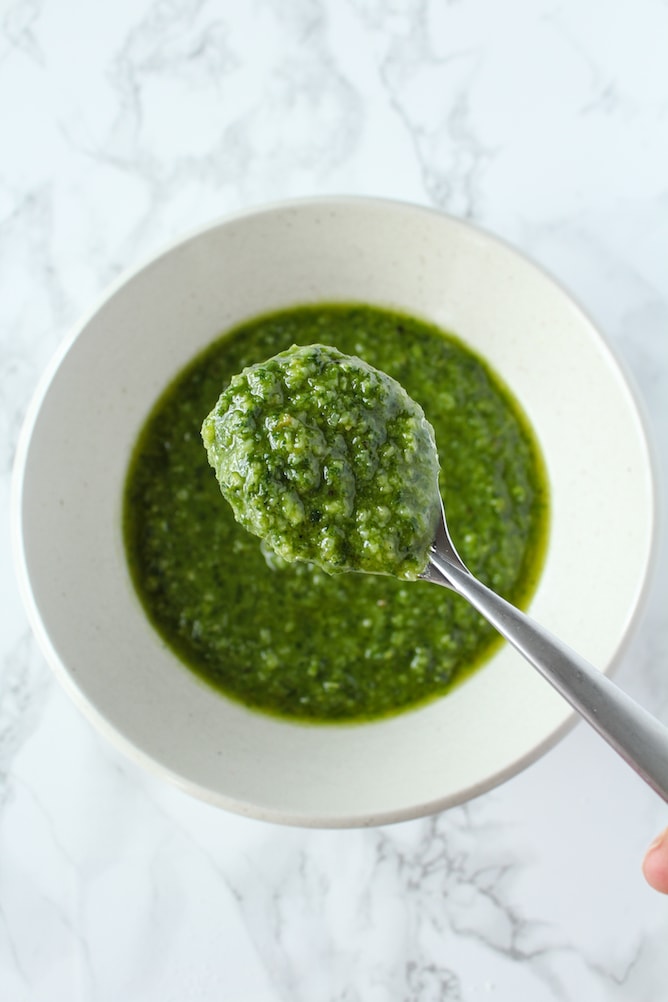 My Mom has been making basil pesto since I can remember, usually pairing it with pasta that is topped with chicken and fresh tomatoes.
When I was a kid I was always intrigued by this green sauce but now as an adult basil pesto is absolutely one of my FAVOURITE summer sauces! I'm not kidding when I say I could eat this pesto by the spoonful.
The flavour of basil mixed with a few simple ingredients including garlic, parmesan cheese, pine nuts and olive oil is one of the best combinations around.
This is my Mom's simple and Easy Basil Pesto recipe.
Total time: 10 minutes
Servings: makes 1 cup
Equipment: baking sheet, food processor or blender
Ingredients:
1/3 cup pine nuts, toasted
2 cups of basil, packed
3 garlic cloves
1/2 tsp salt
1/4 tsp pepper
1/2 cup extra virgin olive oil
1/2 cup parmesan cheese, shredded
Cook's Note: If you don't love pine nuts, you can easily substitute with almonds or walnuts.
Instructions:
Pre-heat your oven to a low broil setting. Spread the pine nuts out on your baking sheet and toast 3-4 minutes, until they start to turn golden. Remove from the oven and let cool.
In your food processor, add the basil, pine nuts and garlic and pulse until everything is chopped into small pieces.
Next, add in the salt and pepper and stream in the olive oil while your food processor is running on low until everything is combined.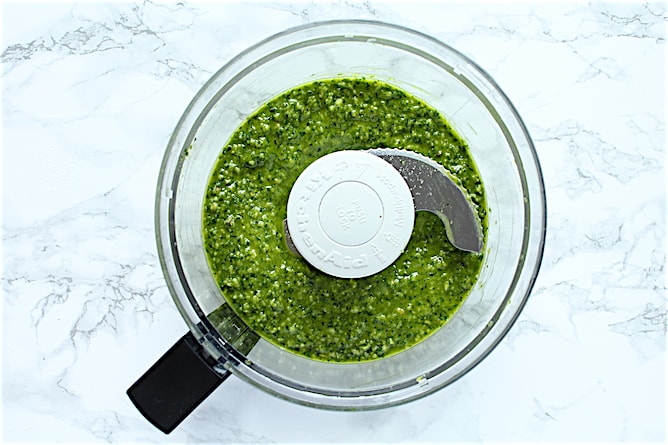 Then, transfer the pesto to a bowl and stir in the parmesan cheese. Taste and adjust with extra salt and pepper if needed.
Personally, I like to let the pesto sit at least an hour in the fridge before eating AND the sauce is even better the next day.
Plus, you can use this sauce in so many different ways! I love to use basil pesto as a sauce on pita pizza's, on pasta topped with fresh chopped tomatoes and with one of my dinner recipes, Pesto Baked Chicken. You could also use this basil pesto to make a fresh salad using sliced tomatoes, mozzarella and topped with this pesto – the opportunities are endless!
So dive on in to making this basil pesto this summer and if you want freeze a batch to take out when the weather gets cooler.
Until the next cooking adventure,
Jess