It's time for round 2 of my pita pizza recipes and I'm bringing you the Prosciutto Pesto Pita Pizza.
I love, love, love pesto. There is something about the flavours in a pesto sauce that I simply cannot resist and on a pizza pesto sauce is perfect. This time I've added only two simple toppings, prosciutto and mozzarella cheese. When paired with the pesto sauce it is one of my favourite combinations. You get the saltiness from the prosciutto, the creaminess from the cheese and then the basil and garlic come through from the pesto sauce.
This is also my husband's favourite combination and we make this pita pizza pretty regularly at our house.  It's definitely a go-to meal for easy and fast weeknight dinners, or even lunch!
It's one of those pizza's that you will keep you going back for seconds and maybe even leftovers the next day.
All you need is 4 ingredients for this pita pizza, it's that easy.
Total Time: 20 minutes
Kitchen Equipment: baking sheet
Servings: 2
Ingredients:
2 whole wheat pitas
4 tbsp pesto sauce
4 slices of prosciutto
2/3 cup mozzarella cheese, shredded
Cook's Note: If you want to substitute for the prosciutto, I've made this same pizza with bacon or chicken instead and it turns out just as delicious!
Instructions:
Pre-heat the oven to 425F and lay both pitas on your baking sheet.
Spread 2 tbsp of pesto sauce on each pita and then tear up 2 slices of prosciutto to layer on each pita.
Next, sprinkle each pita with a 1/3 cup of shredded mozzarella cheese.
Bake in the oven for 8 minutes, until the cheese is golden and bubbly.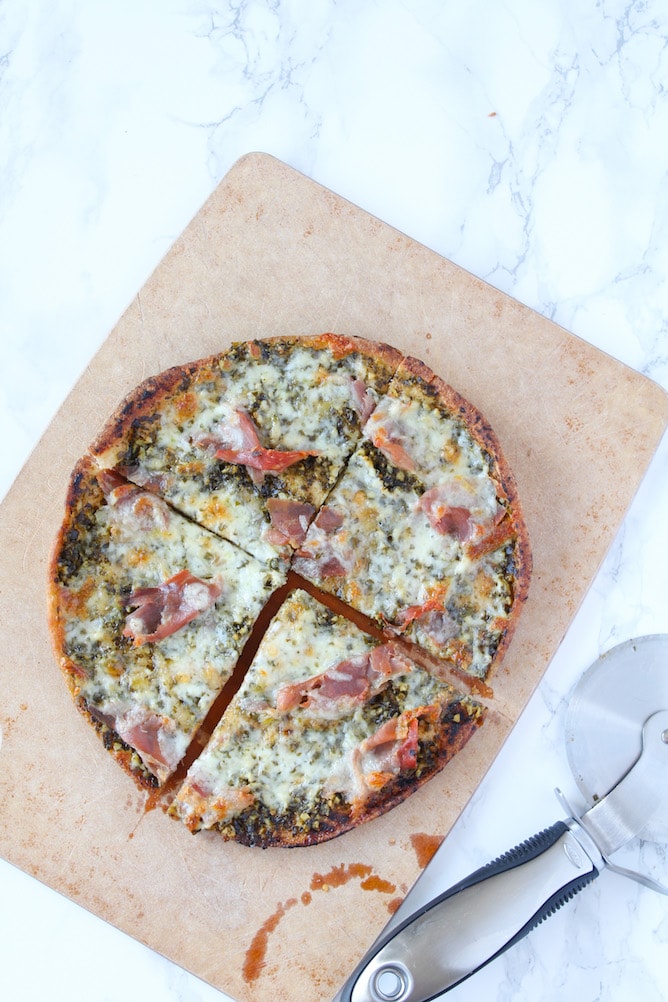 If you're making this for more than two people, simply double or triple the recipe.  This recipe make it really easy to make as many pizza's as your heart desires.
Did you like this recipe? Check out part 1 of my Pita Pizza series, the White Mushroom Pizza!
Until the next cooking adventure,
Jess