Cozy up with this Easy Mulled Wine during the next few weeks!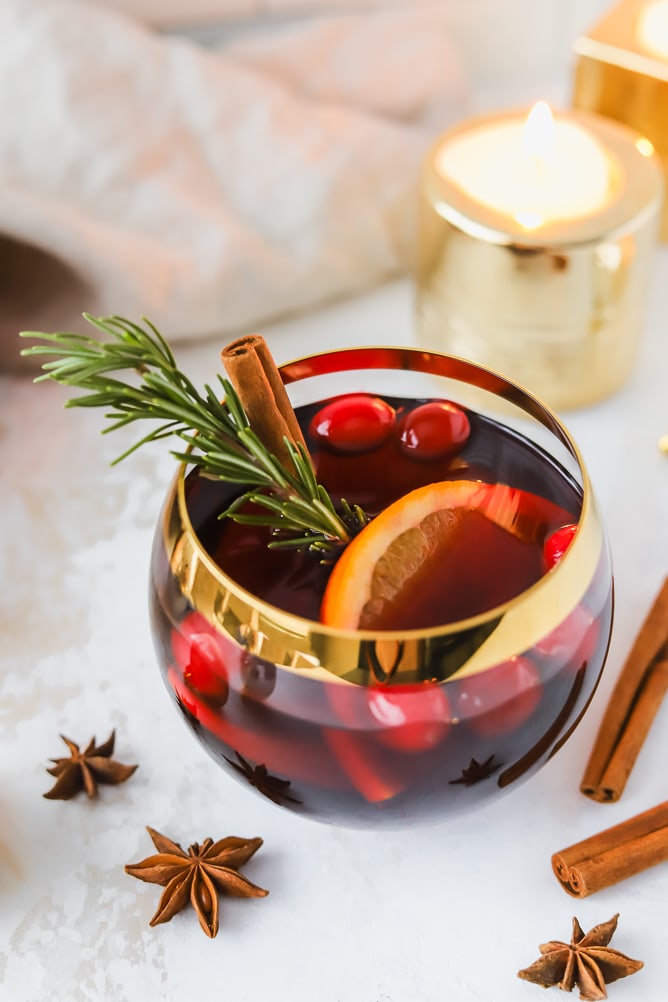 Just one pot, a few classic mulled wine ingredients and my secret ingredient, cranberry juice.
The cranberry juice balances all of the other spiced ingredients beautifully for a warming cup of comfort. Save this recipe for nights at home around the Christmas tree.
I first tried mulled wine on a trip to Europe so you may have heard it referred to as 'glogg' in Sweden or 'gluehwein' in German.
Mulled wine is so festive for the Christmas season and it's easy to make. With a bottle of red wine, a couple of fresh ingredients and some key whole spices, you can make this in no time! Picture sitting around the Christmas tree with a warm, cozy drink – it's pretty perfect if you ask me.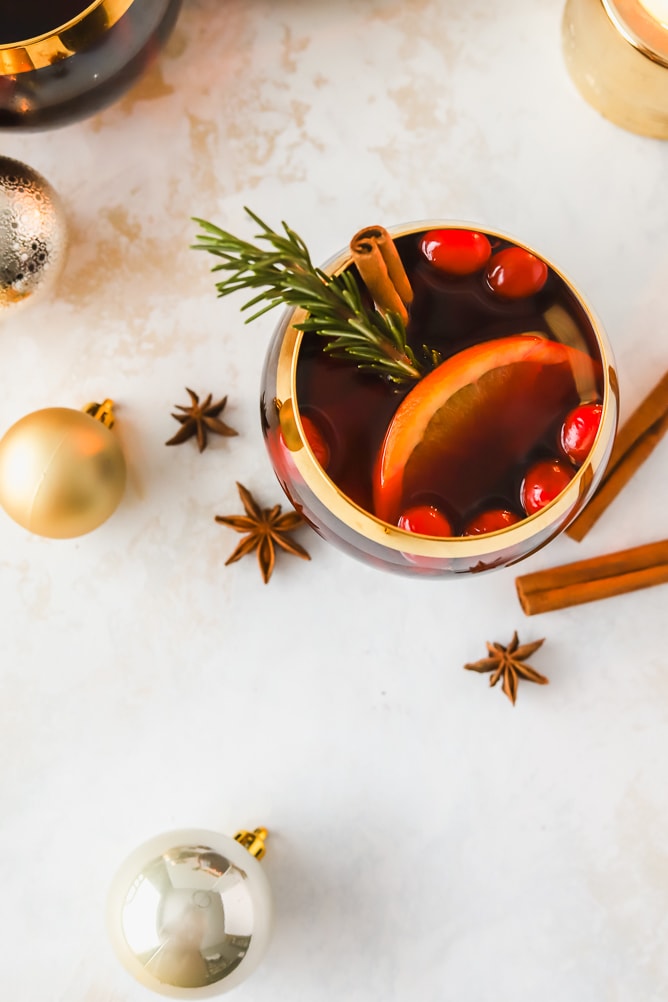 What makes this mulled wine recipe just a tad different is I've added cranberry juice! It melds so well with the wine and spices too. So what other ingredients are in this mulled wine recipe?
Mulled Wine Recipe Ingredients
Red Wine: Opt for a fruity, full-bodied red wine like a Zinfandel or Merlot. Tasting notes on the bottle help too so look for descriptions like 'jammy,' 'notes of vanilla,' or 'bold.'
Cranberry Juice: I like to use pure cranberry juice (vs. cranberry cocktail) because the pure juice has more of a tart flavour. If you use a 'cranberry cocktail' you may want to cut back on the maple syrup a bit.
Fresh Orange Slices: A classic ingredient that adds a bit of a citrus punch.
Whole Spices: The mixture of whole spices is key to mulled wine – cinnamon sticks, star anise & cloves. And, whole spices last quite a while in the pantry so if you invest in some now you can most likely use them for years to come.
Maple Syrup: Maple syrup helps to add just a touch of sweetness to balance our the tartness of the cranberry juice and wine once heated. You can try using honey instead if you prefer.
Garnish: Dressing up a warmed cup this drink is the perfect finishing touch. I love to use cranberries, rosemary and cinnamon sticks. You can even add an orange slice in too.
Don't want to worry about straining out all of the spices once the wine is done cooking? You can wrap all of the spices in cheesecloth and tie with some butchers twine to keep them all together. Simply add to the pot while making the mulled wine and then remove when done.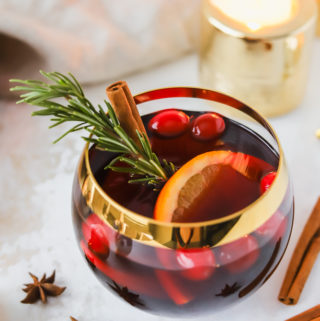 Easy Mulled Wine
This easy mulled wine recipe is on my holiday absolute-must list. Don't miss out on this recipe for any winter gatherings or parties.
Print Recipe
Rate this Recipe
Pin Recipe
Ingredients
1

bottle

red wine (zinfandel or merlot)

1

cup

pure cranberry juice

any cranberry juice will work but if you use a 'cranberry cocktail' lower the amount of maple syrup you use

1/4

cup

maple syrup or honey

1

inch piece ginger, sliced

1

orange, sliced

3

whole cinnamon sticks

2

star anise

3

whole cloves

try 1/4 tsp ground cloves if you don't have whole

Garnishes: cranberries, rosemary sprigs, cinnamon sticks, orange slices from the pot of mulled wine

Optional: 1/3 cup bourbon, 2-3 cardamom pods
Instructions
Pour wine, cranberry juice and maple syrup into a medium pot and stir to mix. Add bourbon if using.

Slice ginger and orange and add to pot. Measure spices and add to pot.

Once all ingredients are in the pot, bring to a simmer over medium heat (look for small bubbles starting to rise to the surface - should take about 5 minutes). Then reduce to medium low and cook for 10 minutes.

Serve warm with garnishes.
Notes
Any cranberry juice will work but if you use a 'cranberry cocktail' lower the amount of maple syrup you use

Need a non-alcoholic version? Try making this recipe by replacing the wine with cranberry juice too.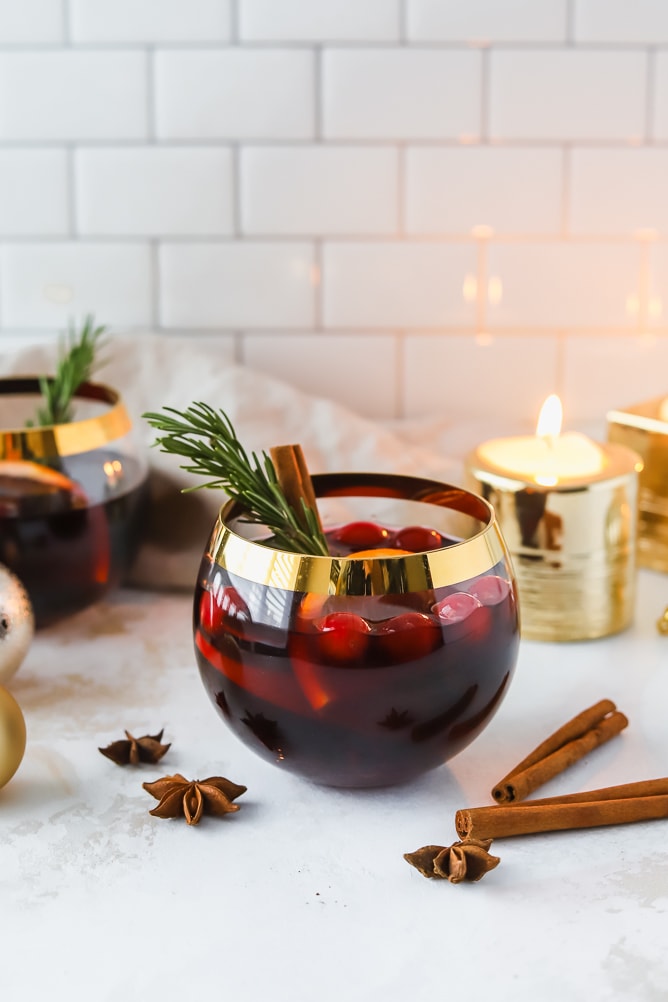 This easy mulled wine recipe is perfect for a cozy night in or holiday party.
How to enjoy this cozy recipe
Serve the drink in mugs; simply ladle into mugs and then garnish
Enjoy mulled wine on a cozy afternoon, by itself after dinner or before dinner with appetizers. Try with my Festive Market Cheeseboard or Pecan Brie Bites.
Need a non-alcoholic version? Try making this recipe by replacing the wine with pure cranberry juice or even a tart cherry juice.
If you love the sound of this recipe, download my free e-Cookbook for a Mulled Apple Cider version that's super cozy too!
Until the next cooking adventure,
Jess