Christmas cookie boxes are the perfect gift this season!

I've been gifting a holiday cookie box every year for as long as I can remember.
So I'm going to share with you my tips and cookie recipes to create your own Christmas cookie box to give this season.

How do you build a Christmas cookie box?
Step 1: Choose the vessel for your cookie box.
A shoe box or gift box works really well as a base for building.
Step 2: Once you've chosen a cookie box, it's time to setup the different sections.
You can cut out pieces of paper or cardboard to make dividers in the box or try using cupcake liners to separate the sections. Scrunched up parchment paper also works well to provide a base in the holiday cookie box for all the baking to rest on in each section.

Step 3: Now that you have created dividers in the box, you can count how many sections you need to fill.
This helps you decide how many Christmas cookie recipes or bars to make!
Step 4: Time to bake!
From gingerbread to sugar cookies, peppermint bark to holiday bars and other holiday goodies, it's totally up to you! I like to mix and match my home-baked Christmas cookie recipes along with some local treats too.
So this holiday season if you're looking for a homemade gift Christmas cookie boxes might just be the way to go!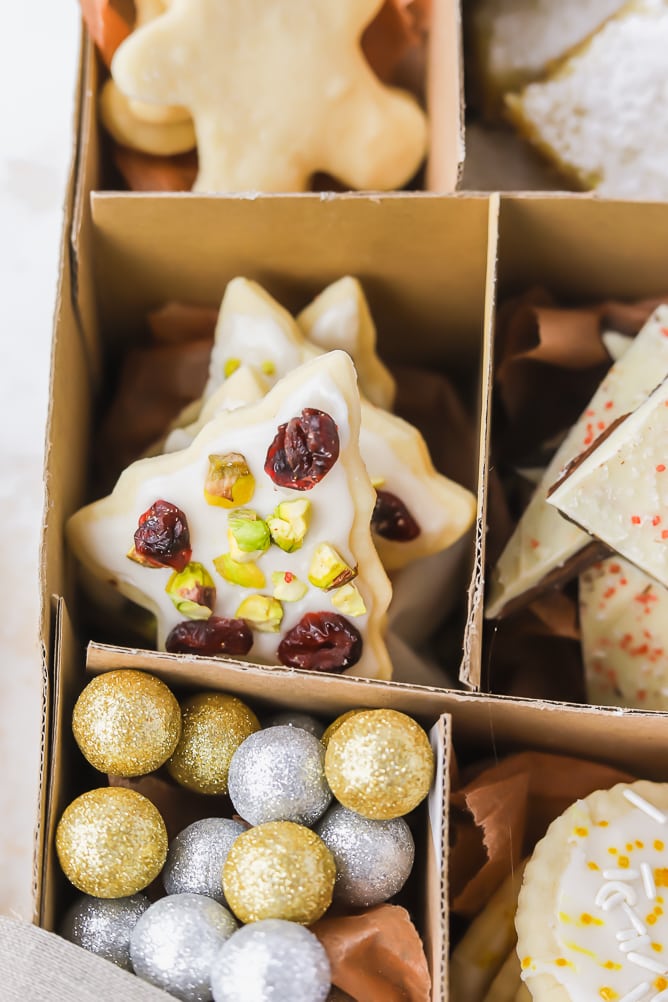 For some recipe inspiration, here is what I filled this year's cookie box with:
Shortbread Cookies with Lemon Icing (plus a variety of toppings from sprinkles to pistachios & dried cranberry)
Chocolate Bark (peppermint and salted caramel)
And for a bit more inspiration, here are some of my favourite recipes from mine and other food bloggers:
Soft Pecan Cookies with Maple Glaze
Chewy Rosemary Sea Salt Caramels
Chewy Winter Spice Sprinkle Sugar Cookies
It brings my so much joy to bake homemade goodies for family and friends for the holiday season. And the Christmas cookie box is the perfect way to gift those delicious morsels!

If you're looking for even more inspo check out My Holiday Baking List from a few years ago.
What are you baking this holiday season? I'd love to know in the comments below.
Until the next cooking adventure,
Jess