I love a good adventure, especially when there is food involved.
I've wanted to attend a Diner en Blanc event for ages. A couple of years ago I read about the iconic Diner en Blanc event in Paris – imagine, you dress in your finest white attire and gather with hundreds of people at a 'secret location,' bringing with you your table, chairs, white tablecloth, glassware, drinks and dinner.
This event began in Paris 25 years ago as a 'chic Parisian picnic' by a group of friends; now, it has become an international sensation taking place in 17 cities.
In Calgary this past Thursday I was fortunate enough to take part in this event on a gorgeous summer evening.
My husband and I gathered with a group of people at a meeting location where we met with our table leader. Next, we boarded a bus which took us the 'secret location' which had just been released on social media – Eau Claire Park. We were only a short bus ride away and when we arrived we joined the groups of people, all dressed in their best white attire, walking over to the park. It was such a neat sight to see – everyone dressed classically carrying picnic baskets and tables & chairs, walking in to the main location from all different areas of the City.
We were fortunate we did not have to carry in everything with us. We attended as a part of a large group from 'The Commons' (a co-work space in Calgary where I'm a member); so we walked in and found our table fairly quickly. It was beautifully decorated by our Table Leaders from The Commons, which just continued to add to the atmosphere of the event.
Next, we setup our table settings and went to redeem our tickets for our wine and water (my husband Scott was my date). I was so lucky to be a part of a fun group where we all brought different courses of the meal to share. Scott went off to help barbeque our mains while the rest of the table setup the food for the first few courses.  Shortly thereafter, the dinner 'officially' started with the waving of our white napkins.
Our table's dinner had everything from Charcuterie, Salads and Vegetable Sides to accompany the proteins each person had brought. We enjoyed an absolutely scrumptious meal, tasting a little bit of everything along with glasses of refreshing white wine and enjoyed a lot of great conversation.
I was in charge of one of the desserts for the final course of the meal – fruit and whipped cream. I put out the dessert and then we took a little break, taking time to stroll around and find some of our other friends.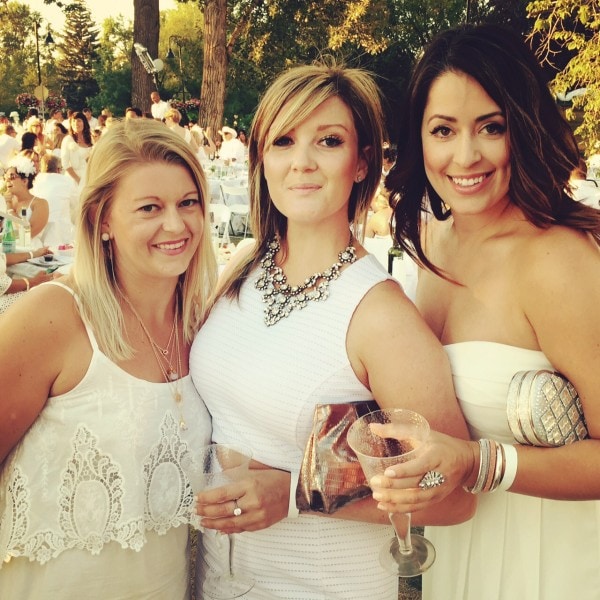 There were some really neat art installations in the park that were lit up as sun went down; so we took a little time to check them out while enjoying a final glass of wine.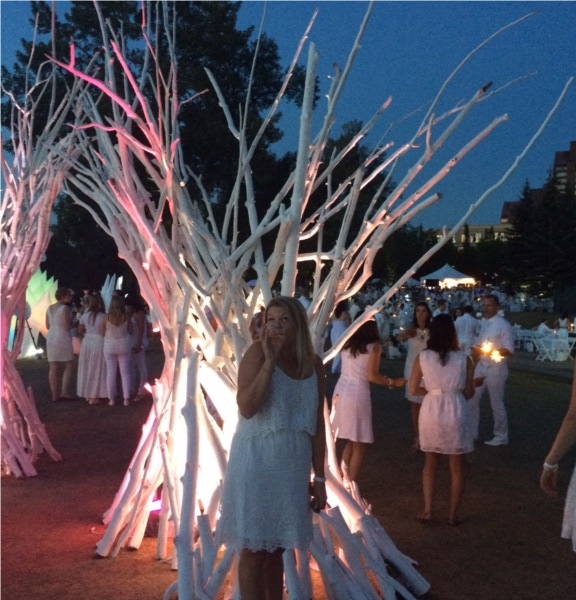 Just before we packed up to head home, it was time to light our sparklers! It was a fabulous way to end the evening. When you take part in Diner en Blanc, everything that you bring in to the picnic should leave with you – the space should be left even cleaner than it was before the event took place. So, we tidied up, said our goodbyes and headed home.
I live for events that create unique experiences around food and Diner en Blanc exceeded my expectations. Check to see if you have a Diner en Blanc in your City – the international website lists all of the locations the event currently takes place in international.dinerenblanc.info
If there is one in your city, I highly recommend taking part – the website will link you to the location specific website and will have information on how to get tickets.
Want more of this delicious story? Stay tuned for Part 2 next week where I'll share my dessert recipe of 'Fruit with Whipped Cream' which I served on this lovely evening. Here's a sneak peak: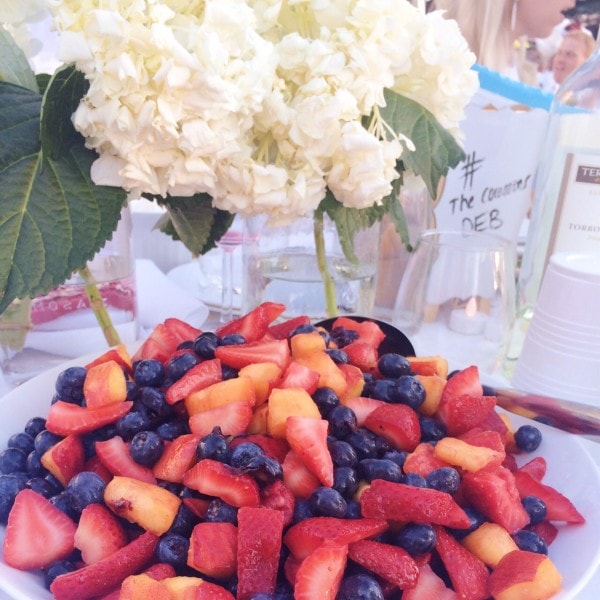 Until the next cooking adventure,
Jess