If you're looking for a holiday dessert, look no further!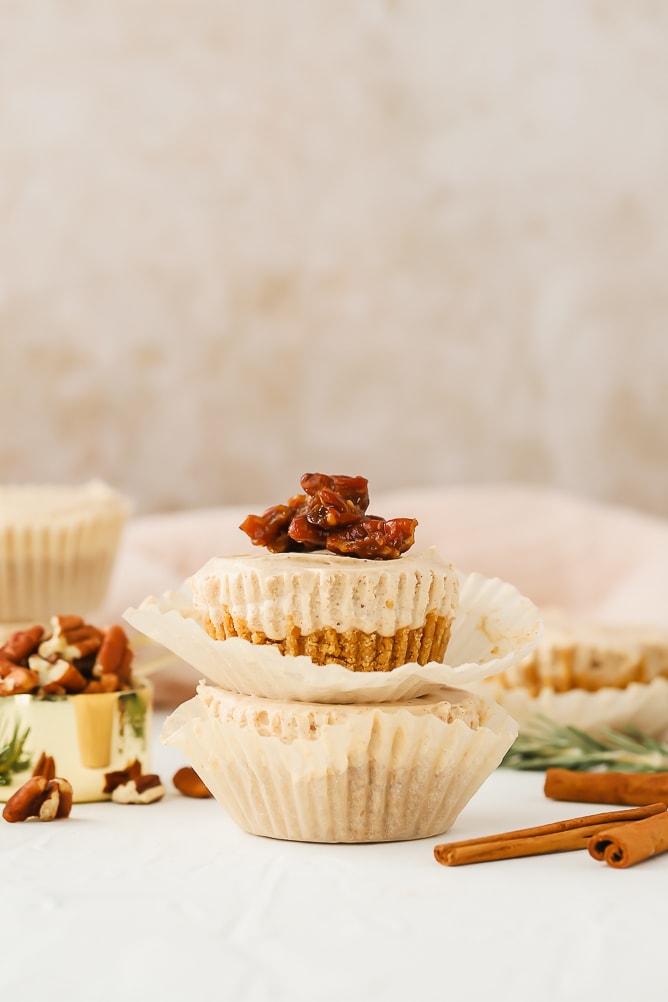 These No Bake Gingerbread Mini Cheesecakes hit all the right notes.
Not only are these mini cheesecakes the perfect individual dessert but they are packed with a lot of gingerbread flavour!
I don't think you will find an easier no bake cheesecake recipe. Sometimes dessert is the last thing we think about when making a holiday dinner. However, I'm a fan of having a small treat at the end of the meal!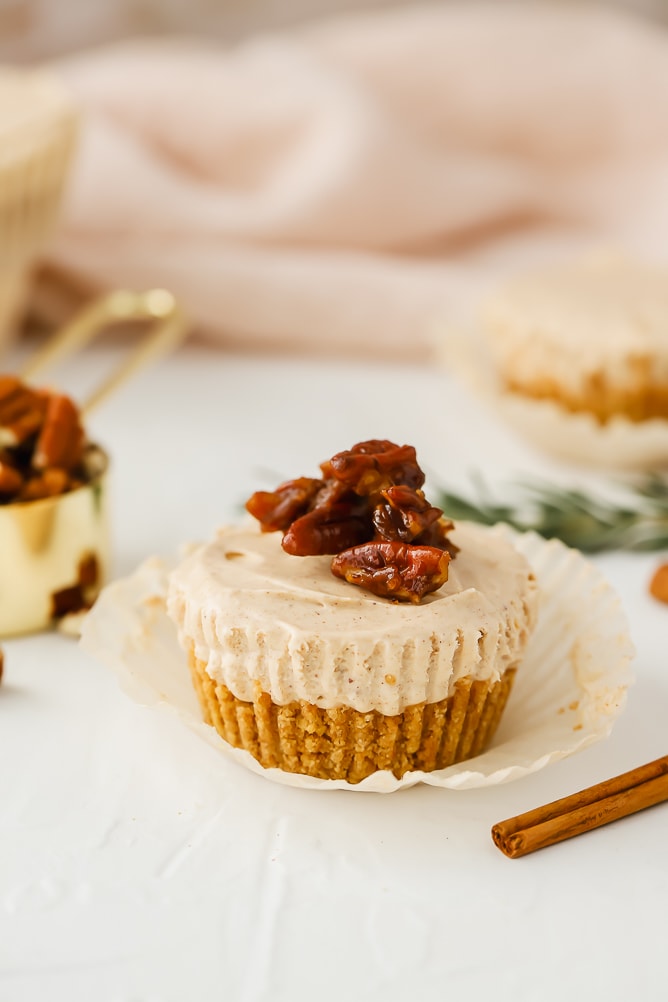 So that's where these mini gingerbread cheesecakes come in. There are just 3 simple parts to this recipe: crust, filling and topping. The cheesecake filling is best made with a hand or stand mixer, however, a food processor works too.
How to make no bake mini gingerbread cheesecakes
Crust: A mixture of graham cracker crumbs, butter, brown sugar and cinnamon make up a simple crust that is pressed into a muffin tin.
Cheesecake Filling: A mixture of cream cream and sweetened condensed milk starts the filling. Then, we add in spices like ground cinnamon, ground ginger and ground nutmeg for the perfect gingerbread taste. A little vanilla extract is added in along with lemon juice which stabilizes the filling as it's chilling in the fridge.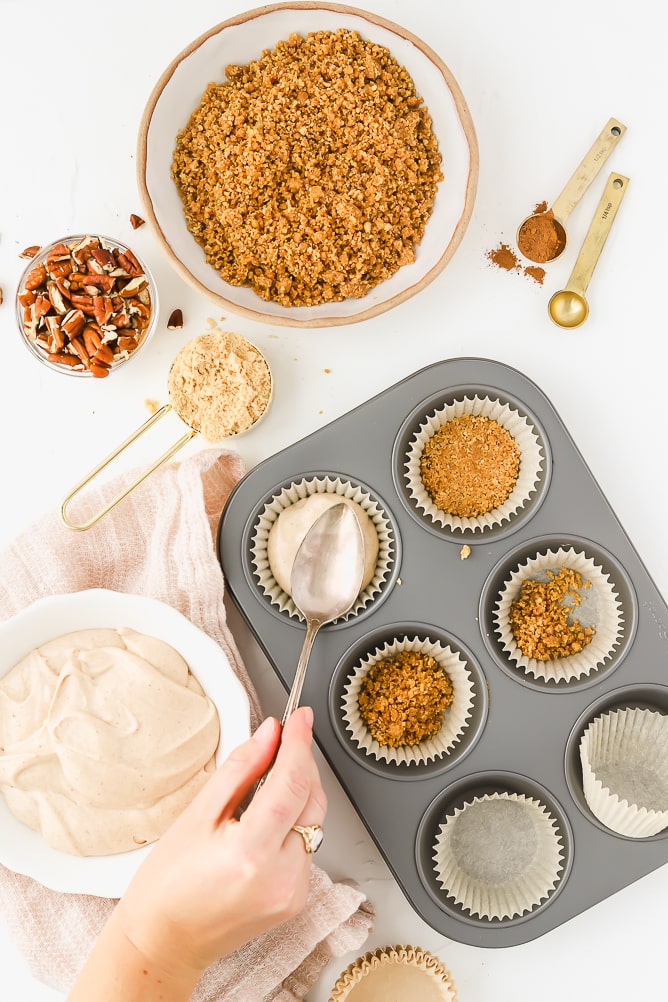 Topping: Pecans are coated in melted butter and brown sugar then set to cool for the most divine, crunchy topping.
While the total time for this recipe is a couple of hours (or overnight) depending on how long you let the gingerbread cheesecake chill, they make a great make-ahead dessert!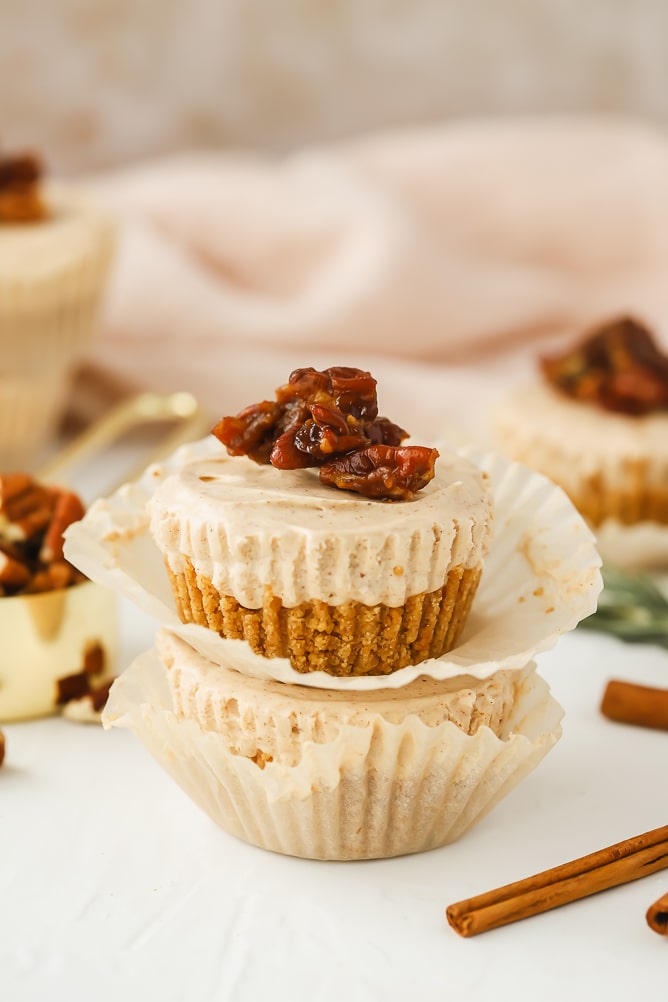 No Bake Gingerbread Mini Cheesecakes
Servings:
9
mini cheesecakes
Check out this no-bake gingerbread mini cheesecake recipe. If you're looking for holiday or Thanksgiving dessert ideas, this easy dessert is sure to impress!
Print Recipe
Rate this Recipe
Pin Recipe
Ingredients
Crust
1

cup

graham cracker crumbs

1/4

cup

butter

2

tbsp

brown sugar

1/4

tsp

cinnamon
Cheesecake Filling
1

250g

package of cream cheese, softened

1/2

cup

sweetened condensed milk

1/4

cup

brown sugar

1 1/4

tsp

ground cinnamon

1/2

tsp

ground ginger

1/2

tsp

ground nutmeg

2 1/2

tsp

lemon juice
Candied Pecans Topping
1/2

cup

chopped pecans

1

tbsp

butter

3

tbsp

brown sugar
Instructions
Crust
In a small bowl mix together melted butter, graham cracker crumbs, cinnamon and brown sugar until combined.

Line a regular-sized muffin tin with 9 cupcake holders. Then, divide the crust mixture evenly between the 9 muffin cups, using about 2 tbsp crust mixture in each. Press down using the back of a spoon or measuring cup to form an even crust. Refrigerate for 30 mins.
Cheesecake Filling
While the crust is in the fridge, make the filling. In a large bowl whip together (using a hand or stand mixer) the softened cream cheese, sweetened condensed milk, brown sugar, ground cinnamon, ground ginger, ground nutmeg and lemon juice until well combined and fluffy.

When the crusts are done chilling, divide the filling evenly between muffin cups, about 2 heaping tablespoonful in each and use the back of a spoon to gently press down and smooth the tops of each cheesecake. Chill in the fridge for 4 hours or overnight.
Candied Pecans Topping
In a pan melt butter over medium heat, add in pecans and stir.

Cook medium-low heat for about 3-4 mins until pecans are lightly toasted. Add in the brown sugar and stir to melt. Once combined, remove from the heat and transfer to a plate or pan lined with parchment paper until cooled. Then, break apart as the topping for each mini cheesecake.

Store mini cheesecakes in the fridge in a covered container for up to 3 days. Take out 10-15 minutes before enjoying.
Notes
**Need to soften cream cheese quickly? Cut up the cream cheese block into a few pieces and then microwave for 30 seconds.

What's the difference between a baked and no-bake cheesecake?
The main difference between these no-bake mini cheesecakes and a baked cheesecake is the no-bake cheesecake 'sets' by chilling in the fridge. There is no baking required whereas a baked cheesecake is baked and then chilled.
If you're a fan of no-bake desserts, this cheesecake recipe is for you!
Every bite you take is the perfect hit of that gingersnap-gingerbread flavour that we love this time of year.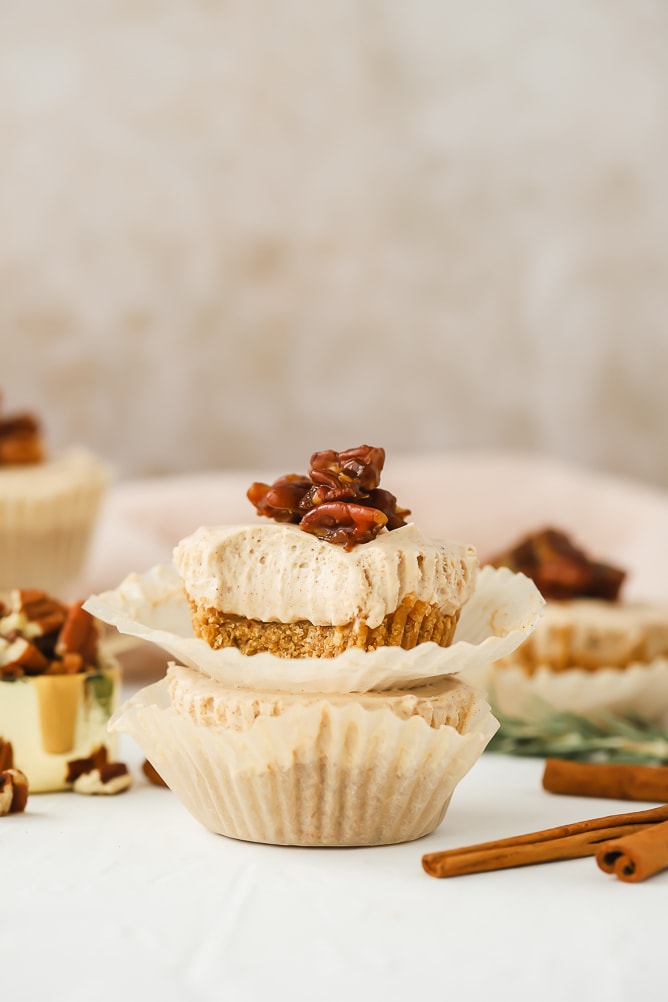 And, if you like mini cheesecakes as much as I do, try my No-Bake Mini Cranberry Cheesecakes too!
Until the next cooking adventure,
Jess