The season is in full swing and I've been enjoying a lot of time baking so it's time for my Holiday Baking List!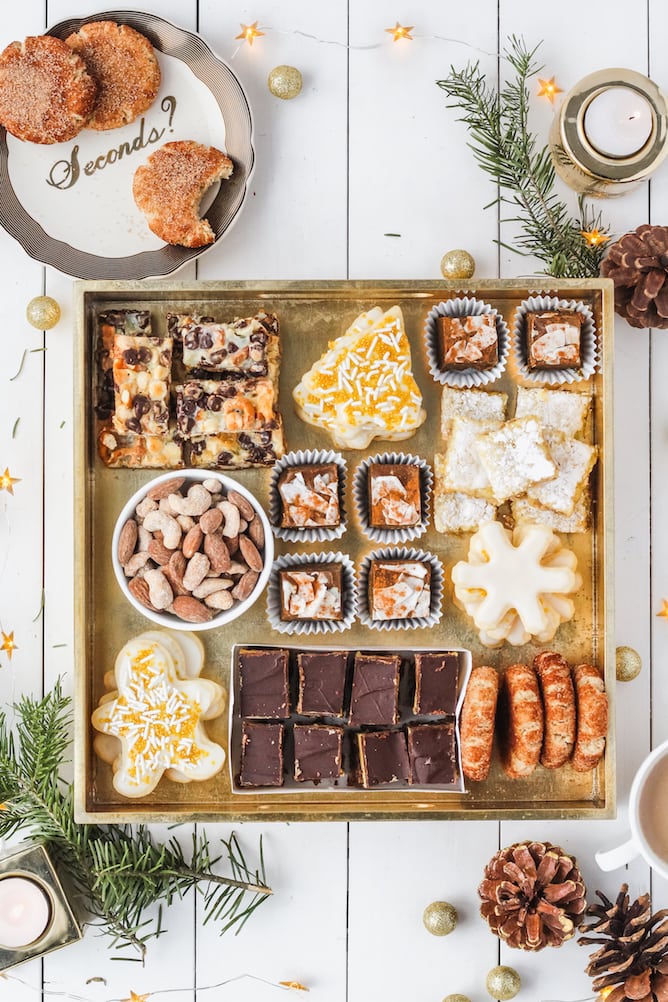 I absolutely LOVE to bake during the holiday season. I really enjoy all of the flavours used in holiday desserts, from sweet and salty combinations to tart and bright.
My holiday baking list definitely includes something for everyone's taste!

I can remember going to my Oma & Opa's house on Christmas Eve when I was a kid; there would always be a large tray of assorted holiday cookies and squares out. Same for Christmas Day!
I love the assortment of flavours and could always find something (or many) delicious bites to eat.
So, I'm sharing my Holiday Baking List for 2018 full of all of my favourite baking recipes that I love to enjoy and gift to my family and friends.
Nanaimo Bars – A classic in our family, this is my Mom's recipe and most requested recipe each year

Lemon Squares – I have always loved this tart and sweet treat, perfect to breakup all the chocolate!
Shortbread Cookies with Lemon Icing – I remember decorating these cookies as a kid and just covering them with sprinkles! So I do the same these days 🙂
Chocolate Pretzel Bars – This is a recipe I created a few years ago that definitely gives the sweet and salty vibes I love

Snickerdoodles – My favourite recipe is Ambitious Kitchen's Grain Free Snickerdoodles; they are the softest and chewiest recipe I've found. It's hard not to eat a couple at once!
Freezer Fudge – I love an easy freezer fudge, especially Minimalist Baker's Chocolate Peanut Butter Fudge which I like to top with coconut & cinnamon too

Mixed Nuts – These are always perfect for sharing, I especially love these Coconut Cashews and these Cinnamon Toasted Almonds
Party Chocolate Bark – Part of my Sparkling New Year's Eve Party Menu, this bark is easy to make and always a crowd-pleaser

I'd love to hear what you are baking this holiday season; let me know in the comments below!
Until the next cooking adventure,
Jess