Well friends, this sure has been an interesting month.

Most of us are spending a lot more time at home, perhaps cooking and baking more than we ever have.
So, let's chat April recipes including seasonal dishes, easy recipes to make for Easter at home and what we've been up to as we #stayhome more.

As we've been cooking a lot more at home, we're trying to use more pantry ingredients and keep to recipes that are simpler in nature like my Quick White Beans with Tomatoes & Kale. Frozen veggies are going a long way these days too.
And, my Easy Pea Soup is exactly the dish to make them shine. Are you on a baking kick?! A couple of my friends are trying their hand at sourdough bread; but I'm sticking to my Sweet Potato & Cheddar Drop Biscuits because they're SO easy!I dove back into a couple of books from my bookshelf that I haven't read in years too, re-reading some of my favourites like Snow Falling on Cedars and The Little French Bistro.
And, we've also been watching a couple of movies & shows – some of my fav tv shows are:
Ozark
Virgin River
Succession
Schitt's Creek
The Office
Modern Love
Jack Ryan
The Good Fight
The Mindy Project
If you want a break from tv or cooking, get creative with Brit & Co. They have all of their online classes available FOR FREE until April 9th – maybe they'll even extend it a bit!

In between reading, show-watching and getting creative, we are DEFINITELY cooking! So, here are some simple recipes to make this month and many of them contain fresh ingredients in-store right now:
Apples – Apple Cheddar Breakfast Toast
Grapefruit – Grapefruit Lavender Spring Blossom Cocktail
Leeks – Leek & Pancetta Pasta
Lettuce – Market Spring Vegetable Salad
Carrots – Honey Butter Roasted Carrots & Radishes
Spinach – Bacon, Mushroom & Spinach Quiche

Most of these recipes would be great as a main or side dish for Easter brunch or dinner and here are a couple more that are great for enjoying at home:
Sheet Pan Roasted Carrots, Brussels Sprouts & Potatoes
Swiss Chard, Goat Cheese & Leek Frittata
I don't know about you but I am sure looking forward to seeing more and more seasonal produce in the stores. And, starting to cook with it more!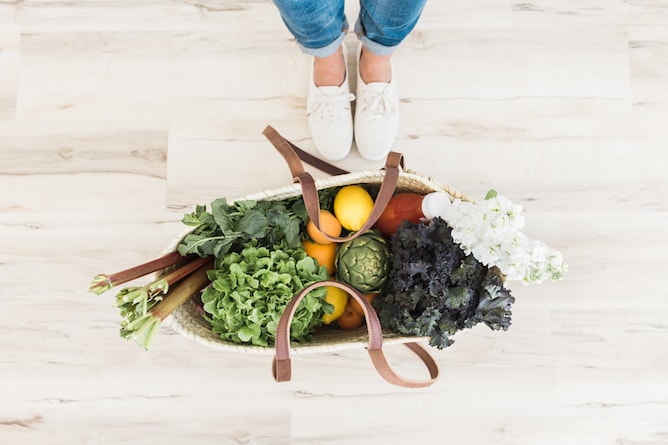 Until the next cooking adventure,
Jess